Some of us do not like to attend festivals (with the exception of small, cosy festivals in nice surroundings and good food and an interested audience such as La Truite Magique in Belgium). Reasons are manyfold: Too expensive, too big, too filthy, too much of everything really. Plus, the gig you would really like to see on a particular festival will draw a certain amount of very tired, very drunk and very not bothered with that particular music at all people.
So it comes as no surprise as I find myself at the entrance of the Live Music Hall in Cologne to see and hear The War On Drugs via one of three mainland Europe gigs outside a festival, that this event has actually drawn people from all over Europe.
As yet it is a cosy atmosphere in a sunny yard outside the hall before the concert with the drinks and food stands offering their wares at reasonable prices, sitting comfortably and people watching. Dave Hartley (bass) and Charlie Hall (drums) can wander about in peace and Jon Natchez (sax, trumpet, keys) is off on his folding bike to explore Cologne. (He writes an entertaining blog about the tour or more likely on his excursions that could well serve as an off the beaten track travel guide for the future).
Adam Granduciel, boss of The War On Drugs (or is he The War On Drugs and the rest, even Dave Hartley are still just the touring band – sometimes it sounds like that and sometimes it does not, so forgive me if I mix up "he" and "they" a bit here), is nowhere to be seen. True, they all look a bit shattered after their 200+ gigs tour and the last three nights having been performances on festivals after a long flight. In fact though, Adam has withdrawn from the press a lot in the past year and in the first interview after almost a year in The Skinny Mag, some reasons are discussed. Allow me to digress a little:
Is Adam Granduciel sick of always being asked the same questions? Last year he said to me that, no way, he really enjoys interviews. But let's face it: Their epic tour is based on the album "Lost In The Dream", no new material as yet. "Lost In The Dream" is usually summed up in one sentence in the media: Born out of paranoia and depression. Unless you are a total TWOD nerd and in turn meet their nerdy interests, you will come up with that particular subject. Which of course is a bit unfair as the album is in the past and we rather should look at how the songs sound now after a year, live on stage. In my own humble opinion, we are not talking factors that triggered depression and paranoia but an always underlying mental state that was woken up by certain triggers. And the album might have happened because of that. But at the same time, it happened despite Adam's state or totally independent of it. D'you know what I mean? Or as Adam Granduciel likes to say: It is what it is.
Despite the appearance of withdrawing from public and/or press and not communicating much on stage, he can be a really chatty guy and this happens when there are no typical press questions but normal conversation about his hobbies and well, music.
Or another reason: The Mark Kozelek attack (google it or don't, it just gives the man undeserved attention) might have caused him to keep away from social media. I am only saying this much: I found Adam Granduciel's reaction to MK's rant about him, the band, the music, the fans, very sweet and endearing as it was open and naive. He basically wanted to find out what was going on, to say it was not their fault and that he was upset, because he really likes your man's music. And I felt exactly the same and would have reacted the same way. Of course it was oil in the fire and Adam kept shtumm. Only once he flipped publicly and that particular medium published it. And off we went again. Meanwhile, TWOD might have found out that they are not the only victims of MK and by now not the worst off. The whole incident sadly distracted from the main thing, music, it gave the troll publicity and then it made Adam Granduciel withdraw. Sad.
Or he might not want to be asked about his much-publicised leaving indie Secretly Canadian and signing a contract with huge Atlantic Records. I do hope, Atlantic Records will give him the same time and freedom as SC did and that fans won't see it as a decrease in the quality of their music per se, just because The War On Drugs are not independent anymore. I was really bugged by this question and asked their old label, but calm down, people, all is well. They are sad to see them go but the move was totally amicable.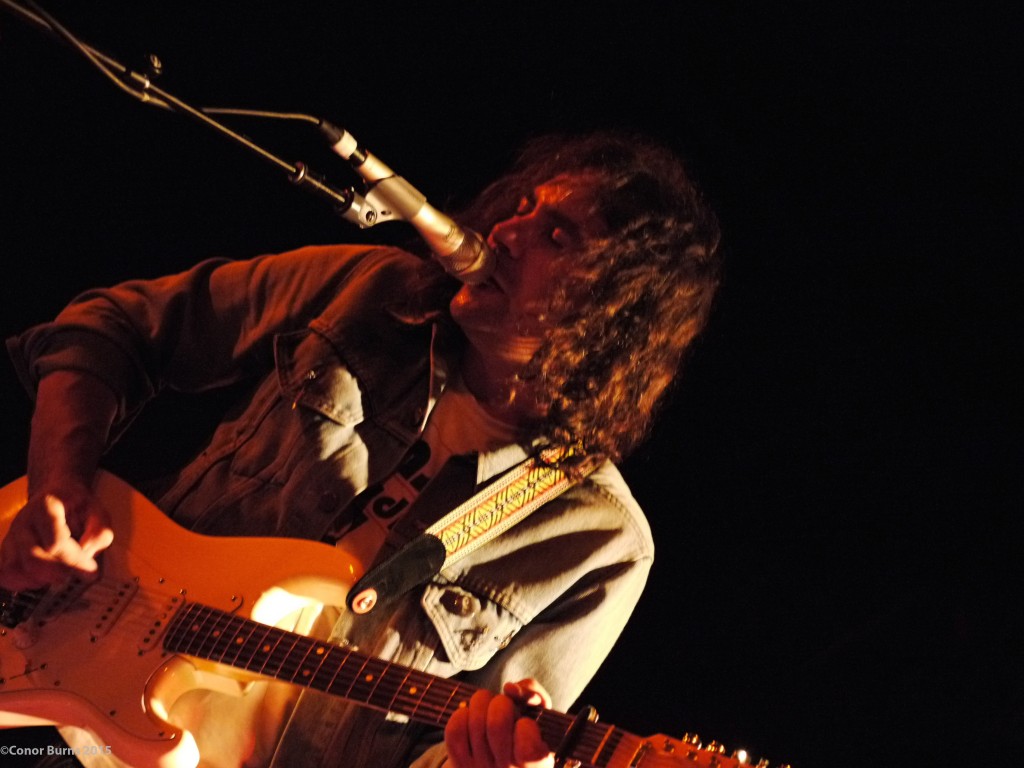 Back to Live Music Hall (old, but nice place by the way, prices okay, sound fine and even the security staff are very friendly). No support act, so the gig was scheduled for eight o'clock. Finally, at eight thirty, here they were. Very very first impression was, thank goodness, the sound is great – you can actually here the voice in the foreground even. The endless layerings of sound don't resemble a muddy mess but are finely tuned and mixed. Very enjoyable, that.
Oh my, they look tired. Adam Granduciel's voice took a while to come back to its usual character, first he sounded a bit croaky. Now, there are no gimmicks on stage (if you do not want to call the vintage gear that they still bring with them call that). There are no show stopping antics of the musicians either, other than musical ones. But the by now plentiful audience members that as usual counted astonishingly many older fans, do not expect this either.
What did we get? We got almost two hours of The War On Drugs, a band that enjoys making music together. We got all the fine tunes from Lost In The Dream and some extras from their second album "Slave Ambient" (and my, was I over the moon that they included "Black Water Falls"!) There were four encores and some songs got a totally new twist, being presented barer and slower. I was very happy that finally Adam Granduciel played the Red Eyes intro the way my ears perceived it first and now again. There was only a minimum of banter but nobody missed it being totally engaged with the songs, the sound and the vision of six people immersing themselves totally and happily in their music. Also we had many opportunities to admire that fine Gretsch guitar!
Even if the whole audience would have probably been able to enjoy it even more if the airco in the venue was a tad stronger, this was a gig of a band who has toured a lot, who has grown together and still enjoys going on and creating new stuff and playing with the old material, getting ecstatic over new gear and thoroughly communicating this feeling to the audience without any words. The songs, if almost perfect on their albums, have benefitted greatly from all the above and I bet you could go to another gig of The War On Drugs and have another aspect of the very same song presented to you.
And on they go, certainly to a place near you!