No excuses, I told you about Hamburg's Reeperbahnfestival last year and let you know that and when it is happening again. Hope you were there and enjoyed it as much as I did this year. It is been and gone and it was superbe. That was Reeperbahnfestival 2018 like – to me:
For a dedicated follower of music, the Reeperbahnfestival on St. Pauli (yep, ON is correct), Hamburg's famous harbour quarter, is heaven – and hell at the same time, especially when you can throw in a good dose of OCD like myself. It has clearly become what the festival has been modelled on: Germany's, if not Europe's answer to the US' SXSW festival. This is where music's movers and shakers, fans and makers meet up. I said it before but like to drop it in again, just for good measure: Face the impossible with nonchalance, you will and cannot do everything at the festival even if you only concentrate on the music side of it.
For me, additional torment was in store this year, as I could only make it to the Reeperbahn by Friday afternoon. By then, the festival had been in full swing for two and a half days already. Plus I had work commitments and quite frankly: Yes, I did get sidetracked in parties and chats, in drifting and laughter, in soaking in the atmosphere in general. But that is as good a feature of the Reeperbahnfestival as any. And then the storm hit: On Friday afternoon the festival organisers decided to close down the open air venues such as Heiligengeistfeld and the Spielbudenplatz. It was just too risky. The weather did peak up again in intervals but generally myself as loads of other people seemed not so inclined to walk a lot between the venues and stayed put. And yet, it was fabulous. Thank you Reeperbahnfestival!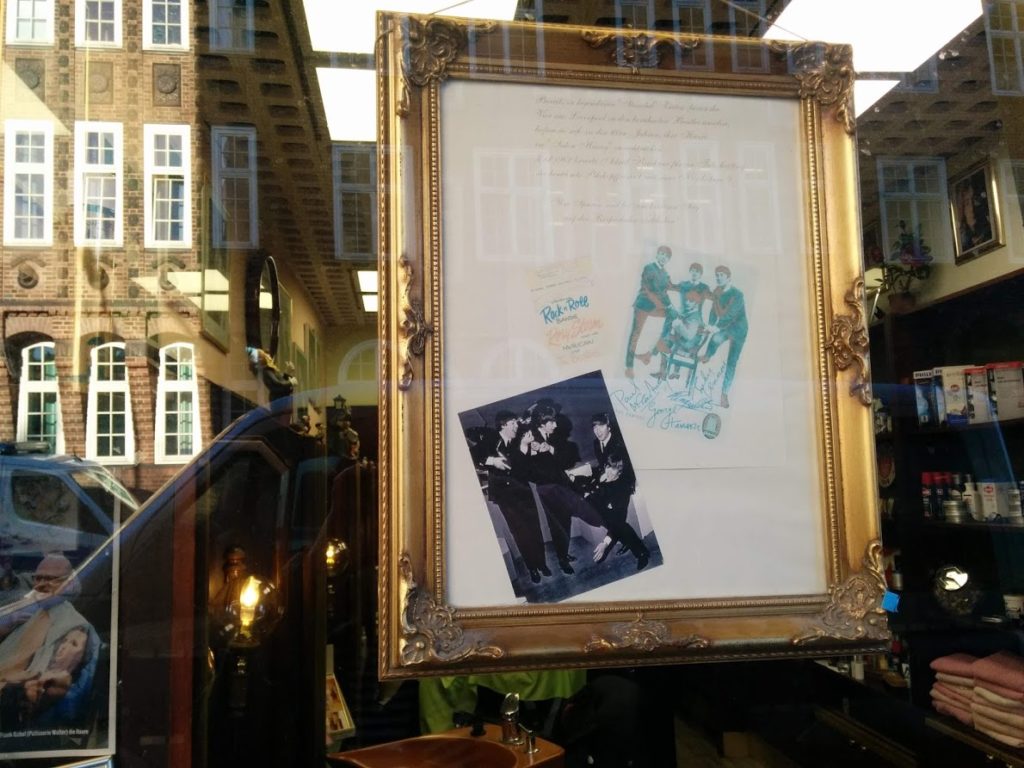 Meeting up with my friend and colleague Sandra Zettpunkt at the well-trodden and established music venue Molotow, slapbang on the Reeperbahn, and missing each other because we used different entrances, we both enjoyed The Babe Rainbow's set on Friday late afternoon immensely. The venue was packed, the audience was jumping, beer was consumed in large quantities already and was it any wonder, when an Australian band gave a tremendous and exhilarating and sunny and completely "down under" performance? Theirs is an amazing mix of funk and pop and psych and och, anything, melted into their version of Australian laid-back good feel. That was a brilliant start.
Time to eat, to snatch a drink and to wander around a bit and make our way to St. Michaelis, Hamburg's landmark church, locally referred to as Michel. To be on time for Okkervil River's performance seemed crucial, as there was already a long queue. Stunned by the interior of this huge and impossibly imposing church, I almost missed the band turning up. Will Sheff did not look out of place under a painting of Jesus, albeit his brown suit and the glasses and greeted the audience warmly. Also clearly impressed by the church, he mentioned however, that on arrival, Okkervil River were dumbfounded because, hey, the acoustics are mighty and their set was not suitable at all for a big echoing space like this. Experienced musicians they are, though, they quickly adapted their set and everyone was treated too some classic early material, quite a few songs – to my delight – from their album "Away" – and then a few from the latest "In The Rainbow Rain". The opulence of the latest album maybe did not allow for more songs in this environment. There was funny banter, a solo and acoustic excursion of Will Sheff through the pews of the church (even asking a dedicated fan for some lyrics he had forgotten) and some fantastic cover versions. A fairly long set for a festival and the pews became ever so hard to sit on and quite frankly I would have preferred a more intimate, more interactive environment for Okkervil River. But they left happy and so did the audience. The moment, a full moon was casting its light through one of the church windows to the sound of Okkervil River, is something I will never forget.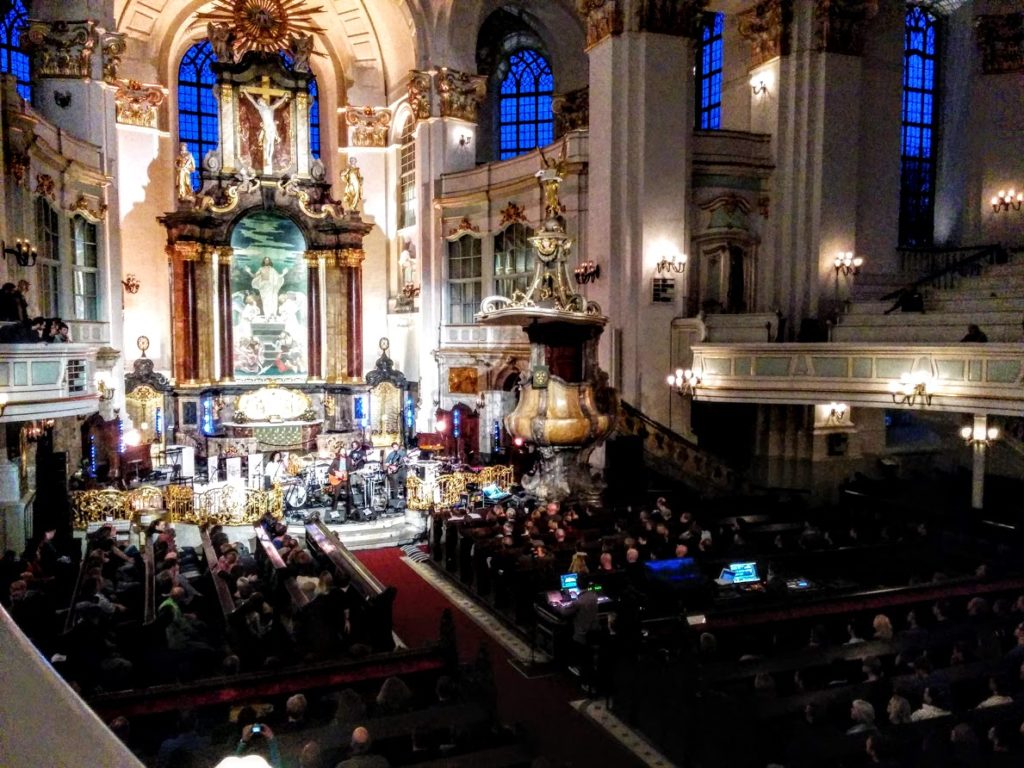 We got sidetracked to a party which was very enjoyable and pitied the people queuing up for Muse – the surprise act – for hours and missing out on so much. After all, not everyone got in, the venue was quickly full. Now, it is not that I have something against Muse (cough), but I was not too heartbroken to have to give their gig a miss. In all fairness, they were introducing the first songs of their new album and their live performance is said to be great.
Indeed we went for the packed and swaying and hopping Mojo Jazz Cafe to give Uns, a Berlin band, a listen. Fashion sense of the eighties combined with the Neue Deutsche Welle Sound of the same decade, huge dance and magic potential and a good laugh or two shared between the band and the audience inbetween made this very worthwhile.
The evening ended for us in the gorgeous Prinzenbar where Liza Anne and a very tight backing band (unnervingly all dressed a bit like little Playmobil builder figures) played her new sounds. I remember Liza Anne as a folksy, indie singer not unlike Sharon van Etten and was meeting the change in her music – now fast, loud, trashy, rocking – with quite some hesitance. Was there a commercial reason for this change? I would not approve at all, at all. But I had read beforehand that Liza Anne just wanted to get it out of her system, the anxieties, the depressions and clearly, the new songs were just doing that. Tremendously enjoyable.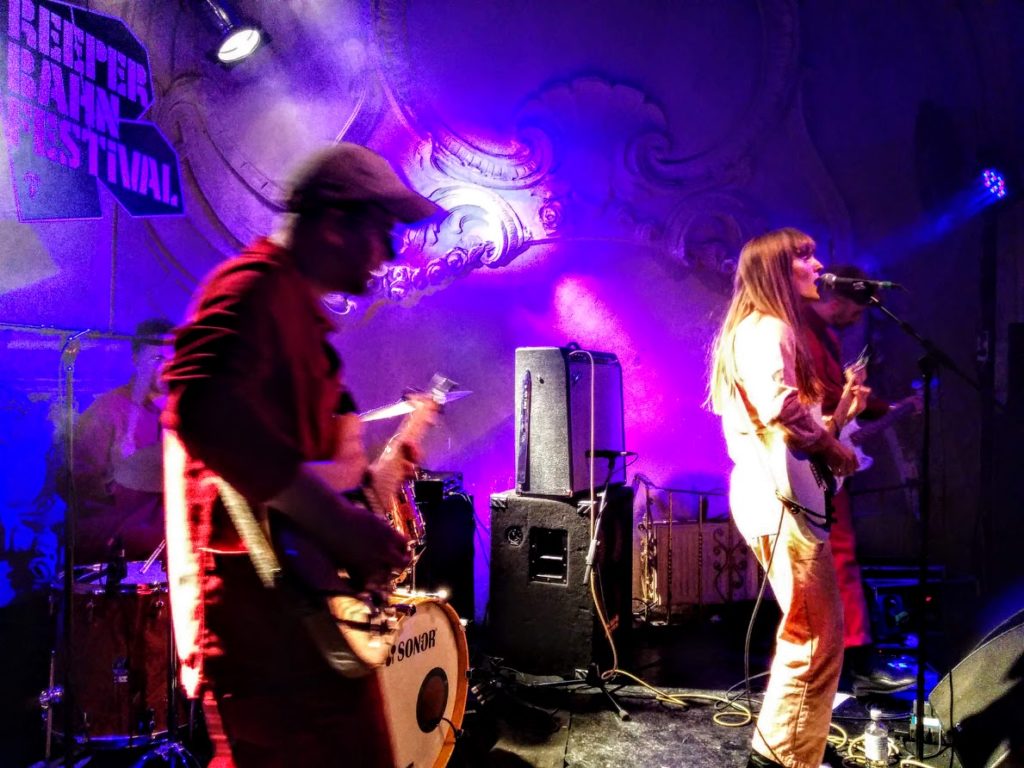 Next day, more bands (don't tell me what I missed out on, I cannot be everywhere at the same time because work was calling on top).  Yes, I had a super time meeting everyone from work too, so happy as Larry, we were moving on much later than anticipated, to maybe see Metronomy. Fat chance, should have queued up for that some time ago. A great stint of Field Division, a band on of my favourite labels Bella Union, had been on my radar for quite some time and they delivered their Americana tinted cloud with silver lining songs with heart and soul. Check. Wonderful.
Something completely different now at Angie's Nightclub, a venue of some disreputable distinction (no shit, Sherlock, on the Reeperbahn? You don't say.) and quite the suitable backdrop for the seventies' to eighties'  or rather plasticky clad Lomboy from Brussels. The front woman clearly has been all over the world and brought bits into her music from everywhere as well. The languid, francophile music kept everyone nicely on their feet and dreaming away. Oh yes, did I mention that? France was the country represented on this year's Reeperbahnfestival. Yes, and I did miss Halo Maude who performed astoundingly according to Sandra. But here's the plan: Forget the plan. After a short visit to the famous Golden Poodle Club, we galloped to Nochtwache, the cellar club of Nochtspeicher and were expecting a late night treat like last year, something wild and quiet and jazzy and trippy and got Chris Garneau. Now, I would have been happy with the announced Canadian singer-songwriter, indie folk to tone down after a long day and make me weep a little bit. But no.
Great guitar, great drums, but the somewhat whiney, keyboard accompanied songs of Chris Garneau did not do it for me (think Marc Almond, kind of). But that's just me. The numerous visitors seemed to enjoy it whole-heartedly.
And shock and horror, that was it in terms of gigs. Plenty of parties going on still but the instrument cases were being packed. There is always a next year. I have told you so!