Hamburg – you need loads of time for a visit to Germany's second largest city that was built on the labour the river Elbe port had to offer and the ensuing trade opportunities it generated. Of course, Hamburg has been severely damaged in World War II and today you will find soulless high rise estates around Hamburg that are not exactly welcoming places. But then again, as a tourist, you would not go there anyway. Plus, you will have your agenda full with just visiting the old town, the merchant city with storage houses, the harbour, the beautiful old mansions and the sinful and happening Reeperbahn as well as other trendy quarters like the Karoviertel or the Schanzenviertel. Which is where you see Hamburg at its best: Reeperbahnfestival 2017.
Indeed the multitude of banks, insurance companies, the IT sector, the media companies and of course a lot of the breathtaking architecture speaks of riches in no small part due to the success of Hamburg's port. But visiting sailors also needed to be entertained and thus Hamburg boasts probably the world's best-known red-light district. In recent years the Reeperbahn in St. Pauli has still been offering the sex trade and everything related to it but has cut down on crime and become a tourist attraction plus the place has seen an abundance of non-sex industry related theatres, clubs, cafes and venues popping up.
Add to that Hamburg's native lively music scene (yes, The Beatles were born in Liverpool and grew up in Hamburg as John Lennon put it) and lovely friendly locals and you have the perfect location for a club festival: The Reeperbahnfestival. It is been around for twelve years now and boy, has it grown. I'd easily call it Europe's SXSW. Actually it has become Europe's biggest club festival.
Naturally there are drawbacks when a festival reaches such a size. It was very well organised and of course you give your all to see as much as you can – but there is always the pang you missed something. (Yep, I missed Timber Timbre and Nadine Shah!) You just have to accept the fact you cannot attend everything and let yourself drift and then discover wonderful things.
A huge thanks to my dear friend and colleague at Byte FM, Sandra Zettpunkt, musical detective for her show Golden Glades and musician herself and ever so handy: A Hamburg native she is and knows St. Pauli like the back of her hand. So I had not to worry about a thing. I did not get lost, not hit by a car, received a lot of information and discovered great bands. Oh boys, and how did we laugh:-)
So, do please join us next year for the next edition of Reeperbahn Festival. You won't regret it.
Reeperbahn Festival runs for four days choc-a-bloc full of music-industry related workshops, conferences, networking affairs and of course live performances around many many venues. This year's festival was dedicated to Canada as featured country, the "other" America:-) Canada's huge music scene was represented very well, I thought, with the big names included as well as absolute freshmen. Then there was the surprise performance: Liam Gallagher. We gave that a miss as we both had seen Oasis before and queues were huge – and so much to do and so little time.
I only arrived Friday afternoon and while Sandra had already checked out a couple of bands (see her blog post here), poor me was only starting. Well, trying to: Strict security at the first venue, Grünspan. As laudable as that kind of security level is in today's times: I had to get rid of my bag and try again. Yep, off we went and saw the very first live performance of Superorganism.
Superorganism have just been signed to Domino, before their first live gig…fancy that. There was no need to worry, as eight-piece Superorganism deliver technicolour pop with bravado and witticism, with accompanying art and an interesting set-up of conservative instruments, three backing singers and fronted by a seventeen-year old Japanese girl from Maine in New England. Their current location/mainstay is East London and it is there where they come up with their truly intriguing live shows and performances.
So we were off to a good start then on this Friday, 22nd of September then. What next? We walked all the way up to the bunker where Terrace Hill is located. Fazerdaze was playing. Alas, it was so packed that you could not see a thing and thanks to the bar in your backs not hear much either. So up for a breath of fresh air on the roof terrace and a view over Hamburg. Pity about Fazerdaze but then an amble down to the gorgeous Imperial Theater where on entrance (yes, we were late), the dulcet tones of King Creosote could already be heard. I was missing one of my favourites "Melin Wynt", aargh…No bagpipes by the way. Indeed, Kenny Anderson alias King Creosote was on his own, just with an acoustic guitar but still the songs conveyed all the deepness and layers that the full band could have offered, or so I hope. Astonishingly, the King's guitar playing was quite basic despite up to 40 albums under his belt. I suppose though, that this minimalism is intentional. After all, the songs thrive on King Creosote's tenor voice with trademark little yelps and prominent Scottish accent as well as those bittersweet, poetic lyrics. Had I not heard him, I would not have recognised him, without hair…Or maybe it was one of his two stuntmen anyway, as he claims – Badly Drawn Boy and Baldrick from Blackadder…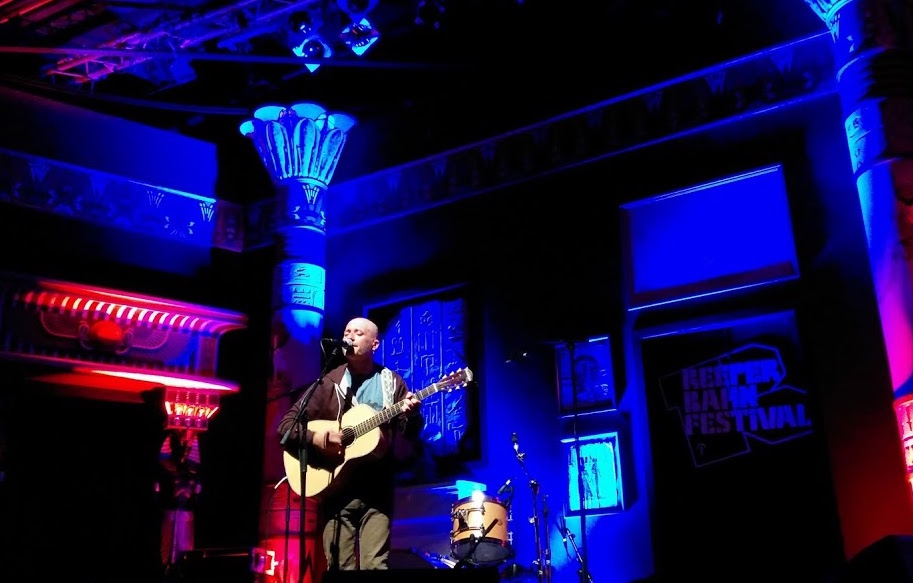 There was onstage banter galore and a wordsmith like King Creosote of course had the audience in the palm of his hands. At times I was howling with laughter. Yes, the tears of a clown comes to mind, as used up as that saying might be. Lovely, lovely gig in the intimate and wondrous setting (with plush seating) of the Imperial Theatre.
All warmed up we went on our way and took a short break at the centre of it all, the Spielbudenplatz, amazedly staring at the queues for Liam Gallagher and wondering where to go next. We gave a young Canadian band a chance and I forgot the name and remembered they were nervous but there was no need to be, neither was there to crank up every channel on the sound system.
By then Jane Weaver beckoned. She graced Häkken, right at the Spielbudenplatz, a lounge bar that fitted her music perfectly well, I thought. For no apparent reason other than the ominous Liam playing next door, the gig was not as enthusiastically attended as I wished it would be. The fans who were there enjoyed it immensely though. And what was not to enjoy? Jane Weaver voice and lyrics shimmering ethereally over the music of a very close by – locally and musically – band. Man, were they tight, were they on point. It must be very difficult to perform someone else's music, especially Jane Weaver's – so hats off to that band again! A beautiful satisfying danceable swaying spirit-lifting mind-drifting krautrocky, psychy set in truly individual style by Jane Weaver mostly featuring songs from her very latest "The Architect". "Modern Kosmology" and "The Silver Globe".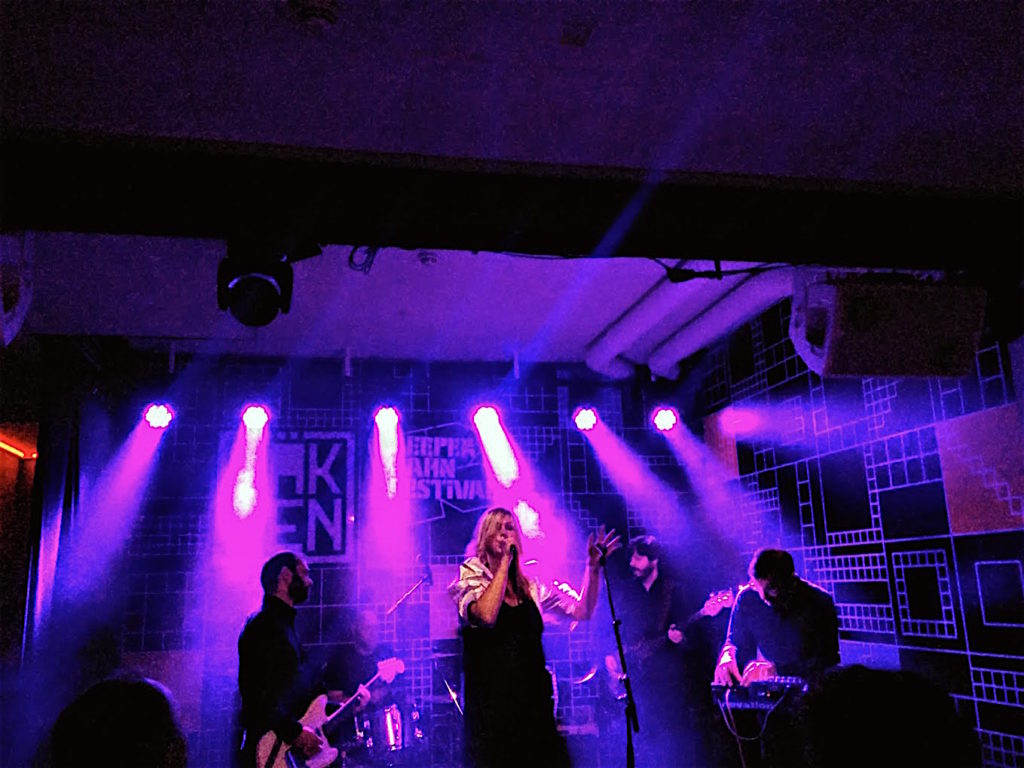 Of course the sets at festivals are shortish compared to individual concerts and then you have reach the venue and then there are the overlaps but in most cases the artists managed to convey the complete esprit of their music. We called it an early night (well, for the Reeperbahn anyway) as we were facing a long day the next day.
Saturday saw us missing This Is The Kit due to other commitments. Trying not to be too hard hit, our opener for the evening was Marika Hackman in the Nochtspeicher – an incredibly warm venue. But never mind, rock away, Marika. And she did, seriously and ironically with a fresh almost grungy twist to her folky songs. Enjoying that very much, especially her kind in-between banter. Surprised at how young she looks (she is, she is) and yet is an old hand on that stage. Marika Hackman had the audience entranced and deservedly so. Special praise to her excellent and non-showy band. Luis from All We Are was watching too and after talking shortly, we decided, suffocating heat in the place or not, we would return for All We Are, who are such lovely lovely people.
Meanwhile though we wandered around the Reeperbahn a little more. By the time we could finally enter the venue Molotow Karatekeller (was absolutely packed), the gig by Canadian Taylor Knox had ended. Boohoo…Next year we will plan our schedule with absolute military precision and run as fast as we can.
We squeezed into the backyard of the Molotow, where, you guessed it, a gig was about to end: Philadelphia's The Districts. From what we still gathered they sounded amazingly raw and fresh.
Rightio, back to the Nochtspeicher for All We Are. Their new album "Sunny Hills" seems a little coherent to some critics but then again, as much work as has gone into Guro, Luis and Rich' albums, I always have regarded them as a live band. This is where All We Are truly shine and engulf you in their contagious enthusiasm. Word. I did not spot anyone in the audience who was not hopping along (did I mention this was an incredibly hot venue?) and the front was a veritable mosh pit. Also Marika Hackman and band were happily grooving along. Thank you, All We Are, that was awesome.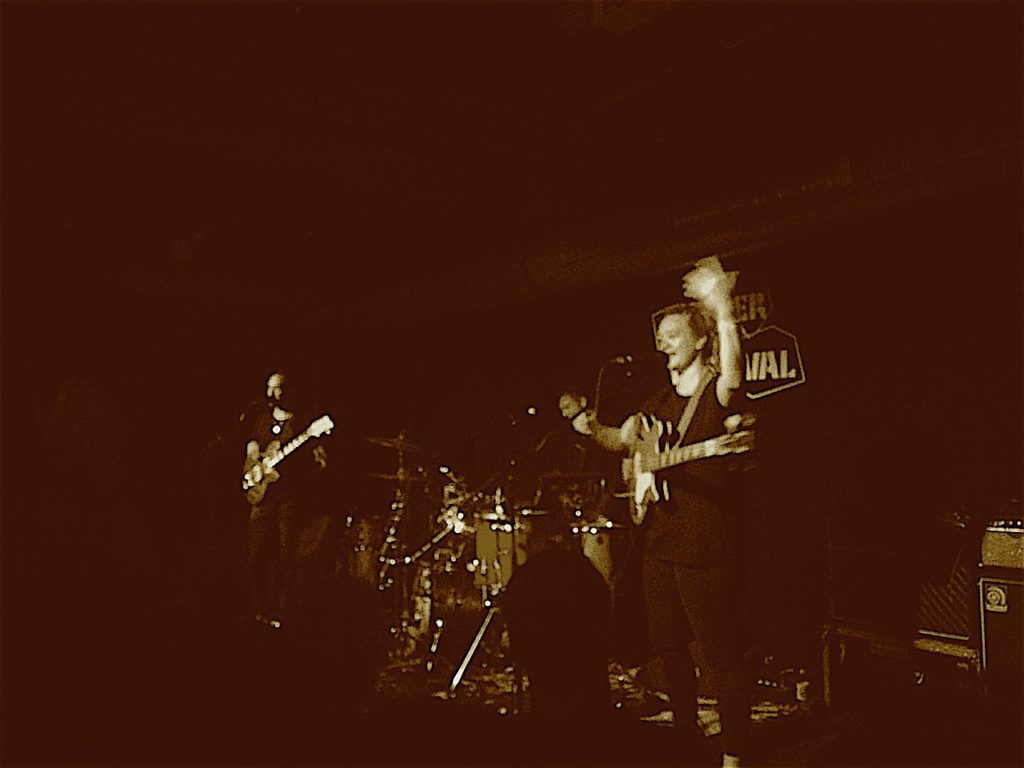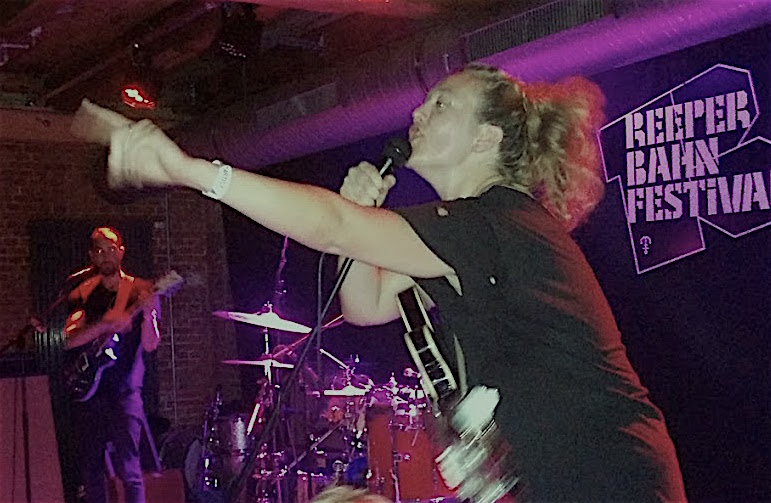 The night is young and so are we…kind of. What next? Time for drifting. So we stumble down the cellar stairs of the Nochtspeicher to witness French Aquaserge drowning us in a concoction of jazz, funk and later a lot of psych. Magnetising and good fun in both measures and the right poison for head hitting the pillow and falling into a coma.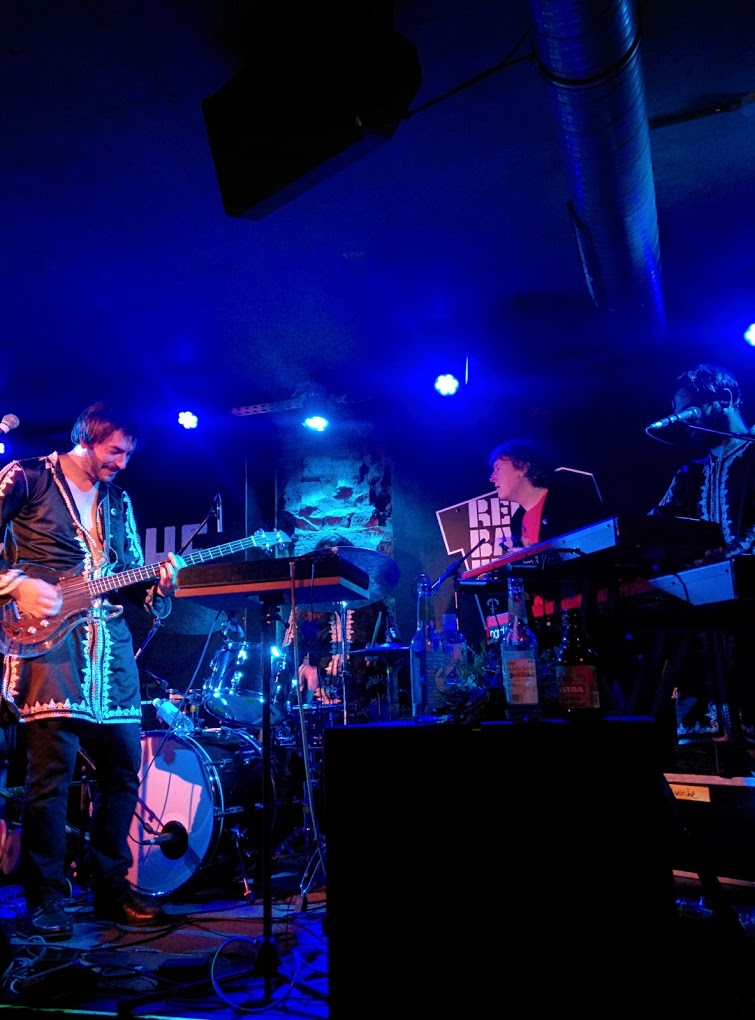 Thank you so much, Reeperbahnfestival for doing such a lot of work to entertain so many people to their heart's content. It was ace. See you and you, dear readers, next year!