Having gone to see Marble Sounds twice, I remembered fondly the time when Precious Few played support for them.  I recently had the opportunity to witness a wonderful set by Precious Few again and want to recommend them warmly to you again. They tour a lot in Germany but you might also catch them supporting bands like Desperate Journalist, The Wedding Present or – like last autumn – Precious Few's Barbara joining Downpilot at some concerts. So keep your eyes peeled abroad as well if you are into music that is bittersweet and tender, perfectly written and rendered.
When I attended their gig last month, the timing could not have gone more wrong. Rememberance day, St. Martin (a lantern parade for kids) and the start of Carnival and the most gruesome weather out of all days on a Sunday evening all coincided, so the attendance at the concert was sparse. What a shame, because co-organiser Hugh Featherstone delivered a fine support set and a lively introduction to the band as well as an interview with them.
Barbara has an amazing voice (still, despite the cold she suffered from) and this seemingly easily soaring voice fits the melancholic, very personal songs perfectly. Just accompanied by Chris on guitar is the usual setup even though you won't miss the drums and bass at all – it is somehow all there in Chris' guitar playing. Once in a while, Barbara picks up a melodica (yep) and that instrument fits into their music so very well, accentuates the lightness in the shade, the shrugging off the burdens of life. I cannot put it any better: You feel at home in Precious Few's songs and as touching most of them are, them being so personal and intense, they are delivered in a perfect pop and indie pop way that – despite not on the happy clappy side – makes you feel comforted and lifted. Chanson? Maybe.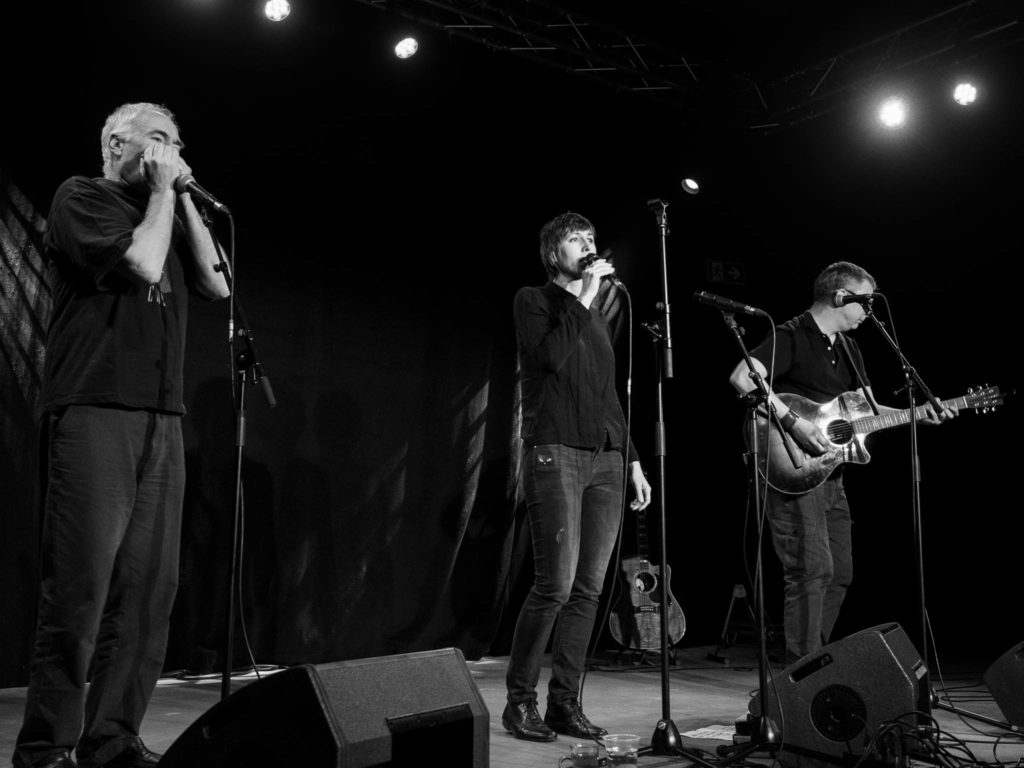 That night, the duo were joined by Paolo who added blues harmonica and would you believe it, it counterpoints Precious Few' music amazingly.
So, catch Precious Few if you can at a live performance and/or listen in for example here and here: