Why am I only letting you know about this now? This should have been New Year's news. Simply, because I only came across the band in early summer and autumn is the time for releases and concerts i.e. a very busy time musicwise. During this busy time there was however one band always on mind or ears: [Mercies](https://www.merciesmu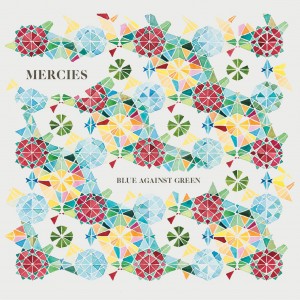 300x300.jpg)](GHOST_URL/content/images/2015/10/10845575_841048105943112_1563187750434597984_o.jpg)
Josh Rheault, Sammy Dent and Jordan Flower released "Blue Against Green" on Randm Records earlier this year and it is choc-a-bloc with melodies, intense vocals, bittersweet, hooky harmonies, beautiful lyrics and yet a hard edge to it – they call it "forest pop" and somehow this captures it very nicely. Just as we loved it, this album is not overloaded and yet grows with every listen. Addictive stuff. Fleet Foxes? Check. Grizzly Bear? Check. Local Natives? Check. And so much more.
Josh Rheault was based in L.A. were he began working with Sammy Dent from Boston via exchanging demos.  Originally Josh hails from Connecticut where they returned to write (yep, in a barn which Josh' family had restored).
Their debut was released in 2010: "Three Thousand Days". Followed by two-song single "Vultures" and the EP "The Ballet" (with The Charlottesville Ballet) and extensive touring.
Back they went to L.A. in 2013 and 2015 then saw "Blue Against Green". I'll let you have a few samples of their music, naturally. Merci, Mercies for this wonderful album!
An acoustic rendition of Every Echo…
And this is my personal favourite…["Only At Night"](https://soundcloud.com/randmrecords/mercies-only-at-night) is the most beautiful song ever..words fail me…