What on earth can I say about Sharon van Etten that she has not divulged in interviews (to the point that I wanted to throttle her interviewer, poking on when she was already in tears) or, of course, first and foremost, in her music.
Multi-instrumentalist, power-voiced Sharon has a knack for writing music, especially harmonies and then come the lyrics. Lyrics that tell of lost love, painful relationships, giving up herself, sacrificing herself, hit you, once you listen in as if you had a choice.
Sharon has no choice either: She must write it down, she must sing it, she must perform it as it is cathartic to her. However, lately, trouble thing of the past, it has become difficult at times to relive these overpowering experiences every night on stage.
Hence the playful banter with the audience! Thankfully she can rely on her amazing band to back her up, to pick her up, being fine-tuned not only to her music but to the whole Sharon.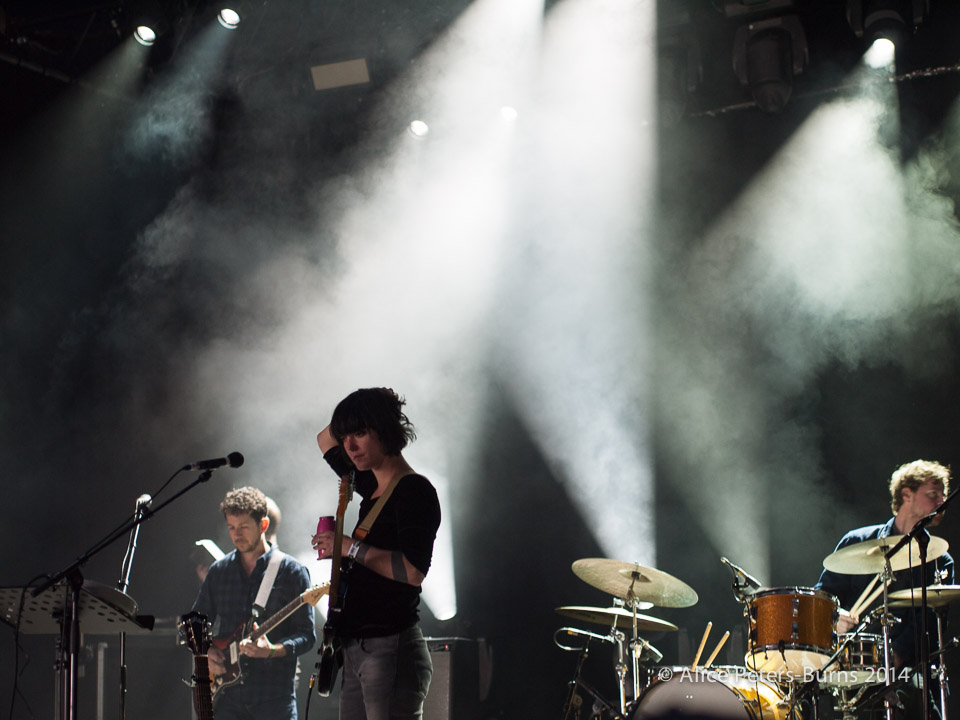 Her band includes musicians who are masters of their craft:
Heather Woods Broderick (plays guitar, bass, keyboards, piano, flute, cello and sings backup and harmony). She is also a solo artist (second album: "Glider") and works with her brother Peter Broderick (together they were for instance in "Efterklang").
Doug Keith, originally bassist, but now plays guitar and harmonium as well.  He hails from punk and rock bands and released solo albums. The latest one was "Pony" where he is joined by Heather Woods Broderick, Zeke Hutchins (earlier drummer, now manager), Adam Granduciel and J. Mascis, no less.
Darren Jessee is the fairly new drummer with the band and a brilliant one on top of that. He also drums for Ben Folds Five and his own band Hotel Lights.
Brad Cook adds warm and precise sound with his bass. He also is part of the band Megafaun.
During the course of four albums, Sharon van Etten has gone through first proper album, first band, first big sound and first total control over album (and some fine guest musicians that include Marisa Anderson who also toured with her and Dave Hartley from Nightlands and The War on Drugs). Last month a new song was released that some of you might already have heard if you had the fortune to see her and the band live: "I don't want to let you down".
There will be more tour dates, so no excuses there. I am particularly looking forward to her playing so close to home to me in Liège, on the the of April 2015. This time round I might not only succumb to the brand new "Sharon van Halen" t-shirt but finally to the tissue baggie with her name on it…(yes, I might need it, nerve-tingling performances those are).
May I also draw your attention to an interview that I did with Sharon van Etten last November (yep, the booming voice is mine, the well-spoken melodious one of course is Sharon's.)
And here's the video for "Your love is killing me" directed by Sean Durkin featuring Carla Juri.