You know that I am guitar admirer but once in a while I do indulge in a bit of electronica. Is this what it is called? Well, anything that makes you dance and sway and drift away on the basis of abundant use of electronic equipment. I do not have the competence to discuss serious, classical electronic music, neither can I stand the lyrically empty or daft thumping sounds of the dancefloor.
Indeed, I miss the great synth bands of the eighties using synths because it allowed them to express themselves (and lyrically, they did, as well as musically) without being musical wizards. No, wrong, musical talent they had in abundance, just not learned to play instruments for years and years.
Which is why I am delighted that so many bands, mainly from the continent of America, have rediscovered the likes of OMD, The Human League and so many more.
And then came Rodney Cromwell's album "Age of Anxiety" via diligent and dedicated Shameless Promotion PR and brings all that back and adds his own freshness stamp.
[![Rodney Cromwell - Age o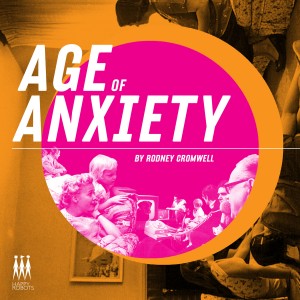 om/content/images/2015/08/Rodney-Cromwell-Age-of-Anxiety.jpg)
(Age Of Anxiety is out on Happy Robots Records!)
The very first listen to it gave me a warm glow. This is it, I thought, someone sets out and writes picture perfect tunes with lyrics that mean something deep not just anything, that are clever, often gently funny and often melancholic with a knack for composition and melodies and …you know what?
A: Listen to some of Rodney Cromwell's songs yourself right here.
B: Let the man speak in his own words as in interviews and real life he is just that: A clever, insightful, bittersweet man not afraid of self-irony. I felt touched a lot by his answers and I laughed a lot, so I will share the interview with Rodney Cromwell with you for your delectation. Enjoy!
An Interview With Rodney Cromwell
[![Rodney Cromwell photo b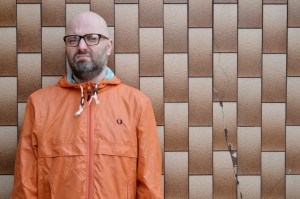 om/content/images/2015/08/Rodney-Cromwell-photo-by-Zamberwell.jpg)
Rodney, thank you so much for taking the time. Could you tell us a bit about your background, your musical journey?
Rodney Cromwell: I'm originally from a town in the UK called Maidstone, although I moved away as soon as I was old enough. At the time it was a dull, conservative satellite town with not much going on, but now it has a reputation as a major clubbing party-town. No doubt the party started when I left!
My first serious band was called Saloon which I put together with our drummer Mike Smoughton in 1998 in Reading, UK. We described our sound as folktronica, in fact I would swear Mike invented that term on our first press release. Our sound combined softly sung female vocals with guitars, viola and old synths. We were constantly compared to bands like Stereolab and Broadcast, which was both cool and a bit tiresome at times. We put out a couple of albums and several singles, played loads of gigs touring in UK and Europe, had a lot of radio play in the UK and on US college radio, we did three Peel Sessions and had (mostly) great reviews. We worked hard and spent a lot of time on the road and in Travelodges, but we had a pretty great time.
If we are ever remembered though it is because we had the Number One in John Peel's Festive 50 in 2002 for which we received a bit of grief and online criticism from certain 'music fans.' Ultimately what should have been the high pint of five years of hard work, was soured for us because of a few keyboard warriors who probably didn't understand quite how the internet was starting to connect artists with their fans, and certainly how things would look in web 2.0. Anyway, we released another album and did a couple more tours but in the end we fell apart in 2003 with a drawn out split.
Pretty soon I moved onto my next project called 'Arthur and Martha' with my brilliant and very talented friend Alice Hubley. We were an electronic two piece, playing old-school synth pop inspired by Pet Shop Boys, OMD, Kraftwerk, Polyrock and similar. We did a couple of singles and released an album 'Navigation' in 2009, to some great reviews and radio play. The album took quite a while to come out though and after its release we both moved onto doing other things. Alice now plays in a great indie band called Cosines, as well as playing in the Rodney Cromwell live set-up, which is great.
After Arthur and Martha, I badly needed a break from the music scene but I couldn't help writing tunes in my spare time. I suppose I was composing out of a compulsive need for musical therapy. Before I knew it, I had an album's worth of material that I stuck out on my own label Happy Robots earlier this year. I'm genuinely amazed that people have enjoyed it, and I'm having more fun doing music than I have for years.
You work with vintage gear, inexpensive gear, kids' toys even to make a sound that is really polished. Why and how do you do that?
Well, thanks. When I listen to it, I can only hear the mistakes so it's great to hear that you think it sounds polished.
With 'Age of Anxiety', I wanted it to have a personal, almost autobiographical feel, so it made sense to use the sounds of the stuff that was around me. I have a pretty decent collection of old synthesizers (an ARP, a couple of Korgs, two Moogs) – they were always going to be the dominant sound of the record. To compliment the synths I pulled out of the loft the bass guitar from Saloon, and my guitar, which is an incredibly cheap thing from a catalogue store. I also recorded some of the toys I found around the house as my kids have been the real soundtrack to the last few years of my life.
I recorded the whole album in my spare room studio (which is now a nursery). I think the key to a decent sound is really just getting some microphones, and if something still doesn't sound right, do it again or give it up. In fact I spent a lot of time trying to make things sound a lot less polished – there is a lot of bitcruncher and distortion deep in the mix.
Would you take us on a trip of your album "Age Of Anxiety" song by song?
Sure. It opens with an instrumental version of left-wing anthem 'The Internationale' played on a children's music box. When my son wouldn't sleep, I would play this over and over to him on a loop until he fell into off. Perhaps I was subconsciously trying to instill left-wing values into him at a formative age. That sounds like mind-control. Which it probably is!
All the other albums I've been a part of, began with big up-tempo songs but with 'Age of Anxiety' I wanted to do something different with the sequencing. Although 'Cassiopeia' is still a bit epic, it's more reflective and downbeat than the rest of the album. It is a song about the final travels of two dear friends lost in the last few years of my life. It was hard to write on such a gloomy subject without sounding overly melancholic or self-piteous, so I use the metaphor of the Voyager mission to get across my point. I'd like to think this one would sound good on a documentary about space exploration.
When I started writing 'Barry was an arms dealer' it was ten minute one chord krautrock drone jam. After a while I realized that it was just self-indulgent and a bit dull; somehow I morphed it into a catchy four minute pop song about a guy called 'Barry'. People keep asking me what it's about, to be honest I don't really know, ultimately it's just about a guy called Barry.
'You Will Struggle' is a disco duet inspired by the song 'Jackson' (the Nancy and Lee version) which Arthur and Martha covered for my wedding. This is the first song where I decided to turn up the chorus effect on the lead bass to give it that somewhat Peter Hook sound. If you're going to steal, you might as well steal from the best.
I was watching a TV show about the original disco scene and they were interviewing Chic, Sylvester and so on. Someone mentioned that 127 was the ultimate disco tempo;I felt I had to try it out myself. The song 'One Two Seven' came together in a just couple of days and for that reason it's probably my favourite track. The lyrics are '127 Disco Heaven, 128 Disco Hate'; if there is an overarching theme of mental-health running through the album then this track is about bipolarism.
'Fax Message breakup' was the last track finished for the album. I had the instrumental parts for years, but I couldn't come up with a vocal. One afternoon I had a bit of a meltdown saying 'that is it, I'm giving up music forever!' It was that meltdown which gave me the idea for the lyrics. "And now my synths are in the loft, even the moog that was on Make it Soft" (being a song on the first Saloon album). Ironically finishing the track gave me the ten songs I needed for the album, and rather than me giving up music, the track had completely the opposite effect. Oh the irony!
'Baby Robot' is the most joyful track on the album. It just came out of the happiness of being a father; it features the sound of my son grunting and Alice playing some of his favourite squeaky toys.
'The Blue Cloud' is quite literally about the experience of having a panic attack; ideas racing through the head in an unstructured way, a grab for prescription drugs, chest pain, sweating palms, endless existential catholic guilt. My friend Adrian wrote the guitar part; I think he was going for Fripp Berlin Period Bowie, which it might have sounded like if I hadn't bitcrunched it to the point where it sounded like something on an '80's 8-bit computer game run through a toilet.
I always wanted to write a track in 5/4 like 'Everything's Alright' from Jesus Christ Superstar and 'Fenchurch Street' was my go at it. The female vocalist is my wife recorded into my iPhone. The vocals are full of inaccuracies; there is no platform at 10 at Fenchurch Street and my pronunciation of Shoeburyness is wrong apparently. My fear of the Blackwall Tunnel is entirely true though.
The final track 'Back Dog' is a song about depression but I didn't want it to be miserable, quite the opposite; I wanted it to be uplifting, catchy and danceable, so that the album finishes on a natural endorphin high.
Unlike in most dance music or the "serious" electronic music, your lyrics are quite quirky, with attention to detail. Do you see yourself as a traditional songwriter?
Yeah, I do to be honest; I think of myself as a songwriter more than a regular musician because I'm not a much of an accomplished player, in fact I'm pretty inept. The lyrics are my opportunity to do something original; throughout my 'career' I have always taken lyric writing really seriously whether it's for a serious fragile song like 'Bicycle Thieves' by Saloon or something as conceptually silly as 'Music for Hairproducts' by Arthur & Martha.
Many acts seem content to churn out any old cliché over and over again. I do Iike my lyrics to sound kinda cool but I'm very glad not to be lumped in with 'serious' electronic music. Music should make you think, but it should be fun and life enhancing. The world is miserable enough as it is, without adding miserable music to the mix.
You seem to be unafraid to write a catchy pop tune. Easy or difficult?
I find making music without a discernable tune a lot more difficult, although I'm pretty sure not everyone making music feels the same way! It is easy, but it's a lot of work. I will play a song over and over and often ditch whole vocal lines and melodies and start the whole vocals again, until I have something memorable, or if I'm lucky, something annoyingly infectious. Like a sonic rash.
Is the new structure of the music industry with social media, self-releasing and promoting helpful for you? Where do you see the pitfalls?
To be honest I'm not a great fan. Punk rock made indie-labels and self-releasing records a reality, but it was part of an anti-establishment, counter-culture movement. Now if you want to self-release and get heard, it is almost completely impossible without using online platforms owned by tax-dodging, mega-corporations. It is far from counter-culture! Thankfully I have a great agent who makes sure I am tweeting and sharing the right things, otherwise it would never happen.
If you had the chance to pick any colloborateurs you like, who would you choose?
In terms of the Rodney Cromwell music and design work, I'm massively happy with all my current collaborators. Collaboration on my videos and my live visuals though would be wonderful. My favorite film director is/was Francois Truffaut so I would have loved to have seen what he could have done with a music video.
Saying Truffaut does make me sound pretty pretentious though, so how about RuPaul as my answer. I'm watching a lot of RuPaul Drag Race at the moment, she's ace so I'd love to have her in one of my videos.
Thank you so much, Rodney Cromwell!