Indeed, it was upon us again in this corner of the world: Little Waves Festival in the beautiful buildings of the C-Mine in Genk, Belgium. In December, the first acts were announced and it bode well to get tickets. This is a smallish indoor festival taking place in early April and it is always sold out quite early. You can rummage through reviews of earlier editions of Little Waves festival here and here.
En route to the festival, there were a few bummers. First of all, I was eagerly awaiting a bigger international act (well, big in the alternative sense, you know what I mean) such as Villagers or Grandaddy a couple of years back. But no, it was not be. Headlining were Whispering Sons who are originally from that area in Belgium. Granted, there have been quite a few headlining acts from Belgium over the years (and you know I'd be the first to say that Belgium possesses an awesome music scene) and Whispering Sons are quite big internationally, so, fair enough.
Five days before the festival, Sam Amidon was added to the bill, hurray. Alas, it was not an additional performance but replacing Ryley Walker who had to cancel his whole European tour including this gig. More of that later.
Then, we felt a little tired and ill on that day and also it was bitterly cold, but no stopping us now. On arrival we found that the food on offer had been restricted to just the chipper outside. Maybe serving a variety of food inside in the entrance hall was a tad too messy and also too loud for the concerts off the entrance hall. But, despite the chips being great and the service friendly, 4 Euros for a small portion when this is the only option (or because of it) is a bit disheartening.
Several alternatives have been tried out to actually quieten down the noise and the human traffic in the entrance hall such as moving the free festival acts up another level and into a room at the side. This year that smaller venue beside the usual theatre style venue and the big (standing) venue offered music to the non-ticket holders alike and diverse and daring it was, featuring Tristan, Sergeant and Niklas Paschburg. The upper level was reserved for a quiet seating area with DJs dishing out some fine tunes. The vinyl stand and the merchandise stands had been shrunk considerably as well, presumably all in the effort to make some space and to quieten the entrance down.
Still, there was overlap and people milling in and out of the gigs not to miss anything. It is probably unsolvable. This year the programme was so tight that we could not take in any of the aforementioned acts on the free festival stage and had to really cut short our visits to the big venue.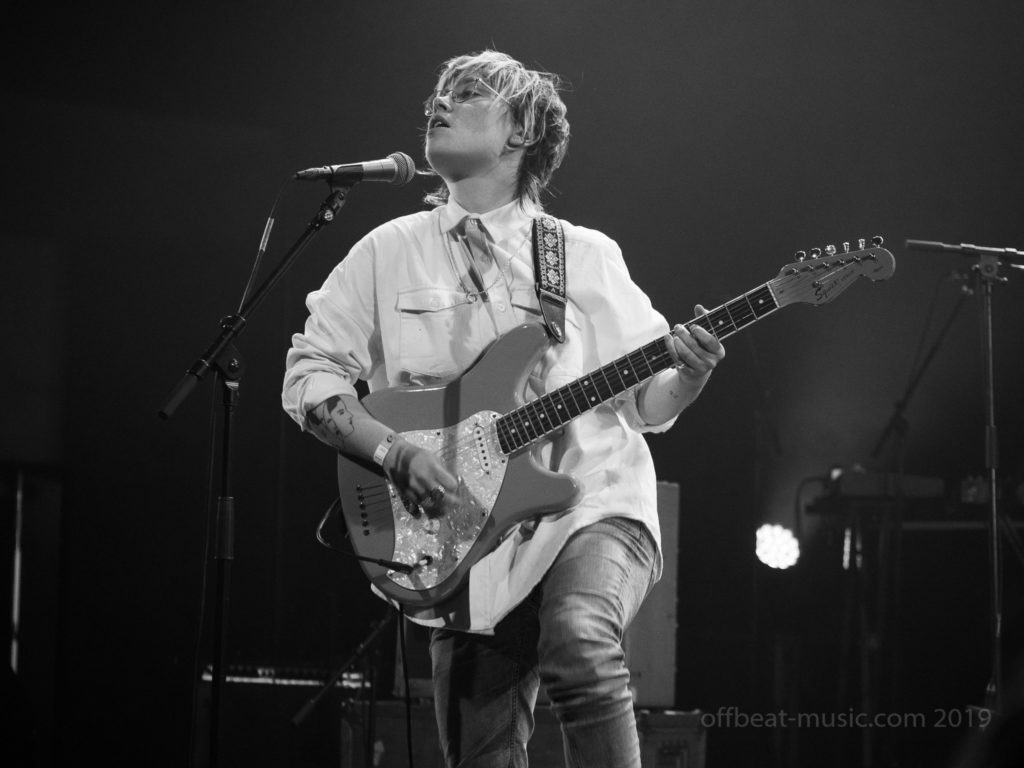 Annabel Allum was the first act on the stage and as if that was not hard enough, she also had some problems with her guitar. Kudos to her and her equally young drummer and bass player, they managed this with humour and flair. Annabel Allum plays a mean guitar and rocks, supported by a melodic bass and some ace drumming by a female drummer (yay!)
Next up for us: Gabriel Kahane. The New York based classically-trained musician introduced himself quickly and amidst lots of laughter when he rattled down his biography followed by an "any questions" without awaiting an answer. All the more time for the music was Gabriel's motto and thankfully so. His masterful performance at the piano and on guitar and some truly impressive singing of songs in the purest singer-songwriter style (lyrical story-telling accompanied by music that is unashamedly wistful and catchy and poppy). Gabriel Kahane has written musicals and orchestra pieces and collaborated with numerous people, his latest solo album is called Book Of Travelers (written after a long train journey through the U.S.).
Unfortunately only a quick peek possible at Crayon Sun from Antwerp as food beckons and nature calls and a seat has to be secured: I would really have loved to see and hear more of their rough, guitary, psychy sound.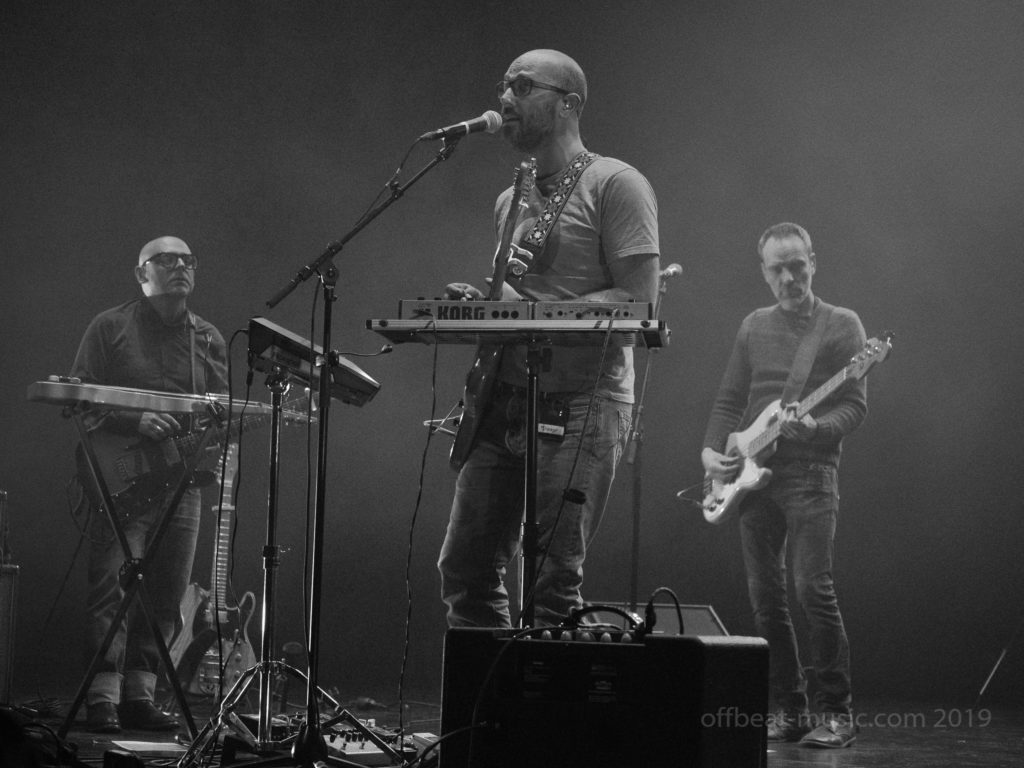 Back in time to catch one of Belgium's finest: Isbells. Isbells are celebrating their ten-year anniversary and yet I had not managed to ever see them play before. Understandably I was excited. Gianna Marzo of Marble Sounds is a member of the band, thus I came across the name Isbells first. Five people spread out on the stage, each with an array of instruments, Isbells managed to pull off a big orchestral show and really strive for perfection and yet, they did not lose the fragility, the warmth and the indie charme of their songs on the way. A real highlight.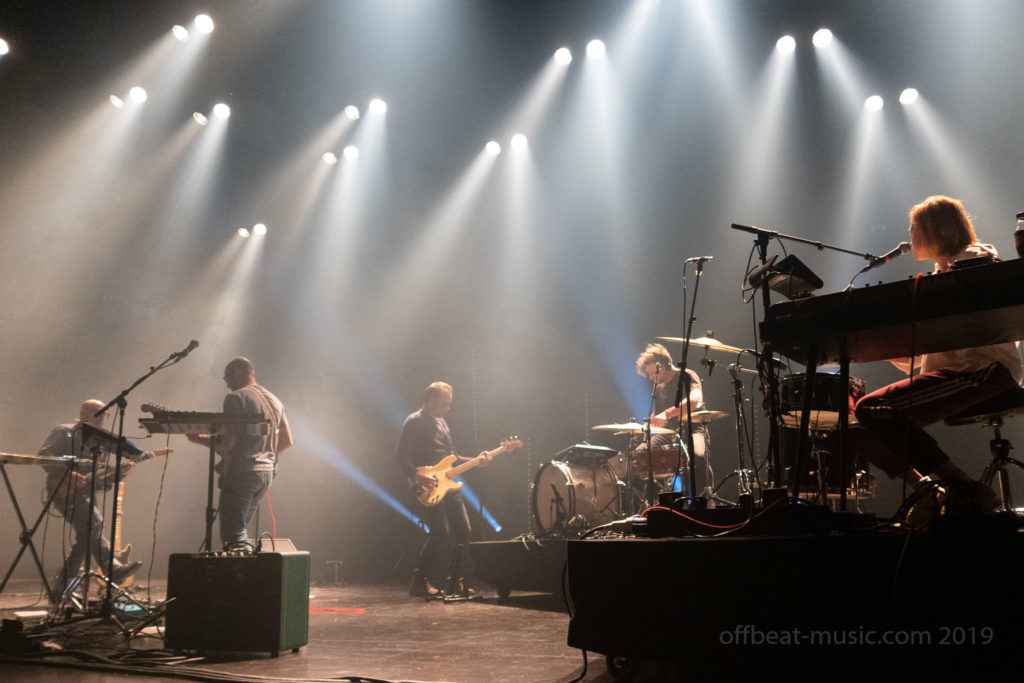 A short snifter at the music of Portland, a Belgian dreampop band who had already started and were finishing while we were awaiting the arrival of Marissa Nadler with abated breath. And there she is, all ethereal beauty, wearing a black dress and having two white electric guitars (six- and twelve-string) at her side. Rendering a selection of her songs from "Srangers" and her latest "For My Crimes" (on which the emphasis lay) she manages to spellbind with her amazing lingering voice, minimalist but effective guitar playing and truly hauting songs. Marissa felt a bit flustered as her cellist was not there, she had to get acquainted with looping and felt a little alone on the big stage. That the spotlights were right at her, did not help, but I felt that the little hectic and slightly chaotic intermezzos made the otherwise otherwordly performance all the more grounded and charming.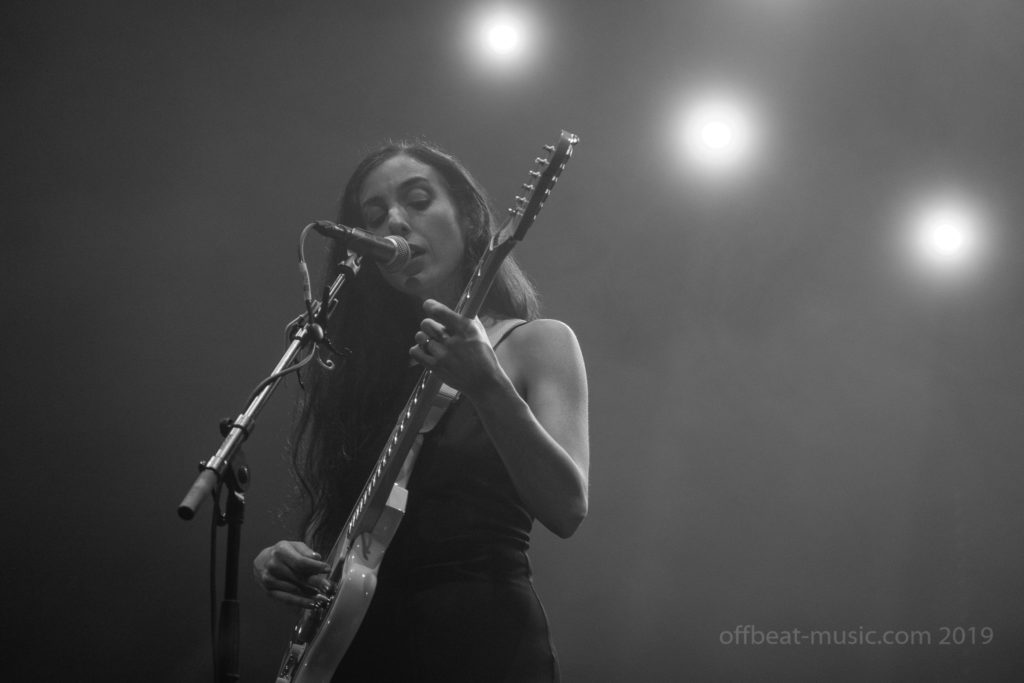 Another trip over to the other stage (was just getting cosy in that seat but sometimes I find, even if feel comfy and can really concetrate on the music when sitting down, that it is slightly disconcerting for the artists on stage – the applause seems so measured, so quiet, you hardly dare to clap and holler and whistle). Pinegrove were up on the rock stage, a young band from New Jersey, happily rocking away to much appreciation of the audience.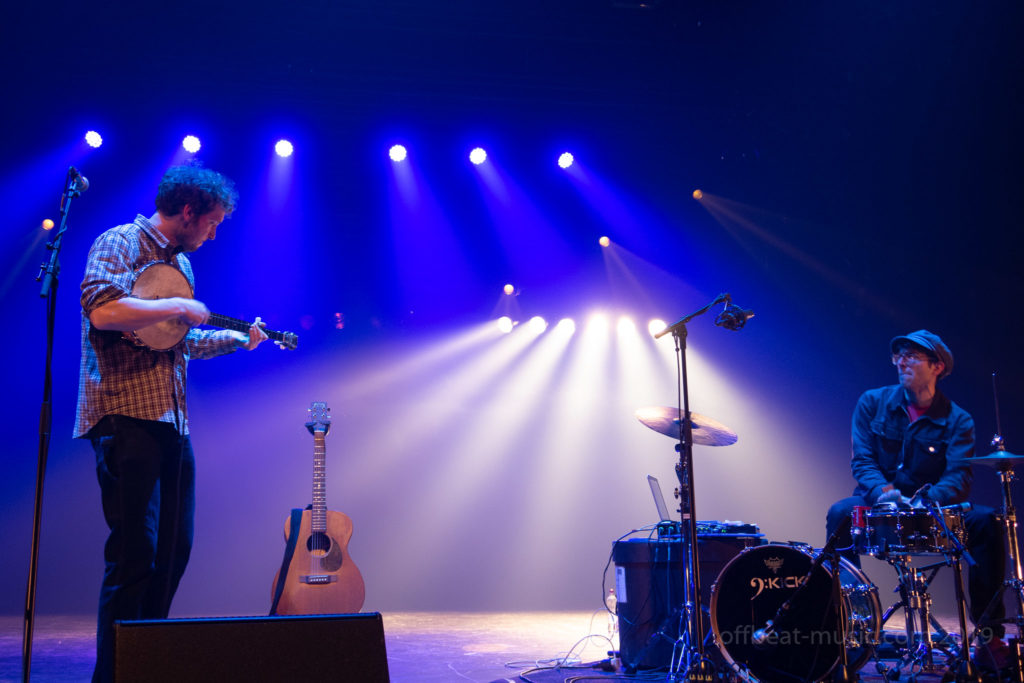 A big fan of theirs is also Sam Amidon who luckily promptly was able to replace Ryley Walker. Now, I wish Ryley Walker well, truly. A fantastic musician who unfortunately has been marred by mental problems and addiction quite a bit, but on the other hand I am relieved that we did not have to experience Ryley Walker in that condition as the music just drifts off and the communication with the audience becomes pretty narky veering on non-existent. Ryley Walker had to cancel because of those afore-mentioned problems that sadly have reoccured. Sam Amidon turns up, chirpily, funny, talkative, guitar and banjo and an amazing drummer/bassist/electro fiddler/general master of invention Chris at his side and within seconds everyone is just right there with him.
For me that is the way to preserve traditional music: Keep it pure as in, inherit it as unfiltered as possible and then transport it to the present. Don't polish it and cut away on it and only keep the parts you like and then put it in a shrine. Sam Amidon has done great things to and with traditional music but meanwhile he also plays his own songs and puts on a real foot-tapping, tear-inducing and rolling on the floor laughing show and there seems to be no barrier at all between him and the audience. Truly wonderful.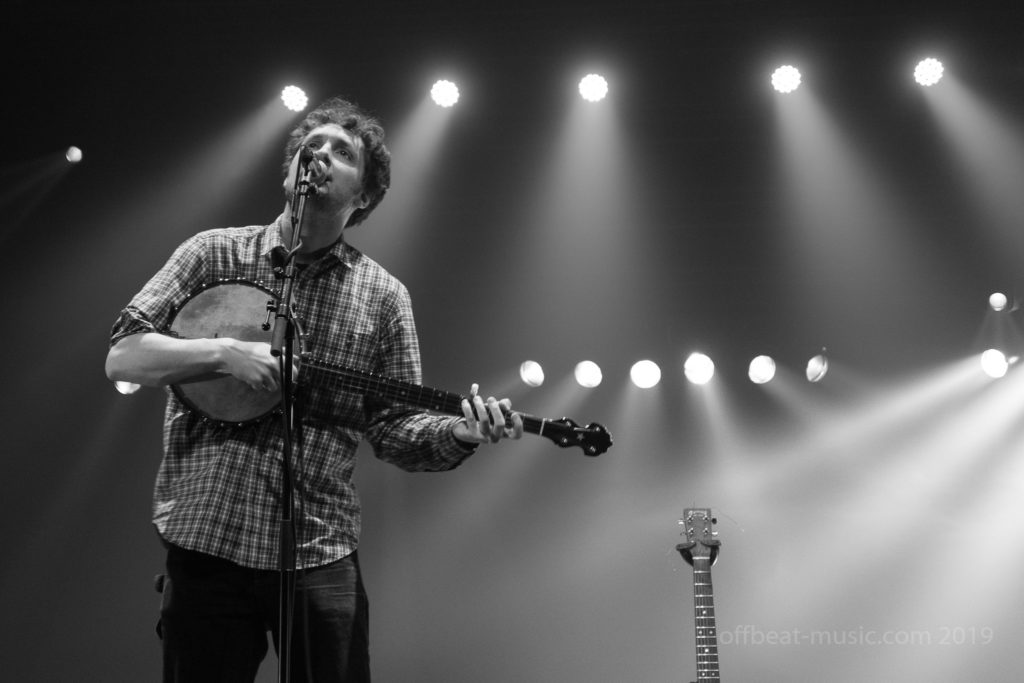 And no, I do not have any misgivings about Whispering Sons as a headliner nor do I find anything wrong with their music. Any other day I would have loved to watch them but it was late, the journey home was looming and after Sam Amidon I simply could not switch over to another genre so quickly.
So, that's another year gone. Looking forward to next April. Thank you C-Mine and thank you all the artists there and a wonderful and appreciative audience!