Is this blog hibernating? Not at all (too many cups of tea). The author of the blog is patiently waiting for spring in the northern hemisphere. In the world of music spring has already come – tours being announced, new releases galore and the festival line-ups as good as wrapped.
Let me pick out a few:
Last year's Little Waves Festival in Genk/Belgium I attended and it was absolutely beautiful. This year's (April 8th) now promises to be a stunner too. Mind you, it is already sold out, so why am I promoting it and teasing you at the same time? You could keep an eye open. There is a waiting list (keep updated here). It is so worth it. Located in a gorgeous restored mine building, it is indoors and always hosts a great a line-up. Wonderful food and drinks await you (hey, we are talking Belgium here) and the audience is of the really appreciative and good-humoured kind. I had a blast year and no doubt, this year will be special, too. The ticket prices are not to be sniffed at either for the whole event.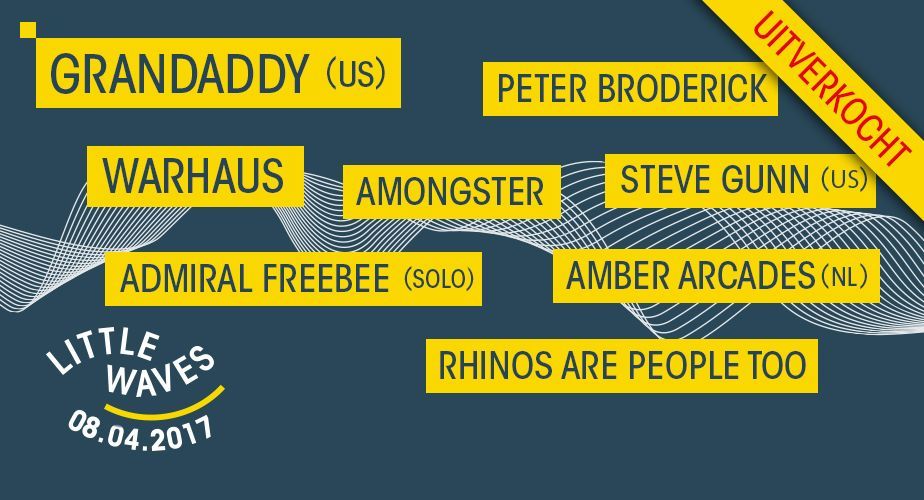 Same day, different location: Helsingborg, Sweden hosts for the 4th year in a row  together with Amnezia Music Management the World of Music Festival. There will be 5 national and international acts performing live during Saturday 8 April 2017. BAM records presents BlackRockStar as a Headliner from The Netherlands. It will be a mix of Punk, Rock, Blues, Soul and Stoner Rock at a brand new location at REBUS in Helsingborg.
Then of course I will divulge what is on the record player right in the Offbeat realms. Too many to mention but I absolutely must recommend the following (apart from the release of New Apostles album now, again a mesmerising new Brian Jonestown Massacre record and Jane Weaver's new album Modern Kosmology  on the horizon).
Hand Habits – Wildly Idle (Humble Before The Void) / Woodsist
Meg Duffy is a multi-instrumentalist from Upstate New York. Many might have first encountered her and were impressed by her performance with the Kevin Morby Band last year (like myself). Her new album "Wildly Idle (Humble Before The Void) under the moniker Hand Habits invites you into her world and does not let you go – in a good way. I can vouch for everyone who has listened to her album to become totally addicted. Her label Woodsist aptly describes the album as lulling you in like a bath.
Hand Habits album was recorded in Meg's home and you are witness to all the background noises of everyday life. She tells stories of her restless life in different jobs and on tour, however, with an outstanding talent for captive songwriting, in a beautiful tender voice and garnished with just the right amount of instrumentation in all the right places. Welcome to the world of Hand Habits, you won't regret it.
Now for something totally different – the release of [Black Needle Noise](https://www.facebook.com/BlackNeedleNoise/?ref=hl). Black Needle Noise is the new project by John Fryer. The mention of his work up to now will make you bowl over with awe. After all he produced Depeche Mode, Nine Inch Nails, The Wolfgang Press, Cocteau Twins, Yaz (Yazoo), Clan of Xymox, Nitzer Ebb, Love and Rockets, Xmal Deutschland, Fields of the Nephilim, De/Vision, Stabbing Westward, Swans, HIM, Cradle of Filth, Jesus Jones, Swallow, and M|A|R|R|S, Dead Leaf Echo and The Foreign Resort. John Fryer created soundtracks and last but not least he is one of two constant members along Ivo Watts-Russell in This Mortal Coil (4AD). Have you fainted yet?
Now, John Fryer's new project Black Needle Noise releases the new album single by single (the latest being "And nothing remains" with Ana Breton). Recent single releases included the following vocalists: Jarboe from Swans, Jennie Vee (also bassist in Hole), Omniflux of Puscifer, Kendra Frost of Kite Base, Andrea Kerr of Colt, Elena Alice Fossi of Kirlian Camera and Zealand. Other recent singles feature Jarboe from Swans, Canadian-born songwriter/ guitarist Jennie Vee (she also plays bass in Courtney Love's band Hole), as well as Omniflux of Puscifer., Kendra Frost of Kite Base, Andrea Kerr of Colt, Elena Alice Fossi of Kirlian Camera, and Zialand as well as Mimi Page of Delirium and many more. Keep your eyes open for this extraordinary œuvre which you can find on blackneedlenoise.bandcamp.com.
Last but not least I am getting immense listening pleasure out of [The Immediate](https://theimmediate.bandcamp.com)'s new EP Mold! Adam Walton, Richard Harrison and Duncan Farmer hail from Mold in Wales where they grew up, went to school and now Mold has become the subject of their album. The four songs on the EP cover a wide range of everything that is good about alternative music without (don't get me wrong now) being too vague, too superficial. The band show off an extensive love of music and making music on their EP. I particularly love (and cried tears of mirth and sorrow simultaneously) "Manbuoy", a spoken word piece and think it should become mandatory for English lessons at schools abroad for it's sheer wit and sadness and the detailed depiction of life in modern Britain.