Much looked forward to, our annual family outing to one of the finest festivals I know is already over and done with again. Last Saturday saw us driving excitedly to the C-Mine in Genk, Belgium, a former mine building, now converted to part museum, part art exhibition centre and part very fine venues to enjoy this year's Little Waves @ C-Mine, Genk, 2018 – a feast of a festival.
The fun starts when you arrive: Plenty of free parking, a short stroll to the building that houses the venues, a friendly and easy entry procedure. This year there was an additional venue upstairs, the Compressorenhal, the newcomers were moved from the foyer to a separate room and then there were of course the standing only venue with gallery and the big theatre with seating. Everything as expected: Fine food and drinks at reasonable prices, super friendly staff and a line-up to die for.
Sadly the problem with overlaps of the performances that will make you miss quite a few acts you would like to see or has you rushing in and out of performances, still remains. I would say, it probably has become worse. It so happens that we never made it up into the Compressorenhal to see Wartaal, Bonfire Lakes and Holly Miranda. Especially the latter I would have loved to see but Holly's set was at the very same time as Mercury Rev's. Pity for the very talented musician to have everyone flocking off to see Mercury Rev.
It also means that you have way too little time to fully enjoy the bustle and the fine catering…well, a couple of Krieks and original Belgian chips had to do the trick.
On arrival we had a short gander at Bed Rugs from Antwerpen who delivered an engaged set of songs to unfortunately not yet many in the audience. I thought their music, though well-crafted and with heart in it, was a bit all over the place but was very happy with the last song we heard, a guitar-laden psychy tune.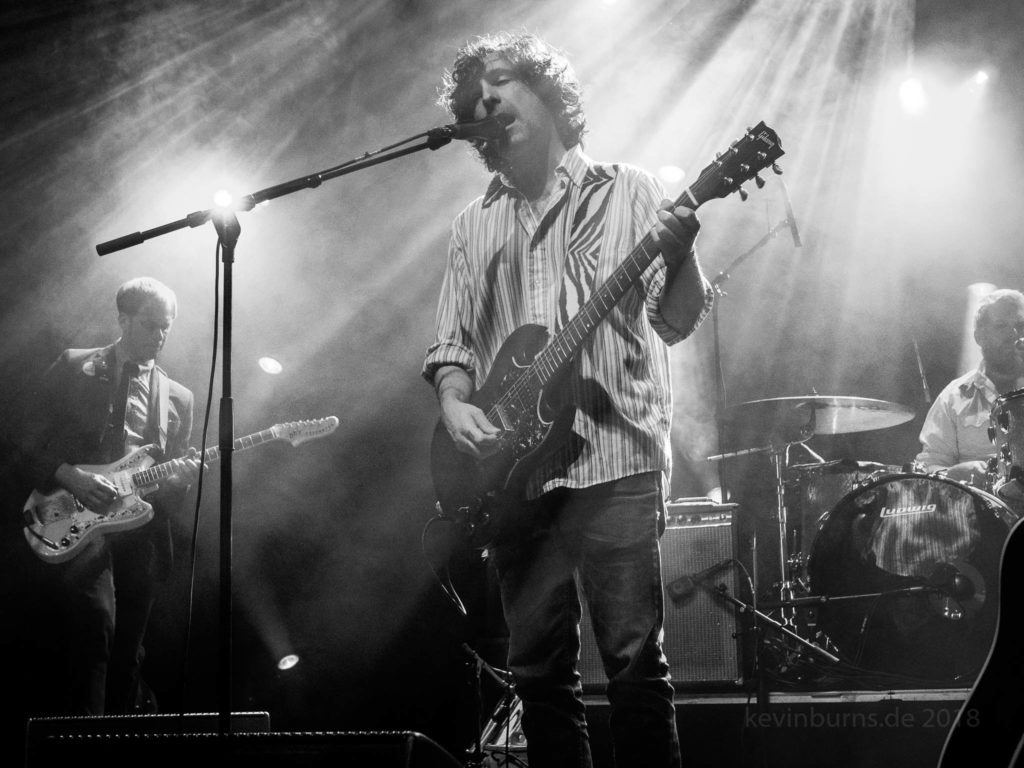 But then it had to be off for us, Blitzen Trapper from Portland, US, were starting their set. Americana in the purest sense garnished with typical country lyrics, in some songs not unlike The War On Drugs oeuvre, there was a very professional band who also seemed very down-to-earth and likeable. The audience was still not quite awake yet, sadly, but I think, Blitzen Trapper did not take it to heart and were enjoying their set and were way too polite to comment. I am only guessing here but given the day that was in it (warning strikes of the US, UK and France in Syria), people were probably expecting a bit of a political comment from this so very American band but Blitzen Trapper remained on neutral ground.
A short peek into Catbug's set on the newcomer's stage…she was playing to a full room and entertaining with singer-songwriter compositions. Quick bite to eat and we were ready for Mick Flannery from Ireland.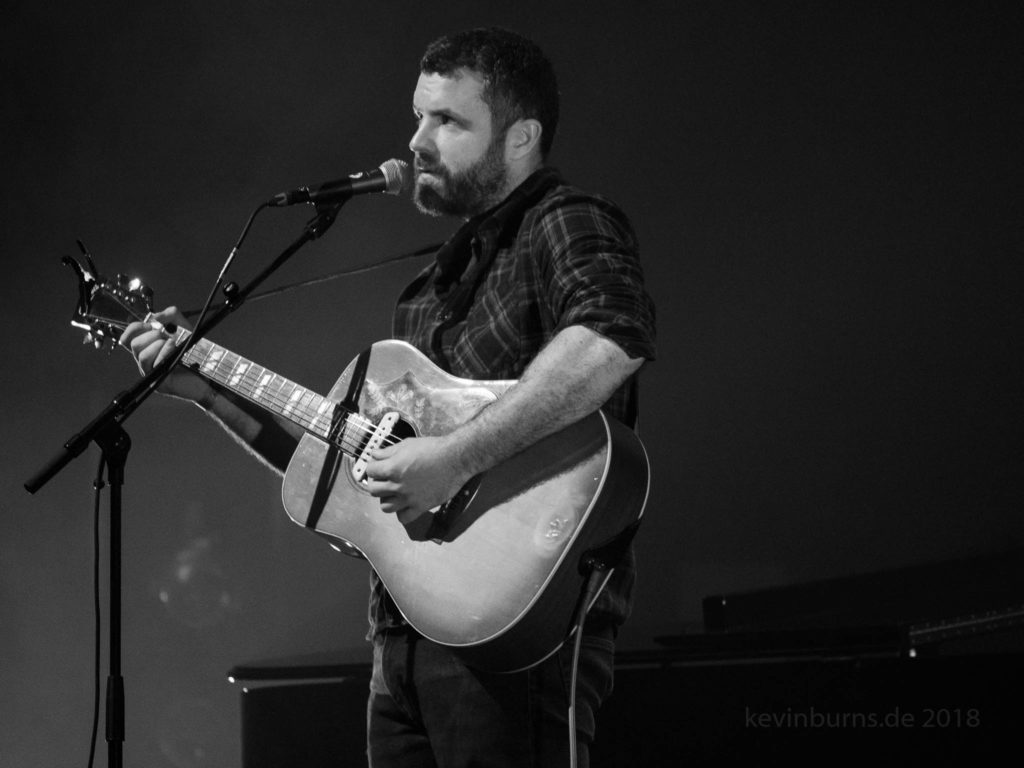 Even though – can you ever be ready for Mick Flannery's bitter, bitter songs about heartbreak and hopelessness? Yes you can if they are delivered with such wit and warmth and amazing guitar and piano playing plus the stories in-between. Mick Flannery probably would not think of himself as a stage person but his performance is very compelling. Could have heard a needle drop if the girls behind would have stopped chattering (in the best possible way, about the music, but nonetheless). Mick Flannery was attending his merch stand, selling, signing and talking afterwards and came across as not only a very gifted songwriter and musician but just a normal guy which we all were very impressed with. If you can catch him on his continuing tour through Europe and the US, do!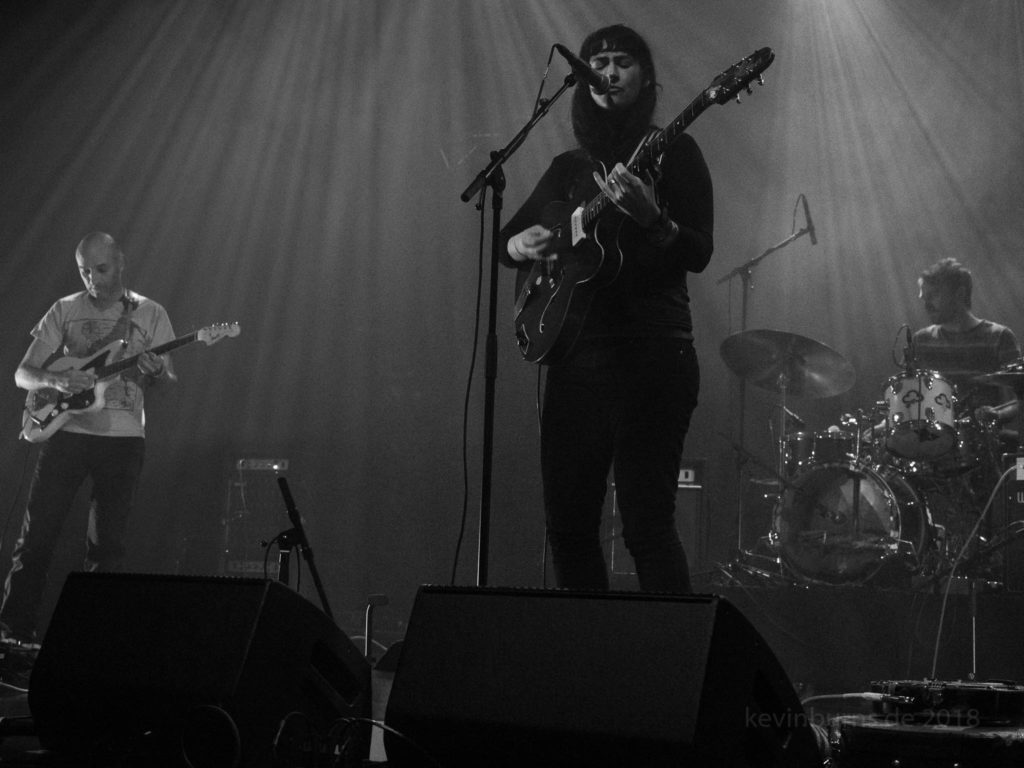 I would have loved to see more of Douglas Firs from Gent in Belgium because I really like some of their more sombre songs but alas, we had to be in time for This Is The Kit who I had already missed once last year at another festival. I expected good songs, performed to a high standard but This Is The Kit's gig left me gobsmacked, utterly gobsmacked. Those beautiful songs reach another dimension live due to the immense craftsmanship of each one in the band: Kate, Rozi, Matt and Neil. (We have Rozi Plain – please pay attention also to her fantastic solo releases on Lost Map – not in the picture, that stage is just too wide and we were too close).  Added to that their playing together in such a tight way was absolutely amazing. You could ask Kate for a song, she'd wangle it in and the band played it perfectly.
Kate's and Rozi's duo singing was bliss. Kate's absolutely masterful on fingerpicking guitar, banjo and of course singing and even whistling a tune. The diverse and on the point drumming of Matt, the melodious bass of Rozi and to top it all off the guitar mavericks of Neil who was allowed to show off during the last two songs – I know….I am ranting but I am not exaggerating. The set even contained my favourites "Misunderstanding" and "Bullet Proof" and both had me in tears. The audience was oh so quiet (in a good way), so my whooping was of course making me stand out like an eejit, but hey. Kate later was at the merch stand with Ben and both were again so kind and friendly and witty. Ah, true musicians do not need to be divas, I know, but it is still very refreshing to see.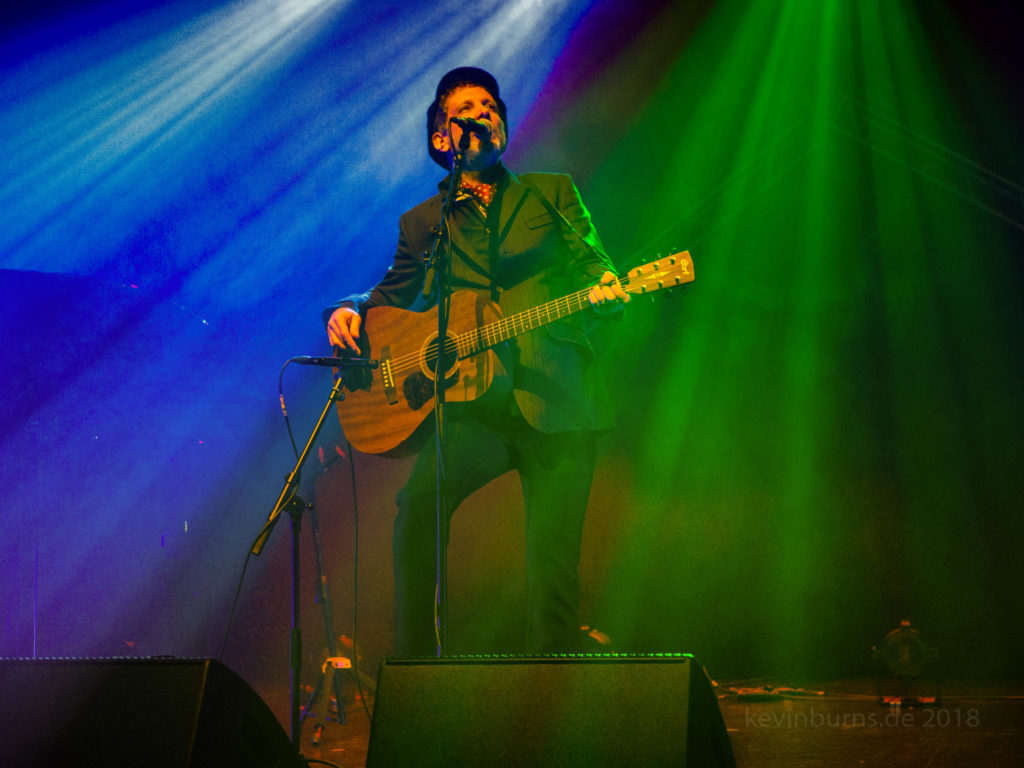 The Academic had started a fresh set in the standing only venue which seemed to be going down well but there we had to rush again: Mercury Rev were beckoning with a very different set. Celebrating the 20th birthday of the album Deserter's Songs, the songs were played by Jonathan Donahue, Grasshopper and Jesse Chandler in an acoustic and intimate way with many a story told around the making of the album and the situation Mercury Rev were in at the time. Apart from this being very interesting, touching and funny at the same time – Jonathan is a great storyteller, the actual songs went straight to your heart. I barely moved through the whole set. The audience did get a good dose of electric guitar though from Grasshopper during the songs, fresh from his new Sterling Stingray!
It was amazing to see Mercury Rev live. Some might have missed the typical Mercury Rev big, embellished, dramatic performance but boy, this toned down performance certainly had me by the guts.
We finished off the evening by saying hello to the very courteous Jonathan, Grasshopper and Jesse at the merch stand (their wares were selling like hot cakes) and a short look-in to Slumberland who were entrancing with two drum kits and synthesisers.
We had a very special evening thanks to the artists we saw and heard.
Certainly want to see all of these acts again and thank you Little Waves, see you next year!