You know that attitude of some fans of alternative music? A band becomes bigger – they are not selling out; their music does not become unbearable; they do not become nasty or pontificating. They just become better known, hit the charts, play in bigger venues. And  then indie nerd has had it! They are no longer interesting to him/her. Is it that the proud parent momentum is lost and the other fans are unworthy? I truly cannot answer that question.
Look at The War On Drugs: Yes, their album "Lost In The Dream" is selling like hot cakes and gets praised to the moon (deservedly so, I think). They tour and tour and sell the venues out like nothing (again, deservedly so). Promptly critics wail, on the forefront a certain Mark Kozelek. Aaaaaalriiiiight, maybe they just don't like the music…fair enough, then do not listen.
What is Kurt Vile supposed to say? Starting out with The War On Drugs and leaving after their first album "Wagon Wheel", he missed out on all the fun. Granted he, now a family man, would not be able to do that kind of touring schedule for more than a year. And maybe he will be adored by all the above-mentioned indie nerds who find him just in the right-sized venues. But Kurt Vile does not need that. Such passion, such an output of music. And he will know himself that a lot of the limelight is sheer luck (and so does Adam Granduciel of TWOD and is grateful for it). Plus, it was only last year when Adam joined the Violators on stage and later, Kurt did the same for The War On Drugs. Yes, we were a very blessed audience that night.
[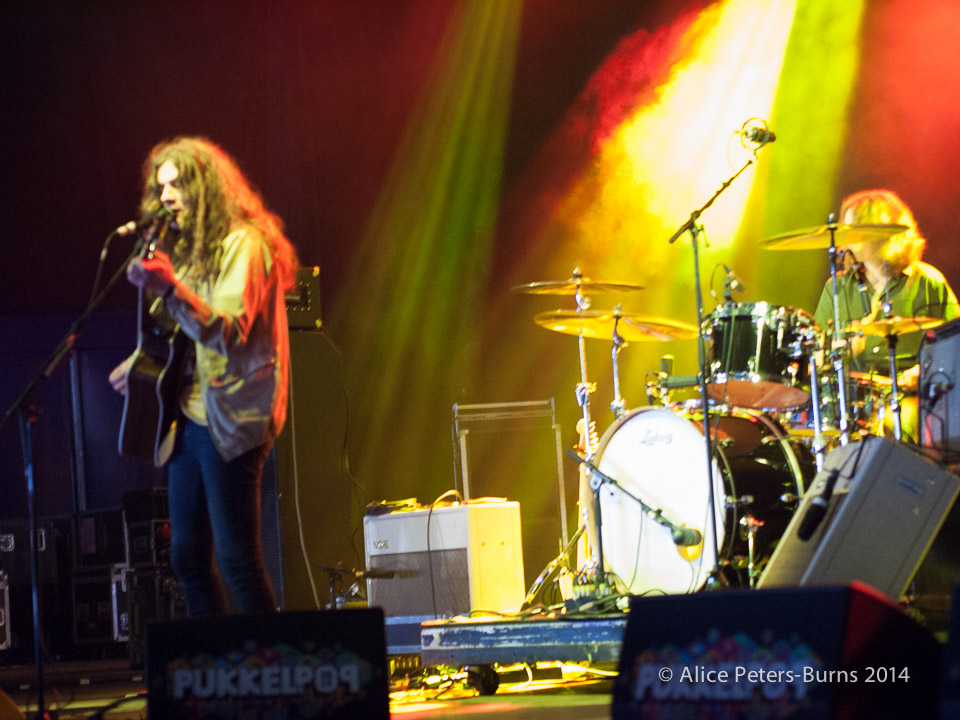 But nevertheless, I find it is time that we write about Kurt Vile (and I have no problem at all with writing whole novels on The War on Drugs). Simply for the reason that for those who have missed Kurt Vile in their lifes, here's your Saturday night treat!
Summed up (I do want to come to the music!):
Kurt, who is in his mid-thirties, of course is from Philadelphia, Pennsylvania, USA, and is strongly connected to his hometown. He hooked up with Adam Granduciel over their love of Dylan on travels and they then set out as The War on Drugs. After the album "Wagon Wheel", Kurt Vile left to form The Violators (Jesse Trbovich – guitars, bass guitar, saxophone, since forever; Rob Laakso – guitars, bass guitar, keyboards, various instruments, since 2011; Kyle Spence – drums, percussion, since  2013) All is on very good terms between The War on Drugs and The Violators!
He has done five albums so far: Constant Hitmaker (2008), God Is Saying This To You (2009) and  then, on Matador, Child Prodigy (2009), Smoke Ring For My Halo (2011) and Wakin On A Pretty Daze (2013). A number of EPs complete the large oeuvre.
He comes from a large family and his first instrument was a banjo, even though he wishes it had been a guitar. But he realised that that was what he wanted in life: Music. Always having to work, tough jobs with no college career up his sleeve and on top of it a little shy for the working-class world, it cannot have been easy.
Even nowadays, he's frank to admit, that he would like to make more money, after all, he has a family to support. He also would like to be more famous in the sense that he simply can communicate what he lives for with more people. He also discovered that some people (see above) tut-tut at that but he is grown-up and he is right, I think.
To some he comes across as a slacker, but the man is eloquent, friendly, loves his family and Philadelphia and is a hard worker, almost obsessive.
Vile released two albums, Constant Hitmaker (2008) and God Is Saying This to You… (2009), before signing to Matador Records, in May 2009, and releasing Childish Prodigy that same year. In 2011, Vile released his fourth studio album, Smoke Ring for My Halo, which significantly increased his exposure. His fifth studio album, Wakin on a Pretty Daze, was released in 2013.
Joy, oh joy, Kurt is currently working on a new album, the release of which could be later in the year! And I have not even mentioned that he also works together with the unbelievably gifted Steve Gunn.
Shall we have some music?
Have a good weekend!