Avid Kurt Vile fan that I am, I have been looking forward to see Kurt Vile & The Violators performing live again in my vicinity for the past six months now. The anticipation was made all the more glorious when the support act was announced: Mary Lattimore & Meg Baird. A veritable feast so to speak and I will of course let you know how this festive occasion turned out, so join me for a review and more blathering on Kurt Vile & The Violators and Mary Lattimore & Meg Baird at Kantine, Cologne, Germany, Nov '18.
It makes my blood boil a bit even though it should be Kurt Vile himself who is the judge on this, but this sticking the "slacker" label on him and "slacker music" on his work, is not quite right. Alright, there's the guitar music with some of the obvious influences such as Pavement and the appearance of a drawling, goofy, long-haired, slackerly dressed person on stage…fair enough. But there is so much more to Kurt Vile and his music. Steve Gunn, former member of The Violators, and guitarist and songwriter par excellence, should know and in an interview he claimed that Kurt Vile just has it, that ability to write brilliant songs with ease. I do not know how easy it really is for Kurt Vile and his limited vocal range is both just that – limited and one of his trademarks. But on the other hand, if you ever took a closer listen and look at Kurt Vile, you will find a perceptive, witty and touching songwriter, an excellent musician and a down-to-earth, humble person, way beyond the lazy "slacker" label. Also he is an incredibly diligent musician which this year brought him to the brink of mental meltdown due to stress. Not only has he released an album full of the sweetest songs and toured with – it seems – perfect soulmate Courtney Barnett from last autumn on, he has been on the road himself for three years and managed to write and record songs for his new album "Bottle It in". By no means is he bottling it in on this album, he is lyrically at his sharpest yet and it just seems to flow from his inner self unfettered. Musically he (with thankfully the support of his label Matador) is not restricted to churn out radio-friendly three-minute pop songs (not that there would be anything wrong with that) – the thirteen songs on "Bottle It In" are his lushest in instrumentation yet and the haziness of his four albums before "B'lieve I'm Going Down" has returned, but mostly in a much tighter way. Three of the songs hit the ten minute mark and over. A brave move and a self-confident one and certainly one that his fans mostly cherish. Much to discover then from the new album on this year's tour.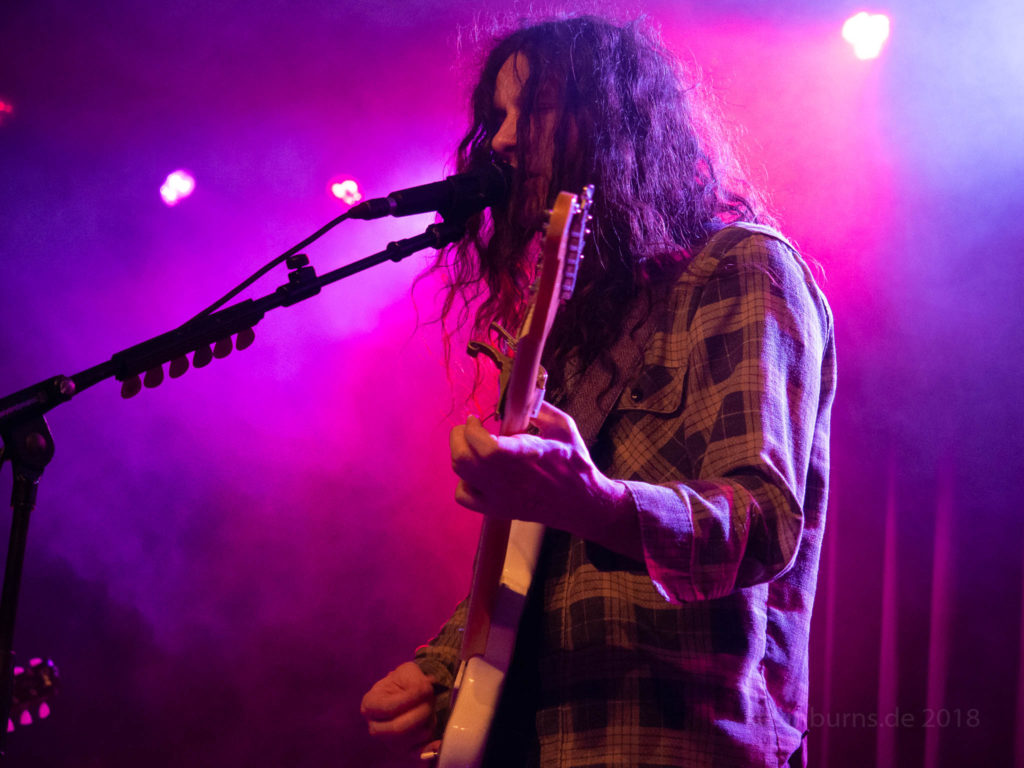 The venue he played that night, November 2nd, Kantine, Cologne, Germany, well, it is a biggish one and as much as I of course am happy for Kurt Vile to go on to bigger things, I miss the intimacy of earlier performances. A big drawback to the venue is having two bars in there and the toilet facilities behind the stage, meaning there is constant squeezing through and movement in the crowd. Also the sound in front of the stage was pretty bad in my opinion, so I moved to the middle where it was fine and then to the back where much of the vibe got lost in people chattering.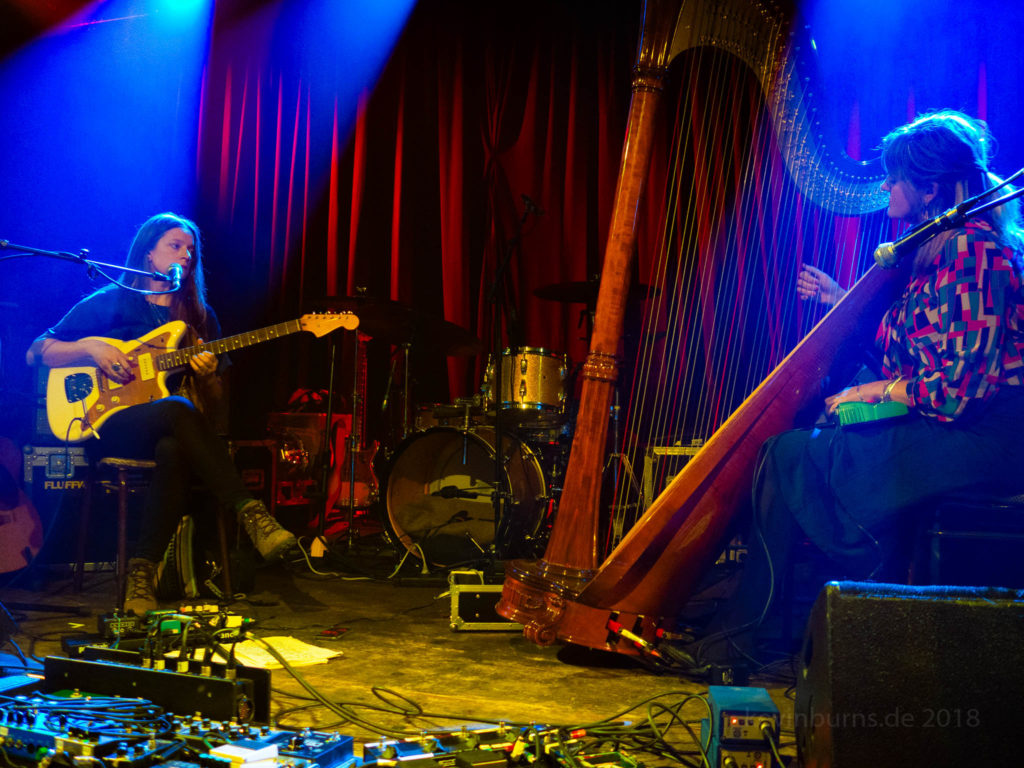 That constant drone of talking and only the first five rows really being captivated also annoyed me during the faultlessly beautiful and magical performance of music scene stalwart Meg Baird (she of Espers, Heron Oblivion, The Baird Sisters with her sister Laura and as a solo artist playing with the legends of fingerpicking guitar style music) and harpist to the stars Mary Lattimore. Mary Lattimore has had a tremendously busy year too, not only contributing her evocative and experimental and just so right harp flourish to a host of albums, but releasing her solo album "Hundreds Of Days" (Ghostly International) which is sheer bliss and has personally helped me to relax, reflect and restart on many occasions since summer but then she went and finally did an album with long-time collaborator Meg Baird, the breathtakingly delicate and haunting and therefore aptly named "Ghost Forests" (Three Lobed Recordings).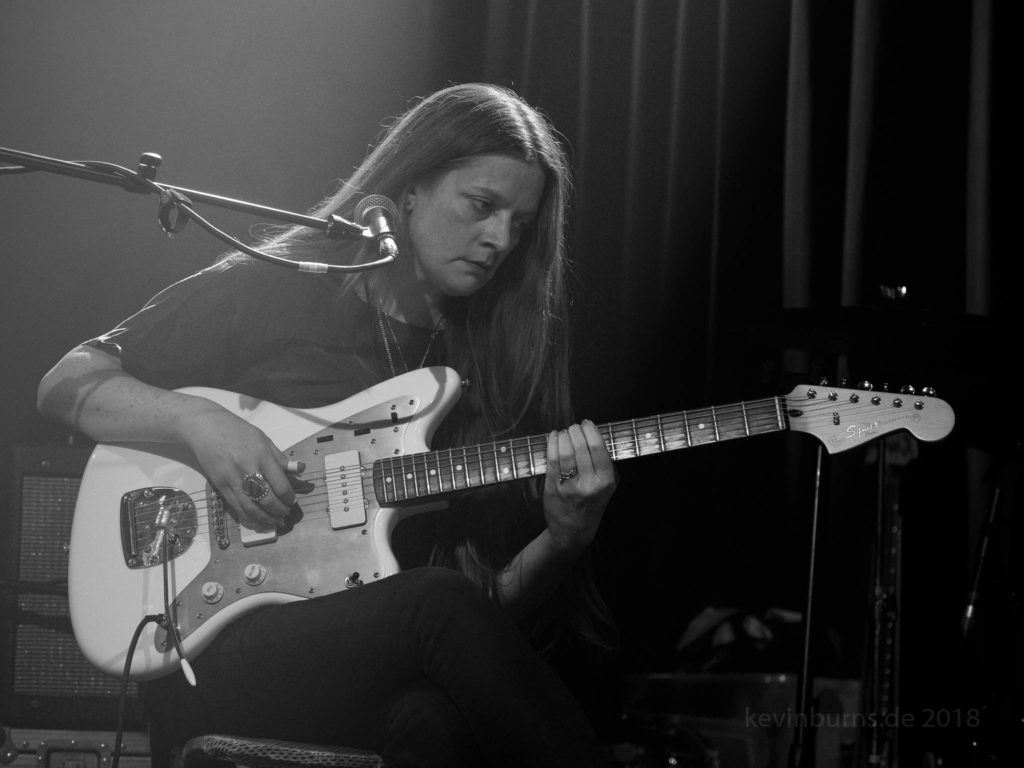 We got treated to a fine set of songs of this album by Meg on acoustic and electric guitar and crystal-clear vocals and Mary on her enormous Lyon and Healy harp, "Harpie", her looping gadget and keyboard. I am getting ready for any comments from behind as to what the hell this performance has to do with the guitar rock Kurt Vile is presenting later. Indeed Mary has been working with Kurt Vile for a long-time and the additions of her harp to the songs on "Bottle It In" range for many among the finest details of the album. But – at least the front bit of the audience – are captivated. My highpoint of Mary's and Meg's set was the unexpected delivery of Emmylou Harris' "Wrecking Ball" which is absolutely chilling. Mary Lattimore and Meg Baird were present at the merch table for a long time during Kurt Vile's set and afterwards and were very kind to chat to everyone and thanked everyone so nicely for their interest. Och, they're just awesome.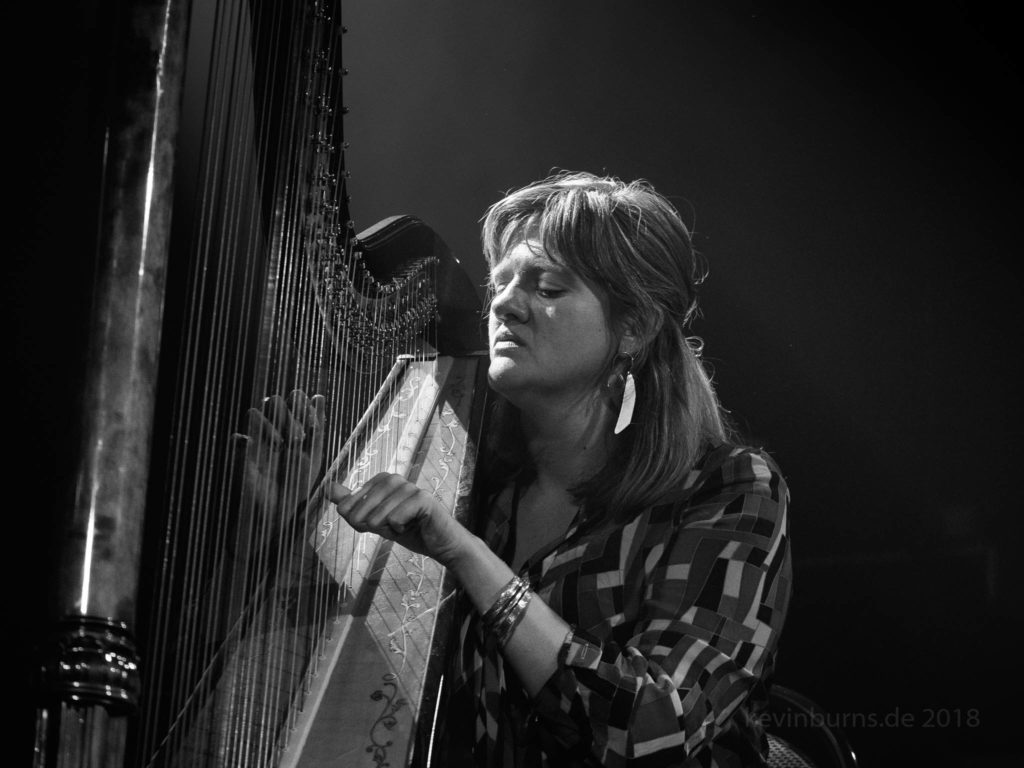 But this meant also, that on this occasion there was no rolling the harp back on stage and Mary joining in on some of Kurt Vile's songs. A pity, that.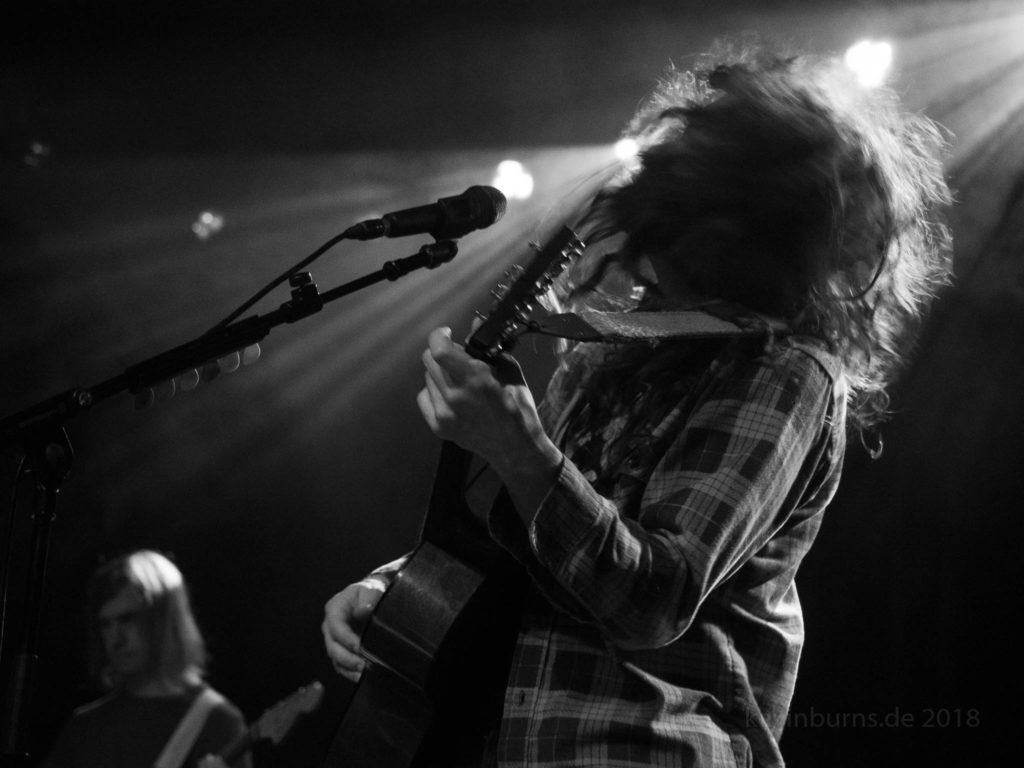 Kurt Vile & The Violators entered the stage to a very warm welcome which they ever so humbly and sweetly accepted and went straight into the marvellously and ice-breaking "Loading Zones" of the new album. (If only the sound had been better…) Expert musicianship delivered all the way through the shortish set by Kurt Vile, Jesse Trbovich (bass, guitar, saxophone), Rob Laakso (guitar, bass) and Kyle Spence (drums), managing  to unify the kids, the youngsters and the older generation in their appreciation. A large proportion of the new album was played, interspersed with some classics like "KV Crimes" and "A Girl Called Alex" from earlier albums. I was missing a couple of my personal favourites that might have pumped the lagging middle part of the concert a bit such as "Wheelhouse" but then again that might have to do with the fact that I was in the back at that time and the vibes did not catch on so much there. Then again, you can't please everyone with a back catalogue like that. Many, many people in the audience had never heard Kurt Vile before his single "Loading Zones" off the new album but I always feel happy that other music lovers find older styles like folk and americana or blues to discover via a totally different angle. Happened to me too and Kurt Vile played a great part in that.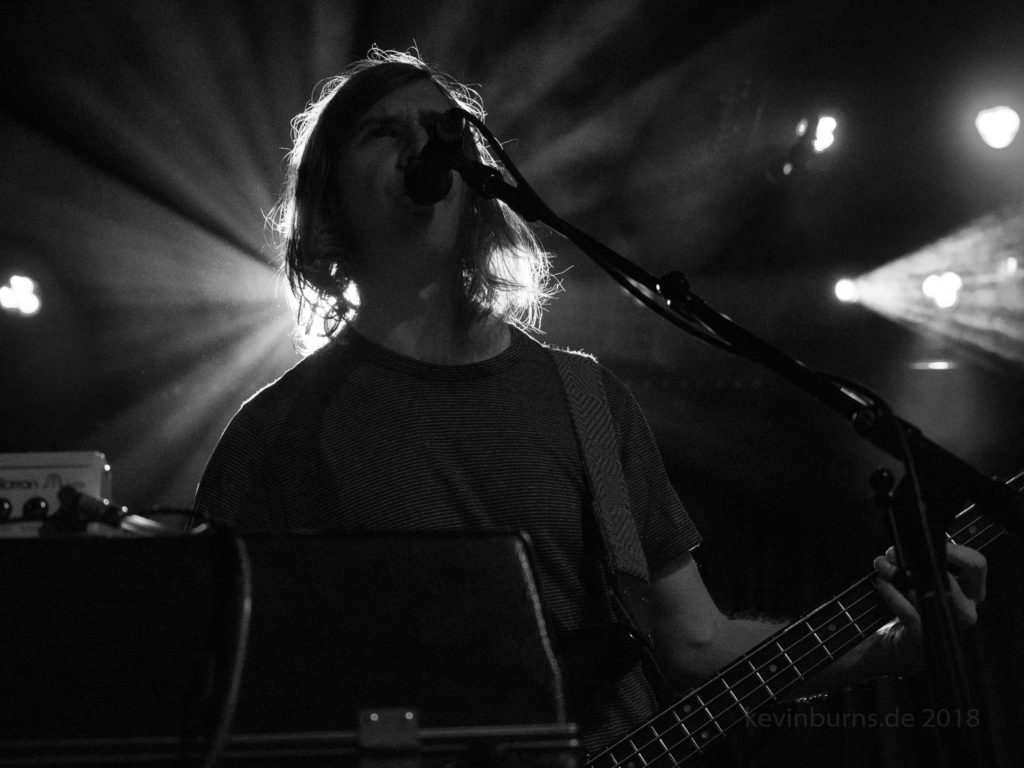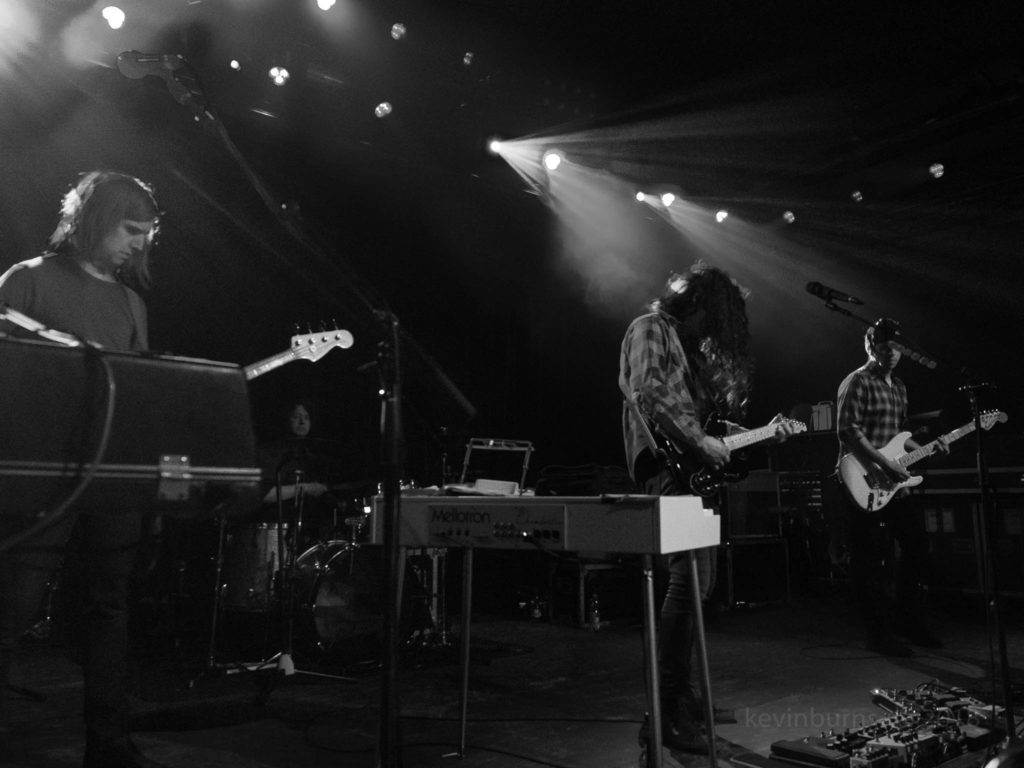 Are there any gobsmacking going-ons on stage? No, of course not. Kurt does not even say that much in between songs, being busy with getting yet another guitar or the banjo or the acoustic ready for the next song and that is perfectly fine with me. (Kurt Vile's guitar rack made me cry with envy almost but then again, unlike him, I would not even deserve them half as much as him).
The band left the stage rather abruptly but did return and gave the fans "Pretty Pimpin" amongst others, the song that is probably his most well-known and caused a huge applause and whoohooing.
A very sweet "I love you all" from Kurt and smiles all round from the band and they were off.
As expected a great show from Kurt Vile & The Violators and supporting Mary Lattimore and Meg Baird. If I had anything to grumble about, it was, that the venue could have been better or more suitable in creating the right vibe. (Which reminds me: It is not very convenient to be asked outside of the venue  for the photo pass en route to getting it! Also the fuss about photo passes by the venue was a bit over the top, considering that in the end there were three (sic!) photographers only on site. Yes, three songs only and no flash, got it a long time ago. Kindly, would the people with the mobile phones turn off the flash as well? And would the security man not propel himself at us a-roaring for making one more shot before the fourth song because I wanted just one photo of Kurt and the banjo? Well, I am sure the orderly was very stressed out with THREE photographers…). Enough of my bawling but the fans enjoyed Kurt Vile & The Violators and vice versa and that is the main thing! Rock on and thank you!