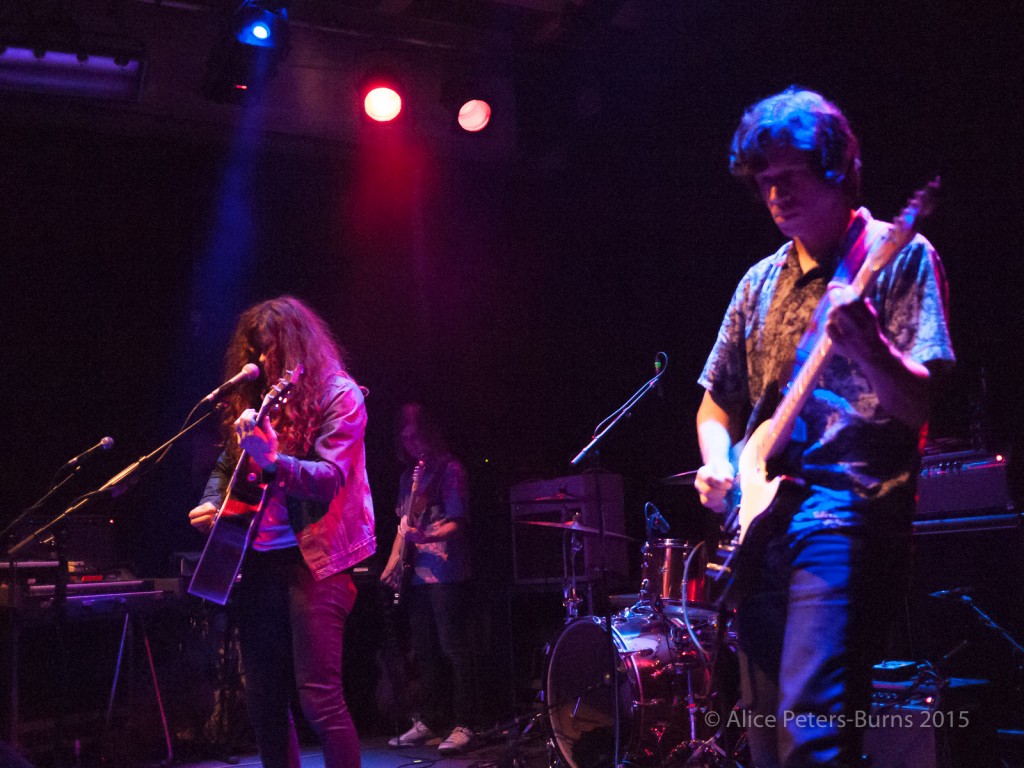 This blog has featured Kurt Vile before and praised him and his music – especially with regard to his long-time fellow musicians and friends The War On Drugs. Musically they have parted ways some years back and developed in different directions. The War On Drugs became big as their music became more opulent and refined with "Lost In The Dream" whereas Kurt Vile trundled on with his music, very much Philadelphia based and the odd smaller tour. There is no animosity, on the contrary: Kurt Vile is happy for Adam Granduciel and they still sometimes jam together if their different schedules allow.
Kurt Vile is questioning, however, why it is, that someone with the same musical background which first brought them together in the first place, is hitting it big and he is not. At the same time he was humbled to be able to support his family on the musician job alone. And yet, he was asking, is it his missing college education, his having family commitments or even his musical, songwriting, singing abilities? With his recent album "B'lieve I'm going down" he finally could show what he is able to do. This is an album that grows on you and gets totally addictive – the way it should be but is seldom achieved. The lyrics are personally inspired with the right grade of abstraction to address all listeners and represent the ups and downs in everyone's life and how to deal with them or how to live with them – all of this in a very endearing honest and humorous style. I'd say, Kurt Vile's lyric-writing is out there.
Musically, the album comes across as intimate and compelling, soothing and exciting in both measures and in that pondering night mood that could have been induced by recording it at night (or rather in the morning, Kurt Vile quips).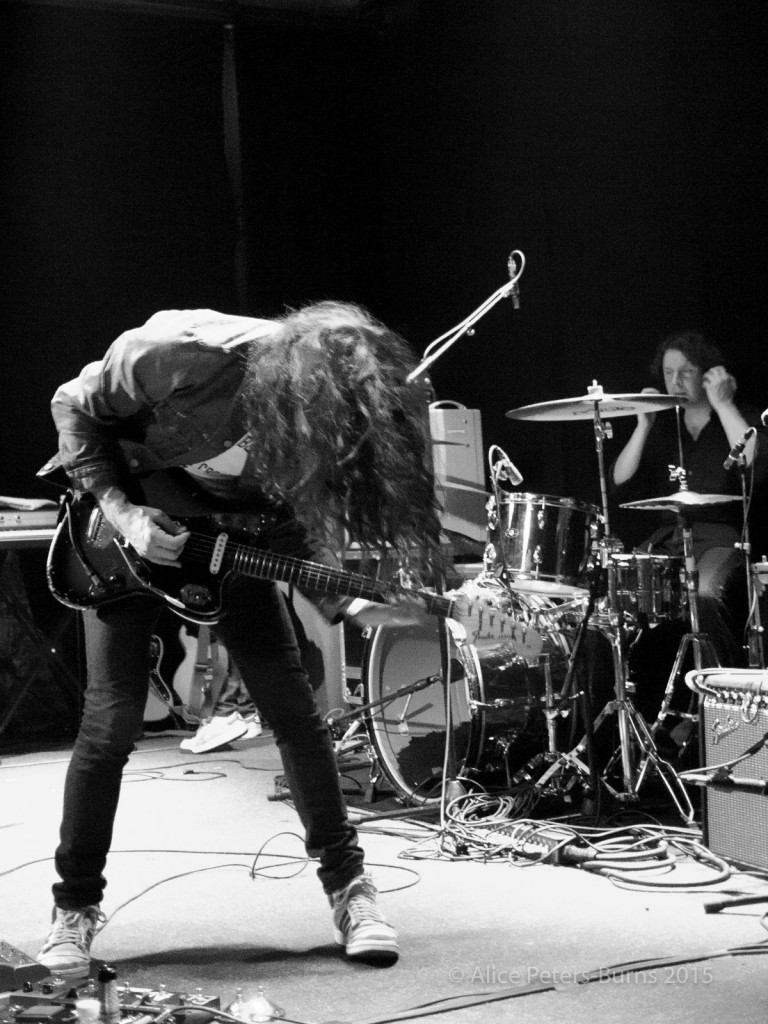 There is very little time for interviews on this tour. Kurt Vile manages to pop in from one of the venues next door to the Byte FM studio – one of the stations I work for – for a short chat with Byte FM founder Ruben Jonas Schnell. This, however, takes place in Hamburg; I can only make it to the Cologne concert.
Then Waxahatchee, scheduled support has voice problems and cancels. She is replaced by Lushes from New York. Lushes are doing a great job, bantering away with the audience in stark contrast to their trippy, sometimes aggressive, mostly elegic sounds. Only a duo (drums, guitar and vocals), they still manage to entertain the crowd for about 45 minutes and get their deserved applause and wetted the appetite to hear more of them.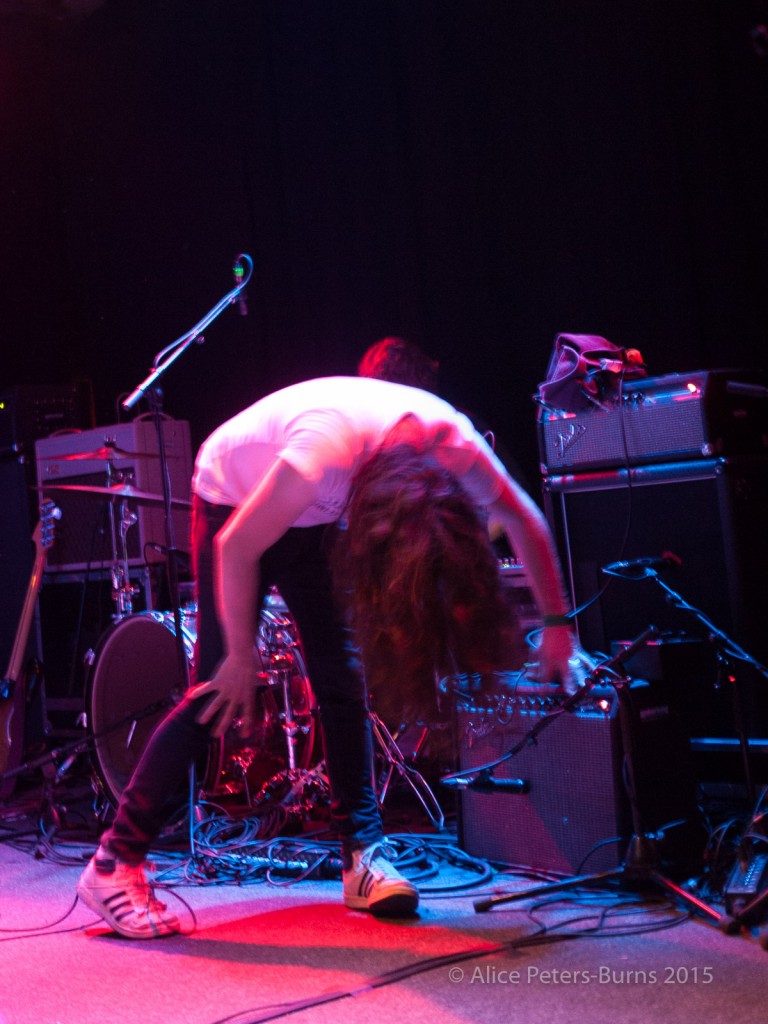 After a longish break, Kurt Vile appears with The Violators, a highly professional and experienced and laid-back backing band. He is greeted warmly by the crowd in the sold-out Gebäude 9 in Cologne and clearly enjoys the welcome.
And picks up the banjo – the instrument his Dad gave him when Kurt really had wanted a guitar. Nowadays, there is a return to the banjo – he even got a new one from Nathan Bowles, excellent banjo player and drummer with The Black Twig Pickers and Steve Gunn.
We get old and new songs; we get banjo, acoustic guitar (with and without band) and we get rocked out with electric guitar. There are slow and dreamy, hypnotic songs, saddish reflective tunes and the mighty rockers.
The vocals thankfully, a bit low and drowning in the rest in the beginning, were brought forward and this was, when everyone noticed, right, we have a master at  play here. Don't expect many stage antics – most of the time you do not even see Kurt's face under all that hair. But be surprised when Kurt picks up the acoustic and starts fingerpicking at break-neck speed. He might look the epitome of a slacker but we know what he's been doing in his leisure time…most likely playing till his fingers bled.
For a Danish gig, there was a review that conveyed the set was a tad boring and out there and self-absorbed. If there was any doubt, Kurt Vile cannot strut his stuff on stage, it was completely destroyed. He offered a very diverse set which came across as seemingly effortless and very well fitting together. Never a dull moment. Highlights for me the much airplayed Pretty Pimpin which received a stomping extension, the languid Dust Bunnies and the very delicate Kidding Around from his new album. We get Waking On A Pretty Day and other songs from his older albums and an absolute smacker of Freak Train, pounding along and setting the place on fire. Three encores…And basically, you might notice, it is very hard to pick favourites here. This was a show to be devoured as a whole experience and what an experience it was. Highly recommended and thank you very much, Kurt Vile & The Violators!