Autumn is upon us…with music. Thankfully. Yes, us poor souls in the northern hemisphere have autumn descending upon us again and for most parts it has not been an Indian summer variety of autumn. Autumn, however, does coincide with an abundance of releases of musical artists, so that makes it more bearable to stay inside, hear the storm howl and the rain bashing against the windows.
The War on Drugs versus Kurt Vile
Oh my, was I anticipating that new The War On Drugs album. Yes, it is here and I am mildly unimpressed. That notion I would share with only a few fans and only a few critics. I cannot quite put my finger on it. There is so much on that album and then maybe of something too little. I am not given up on it, maybe it will still grow on me. That one song "Over Everything" by Courtney Barnett and Kurt Vile has it all though in comparison. There is a freshness and lyricism about it as well as a really hooky melody that is so far missing for me in The War on Drugs latest offering. Courtney and Kurt by the way, a match made in heaven. I am really looking forward to the forthcoming album of this collaboration: "Lotta Sea Lice" (Matador).
The Wedding Present
David Gedge is on tour with The Wedding Present! Besides introducing the brilliant "Going, going…" to both the UK and continental Europe and more dates following worldwide, there will also be tour dates wedged in-between taking cult album "George Best" to the stage – for the very last time! So don't miss neither opportunity, see here for tour dates. Also looking forward very much to meet David Gedge and bring you back an interview!
The Blog That Celebrates Itself
A special mention in this blog post of Brazilian super blog The Blog That Celebrates Itself. Not only blogging away but releasing an abundance of samplers devoted to new music and new bands covering the finest of bands' oeuvres. Should you not be acquainted with their brilliant output yet, have a look here.
Lord Youth
Micah Blaichman alias Lord Youth from Queens, NY follows up his self-titled vinyl 10″ EP and a 2 track single with his debut album "Gray Gardens" on BB*Island. A master of his craft, Lord Youth, presents all the colours of modern music on his album and yet, the blue hour is the one that would this album best. Dark and dreamy despite some forays into the uptempo, this is a perfect companion for the coming season and beyond. Much to discover, go ahead.
By the way, Lord Youth will also perform at the Reeperbahnfestival in Hamburg, Germany, a massive musical feast with conferences, art, films and lots of music, very much Germany's SXSW, if I may so, from the 20th of September till the 23rd of September 2017. Featured country this year: Canada. Bliss!
#### The Jazz Butcher
Having had the fortune to see Pat Fish (with various members as The Jazz Butcher) repeatedly live, indulging in buying his albums and singles on vinyl and  coveting two interviews in cassette tape (yep!) from that time and heeding the maestro's recommendations on literature and music (thank you so much for recommending The Blue Aeroplanes and Flann O'Brien – could not do without them), I am very happy to announce that Fire Records will re-release the first four albums  'Bath Of Bacon', 'A Scandal In Bohemia', 'Sex And Travel' and 'Distressed Gentlefolk' in a four CD box labelled "Wasted Years". No, they were not and will not ever be. Hoping that The Jazz Butcher will grace us with a tour and also perform his latest music.
Martin Carr
Martin Carr is probably know to most as heading The Boo Radleys until 1999 has been doing solo work since then. Three albums he had made so far and the third one ("New Shapes Of Life") is going to be released by the end of September 2017. Very much looking forward to Martin's release – the first single "Future Reflections" is already a wonderful indication of what is going to come.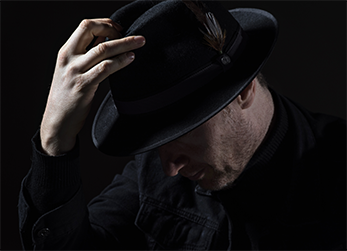 The last album "The Breaks", also out on Tapete Records, was a fine album but Martin Carr sees it still as part of a life where he was battling depression and far from this world. "New Shapes Of Life" is to reflect the end of that phase and he regards it as the album that truly sounds like himself.
"Future Reflections" is both musically and lyrically upsetting and touching and consoling – all at the same time.
#### Darto
Gordon De Los Santos, Gregory Flores, Candace Harter and Nicholas Merz are Darto from Seattle and they have been really busy: They released a 7″ with Wand called "Follow Up / Hush" which miraculously manages to incorporate both bands' sounds convincingly.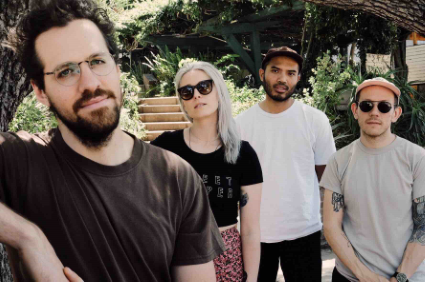 Darto are also proud to present their full length album "Human Giving" and the pride of this album is totally justified. Floating would be a suitable word to describe Darto's music which is hard to label (a good thing!). There is ambient, there is psych, there are glimpse of Americana.
Let members of Darto speak about their album "Human Giving" themselves:
"We didn't play shows or hardly go to shows for a year and a half so we could write and record the album," says Darto's Gordon De Los Santos. "The album comes from the places within us where hope and love exist. Where the focus is not on the self, and where everything is possible. Humans giving themselves to other humans. The power of listening on all fronts. The desired effect is and was to bring hope in some capacity."
"We are extremely proud of this record. Writing, recording, mixing and mastering was the most intentional musical experience we have had to date. We took a lot of chances on it, and grew exponentially in the process," says Gregory Flores. "It felt, and feels like we walked through many doors while working on it, and the place we ended up is very similar to the place where we were as young people first deciding to create. A vulnerable first step towards something larger."
"Human Giving" is out on Aagoo Records.