In the blistering heat today, I enjoyed two things that cooled me down and chilled me out even and no, I did not laze about in a pool and no-one was serving me exotic, tongue-tingling cocktails or fanning me air. But close – I went for a great hike along a river and was given an exclusive first listen to The order of Now – new album by Perpacity. At least on the latter journey I can now take you with me.
But let us start at the beginning, way back in time. When I was very young, synth pop came along and found a dedicated follower in me. The extreme angles you could take on the music fascinated me: You could argue that there was true punk spirit to synth pop in as far as anyone could do it because no mastery of a traditional instrument was needed. Or you could marvel at the new sounds and indeed musical worlds opened up by machines that no human or no other instrument could produce. That, in fact, synthesisers, keyboards etc. were machines was what was bugging a lot of people. No heart, no soul, could come out of this music. Oh so wrong. Back to argument one that anyone could use it to express their inner feelings and their ideas perfectly without sheer desperation of not mastering an instrument well enough to do so. Also I found a lot of warmth and feeling, ranging from deep despair to jubilating joy in synth pop.
When I listen to synth pop nowadays, I find myself wondering, if I have gotten to old or maybe the music has not changed with me. In some cases it has. In some cases, artists have managed to retain the contagious spirit and the limitless possibilities, the DIY feeling and at the same time utter musical perfection and also fast-forward their music to the present and beyond.
Enter Perpacity. The British-Danish duo of Ian Harling and Martin Nyrup can rely on impressive musical experience and quite a back catalogue (saying that, it would probably be even bigger, that back catalogue if it was not for their perfectionism!) Long and hard they have been working on their new album and finally Perpacity have revealed the release date of their new œuvre "The order of Now". September 7th 2018, right after the summer lull for instance via their Bandcamp site:  Thank you very much indeed to Ian and Martin for entrusting Offbeat Music Blog and of course my radio shows with an exclusive early bird listen to the album.
As always, I'd like to say, it can take months to get to know an album properly. Times might have changed. We consume faster and more superficial but it still stands for me: To get to know and love an album, you have to listen often, intensively and in all kind of situations. But I will try my very best to give you an initial impression.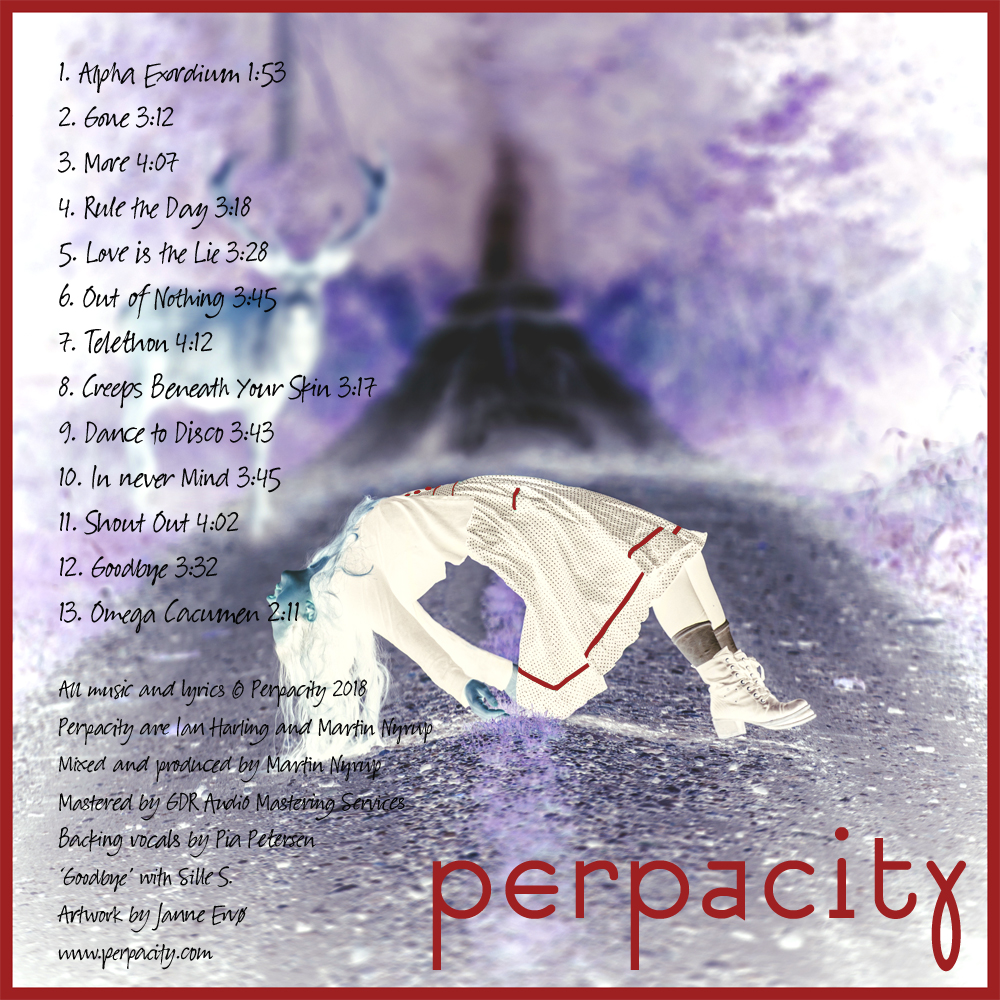 The wait for Perpacity's new album might have been long but you will now be spoiled with a whopping 13 tracks on "The order of Now".
With short "Alpha Exordium" the journey begins. Musically the intro already indicates what to expect: A polished production, wide landscapes, headphone moments galore. According to "Alpha Exordium" the album is going to be about the future and indeed new beginnings. Looking forward to silver linings here and no doom and gloom then.
Without spoiling all the surprises awaiting you: "Gone" is a perfectly polished melancholic pop song with hope rendered from a normal failing human lyrically. Followed by the dance floor sexy wonder of "More".
Keeping up the speed but turning more story-telling and soundscapey now (more than a hint of Depeche Mode here, not a bad thing at all), song "Rule The Day" is a call to break the routing and dedicated to a certain Finn Narp
Calling for true love and honesty and support in the quest are melodious introspective "Love Is The Lie" and "Out Of Nothing" (where we even hear a bit of Danish).
"Telethon" is the second single of the album and already available and presents for me in a nutshell what musically the new album by Perpacity is all about: harmonious and dreamy, danceable at times, a good knack for melodies and loads of little musical gimmicks to discover that do not overload but are each in the right place.
Both "Telethon" and "Creeps Beneath Your Skin" are slightly bitter post-relationship analyses, I would presume, the latter riding along on a lighter poppier note though.
"Dance To Disco" might be misleading…she does not want to dance to disco…another look at the past and moving on with a song that I instantly liked as it sounds as if your slowing down a record ever so slightly, pulling the brakes on.
Perpacity are brimming over with melancholic but hopeful love songs and hooky melodies. The voice never comes too much into foreground but melts perfectly with the rest of the music, yet the lyrics are finding their way.
The final track "Omega Cacumen" is a short almost spiritual instrumental that has an open ending.
So that's where Perpacity leaves us and I leave you for now. I do recommend warmly to give Perpacity's abundance of new songs a listen and guarantee they will accompany a long time to come.