Marble Sounds from Belgium are currently on tour mostly presenting songs from their new album "Tautou". If you want to know more about the history of Marble Sounds and "the ins and outs" of the band, you can also refer to an interview with Pieter van Dessel, head of the band, here on this blog. And here comes the Marble Sounds & Precious Few Gig Review!
Marble Sounds are: Pieter Van Dessel – vox, guitar, keys Gianni Marzo – guitar, vox Frederik Bastiaensen – bass Mattijs Vanderleen – drums Brecht Plasschaert – keyboards.
They have released one EP and three albums so far, which they kindly described to fans yesterday as follows:
EP A Painting Or A Spill (no longer available as CD or album as only 500 were pressed at the start of their making music together).
Album 1 Nice Is Good (2010, rounding up their earlier work of a couple of years, mostly folky songs)
Album 2 Dear Me, Look Up (2013, mostly poppier songs (not without the typical underlying Marble Sounds' melancholy) and containing their most famous songs up to date – even though these might be eclipsed by the songs from the new album)
Album 3 Tautou (2016, their latest and most progressed, most intricate album. The slow tunes ever more melancholy, the rockier ones turning into psych guitar crescendos, often accompanied by strings).
A couple of weeks back I happened to witness Marble Sounds playing to a rapt audience with a string orchestra in a sold out venue. They also easily sell out the Anxienne Belgique in Brussels. In Germany they are not so well-known as yet, so I had the chance to see them in the small venue Musikbunker in Aachen, Germany. How on earth they managed to cram all their equipment on stage, remains an unsolved logistical mystery to me but there we go. They did.
Supported by duo Precious Few (Barbara and Chris) from Bonn, Germany, who rendered a beautiful set of slow, quiet, dark songs telling everyday life's stories with Barbara's powerful voice (not unlike Nico's and PJ Harvey's) and Chris' competent fine guitar work. Sometimes Barbara grabs a melodica and emphasises the wistfulness of the songs.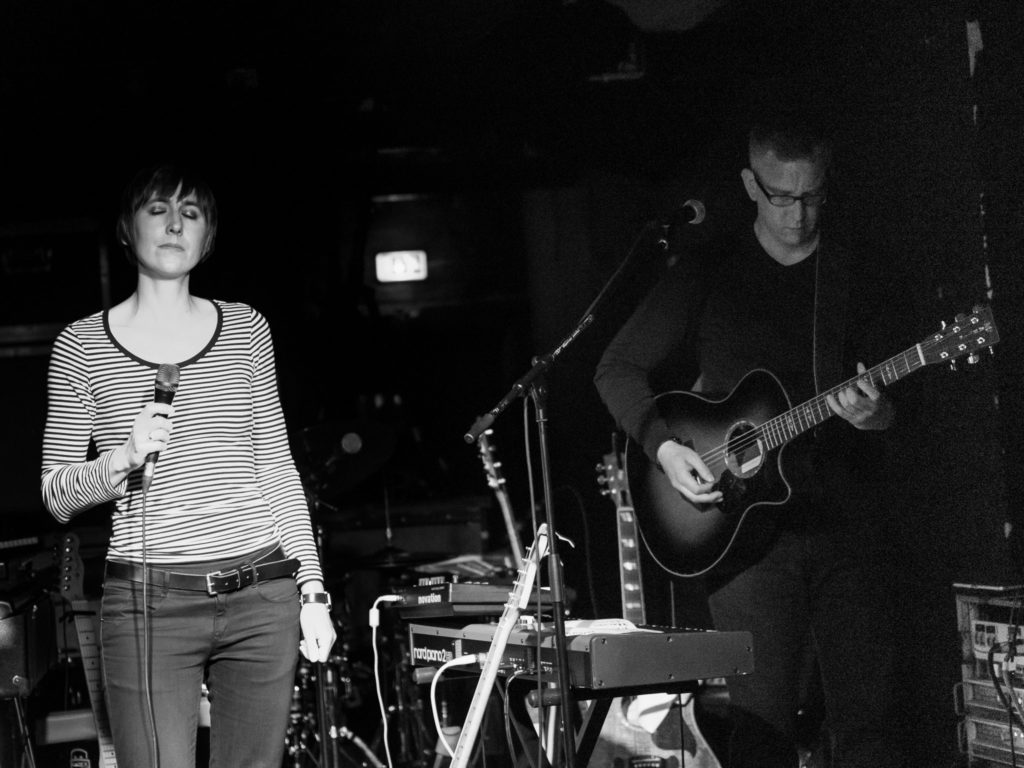 Being ever so slightly biased, for me it is a foolproof recommendation to be personally invited by David Gedge of The Wedding Present to join him on tour. Have a listen to their new album "Tales".
Lovely set if somewhat spoiled by the fact (here I go again) that some concert goers seem to ignore the support act and even more, feel disturbed in their ever ongoing natter by the performance. Aargh.
Marble Sounds came on without further ado and not much adornment and presented us the following songs:
Present, These Paintings Never Dry, The First Try, The Little Lows, A New Breeze, The Time To Sleep, Set The Rules, My Friend, The Ins And Outs, K.V., Tout Et Partout, How It's Going To End
There was time for an encore and before that the audience were rendered beautiful live versions of the songs, masterly presented – every note, every sound sat perfectly – many of them ending to my great joy in fantastic guitar excursions by Gianni Marzo (who also, as I only found out yesterday plays with another great Belgian band: Isbells.
What comes across live even more than on record, is the fact how these already perfectionist musicians have progressed into perfect control of the music they play. They almost blindly pull the strings (and the heartstrings). However professional they have become, the feeling did not get lost under way.
One of the highlights for me was "Tout Et Partout" from Marble Sounds' third album "Tautou" which has a hypnotising beat.
Speaking of beat: However much Pieter Van Dessel as the singer, pianist, guitarist and songwriter (even though this time round the album has been more of a collaborative affair and he actually enjoyed letting go) and Gianni Marzo as the guitarist are in the foreground, they could not do it without the unobtrusive, perfectly harmonising support of Frederik, Mattijs and Brecht.
All of them were spending a lot of time with their fans afterwards and they were kindly fulfilling all the wishes and answering all the questions. Down to earth guys and the audience loved it. Thank you Marble Sounds and Precious Few!