Very tempted on this Saturday evening to cuddle up on the sofa but I dutifully sit here and work my way through the piles of wonderful music I received this week. Now, I could pester you with the amazing new album by Patrick Watson called "Love Songs For Robots" but a) you can listen to that in my programme on www.byte.fm on Monday, 5-6 pm CET or all week on ByteFM actually, as it will be album of the week. It takes some time to open up to you, that album, but the journey is undoubtedly a very enjoyable one. What was b) again?
Oh right, of course I am a bit cheesed off that I do not get to see Patrick Watson live  as he is playing RIGHT NOW close to me as I am writing this. So, I do not really want to torture myself any further.
And c) there are already gazillions of people promoting Patrick Watson's new album and I would really mostly like to introduce new bands to you in this blog.
So, finally, off we go.
From Sidney, Australia, All Sparks Burn Out, surprise with shoegaze and noise rock (even if I do not like to label music, it sometimes makes it easier for the interested reader plus the band say so themselves). They like guitar pedals – now there's a love I would definitely support, no matter what 🙂
I am failing to deliver you a fantastic band photo, so I think in this case we are all happy with a photo of at their huge array of pedals and band members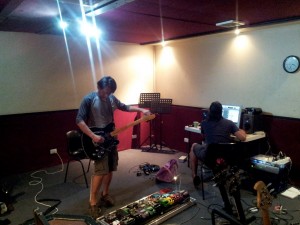 300x225.jpg)](GHOST_URL/content/images/2015/05/10872756_866065403414271_1572282518286601850_o.jpg)
Anthony The – Guitar
David The – Guitar
Simon Cox – Drums
Garry Stephenson – Bass
They are currently working on a new album and their last EP was called Red Sky At Night.
Now, sit back and enjoy All Sparks Burn Out:
And there is so much more: Released by super dedicated Welsh/Canadian label Ear To Ear Records, [Lights That Change](https://www.facebook.com/LightsThatChange) from North Wales will have come to your ears certainly over the past f![10848913_722631651178462_6071929714325055756_o](https://offbeat-music.com/content/images/2015/05/10848913_722631651178462_6071929714325055756_o-300x200.jpg)300x200.jpg)](https://offbeat-music.com/content/images/2015/05/10848913_722631651178462_6071929714325055756_o.jpg)
Their debut EP "Rainbow On Your Shoulder" was followed by "Whispers In February" – both received well-earned good reviews. Now, that Lights That Change like a Cocteau Twins' song or two is fairly obvious and that is a brilliant thing in my eyes. Copycats they are not. I cannot put it as wonderfully as Joe Foster of Creation Records said: A radiosexy reinvigoration of early 4AD spirit! Indeed! Mandy Clare on vocals has a mesmerising voice and John Bryan adds the necessary drive on the bass. Marc Joy, last but not least, founder of the band, layers and layers guitar sounds in there, oh bliss:-)
Their album "Byzantinum" will be released this summer and features also Rebecca Palin from Golden Fable and Mal Holmes from OMD.
"Voices" is the first single of that album and will be released in two days, so get ready!