It is that time of the year again and we are being tortured by the holiday tunes on radio. Well many of them are pretty atrocious. Those songs that are actually quite touching and warming your soul, are sometimes not even intended as Christmas songs. Among them you'll find "Leave A Light On" by Marble Sounds from Brussels, Belgium – written originally as a lullaby. "Leave A Light On" was the very song that introduced me to Marble Sounds and I have not looked back since. A while back, I had the opportunity to interview Pieter Van Dessel, Marble Sounds songwriter and frontman. Yes, I have always planned to put the text of that interview up on this blog (which came into being later) but never got round to it but there is the audio of it. Much of what Pieter had to say, probably is true for Marble Sounds now. So, one day in the not so faraway future:-)
Including that time, I happened to see Marble Sounds play live four times. Last night, Marble Sounds performed at Alter Schlachthof, Eupen, Belgium, touring their latest, fourth album: "The Advice To Travel Light". For those of you who are not familiar with Marble Sounds, see an earlier review here and know this:
Marble Sounds hail from Brussels and consist of Pieter Van Dessel on vocals, guitar and keyboards, Gianni Marzo on guitar and pedal steel guitar, Brecht Plasschaert on keyboards,  Frederik Bastiaensen on bass and
Mattijs Vanderleen  on drums, percussion, glockenspiel and marimba.
Their songs would be ranging from the very quiet, contemplative to the layered, louder and big finale songs, always perfectly composed and performed – not surprising that since many members would be in the music production business / radio / TV business in their day jobs. After their third album "Tatou" which was a foray into orchestral music with strings, flutes etc. and Pieter van Dessel mostly at the piano, "The Advice To Travel Light" on the one hand follows that advice and is stripped down again, on the other hand, in particular live, I saw a band rocking and whooping and lashing it out and enjoying it.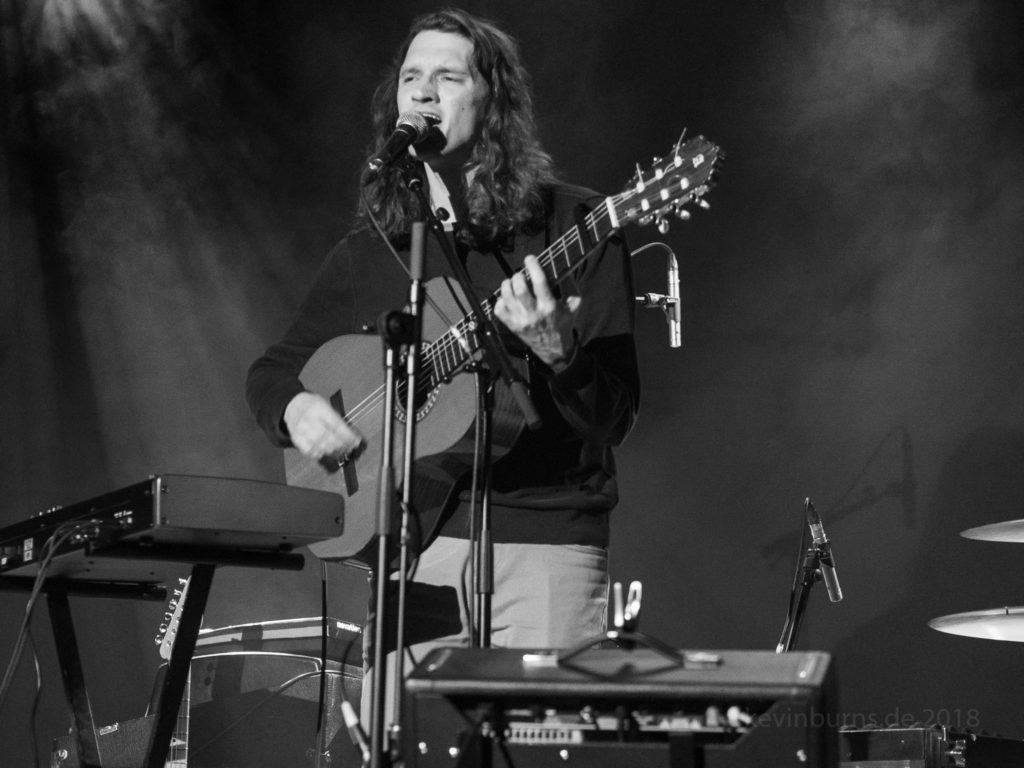 So there we are at the Alter Schlachthof, Eupen, Belgium, enjoying Thijs Kuijken aka I Am Oak from Utrecht in the Netherlands first who performs solo and acoustically a fine set of tender, fragile songs, using his guitar to replace a whole band and singing in a tenor voice. Thijs seems a bit unsure in which language to address people in the Germany speaking community in Belgium especially since many in the audience had travelled from French and Flemish speaking areas. His thing was not the banter on stage anyway but to play his songs that paint whole landscapes in your mind despite being minimal. I am Oaks demand attention and to go with the flow which is why listening to an I Am Oak album is never like listening to individual songs but a connected experience and intended to be that way. The latest work (the song "Golden Pavillion" after I Am Oak's fifth album "Our Blood" (Snowstar Records/2016) of Thijs was written in Japan and this brings us to Marble Sounds who walk on stage about twenty minutes after I Am Oak's dreamy set. Marble Sounds are indeed big in Japan and it is only there, unfortunately, where you can obtain a very special edition of Marble Sounds works.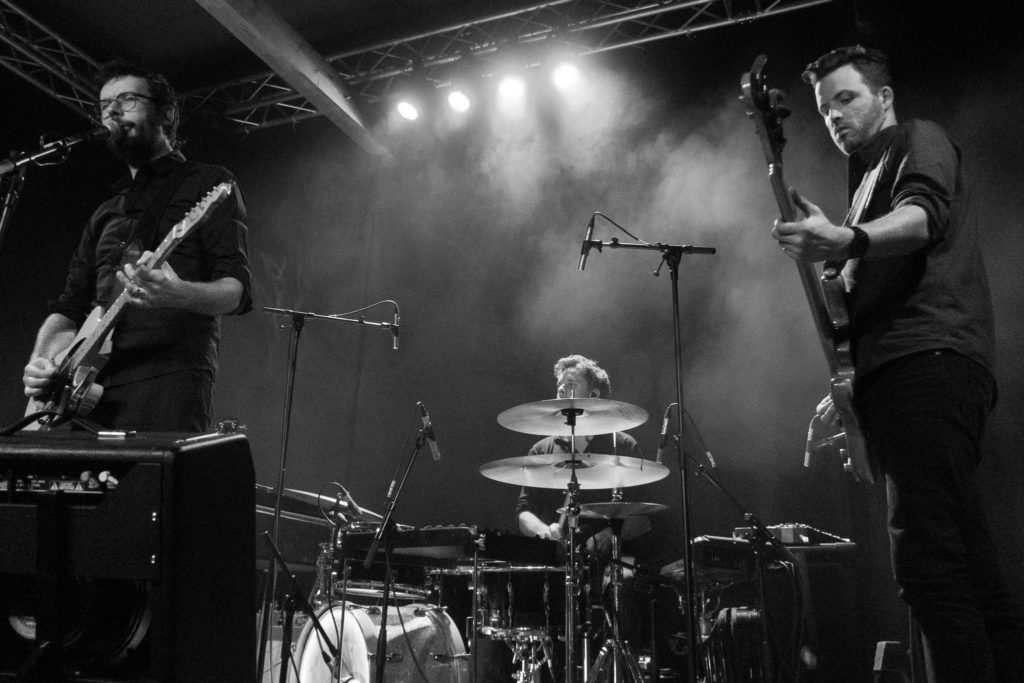 We are in for a treat: For about ninety minutes Marble Sounds present their melancholic and yet not depressing songs, nicely alternating between the sweetest, quiet tunes past the sing-along numbers to the ones that I possibly like best: The tracks that start out harmlessly and spiral into a frenzy, a hypnotic wall-of-sound. There is no doubt that Marble Sounds are perfectionists plus the big show on stage is not their thing but not for a second the connection to the audience is broken and the atmosphere is one of warmth and cordiality. Marble Sounds seem to enjoy the show themselves and I find it lovely how the band members are smiling at each other when some part of a song is turning out particularly well.
It helps that Pieter van Dessel is not stuck behind the piano but is at the front playing guitar (as one encore we have Pieter doing a solo piece on the acoustic guitar) and that Gianno Marzo is an ace guitarist, Brecht and Frederik know their jobs perfectly well and Mattijs is one heck of a drummer who knows a thing or two melting rhythm with melody. A wonderful addition to the live performance is Renée Sys who also lends her amazing voice and well-timed harmonies to the latest two albums. And of course Gianni's newish toy, the pedal steel. That touch of wistful Americana sound goes very well with Marble Sounds songs.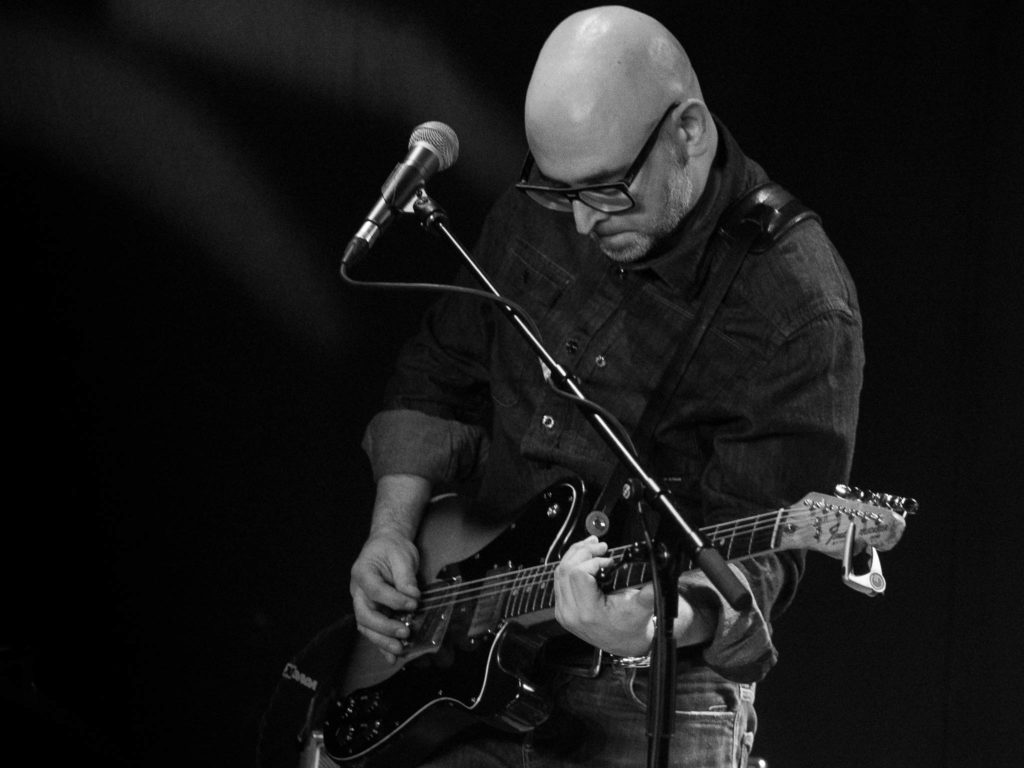 After ninety minutes choc-a-bloc -and every note perfect (well, I think, what would I know) – with songs from the latest album plus all the well-known songs of the its three predecessors and two encores, Marble Sounds thank kindly and literally dash to the merch stand to speak to the fans.
A Marble Sounds concert is always a cherished occasion in its warmth and perfection to make you forget past and looming troubles, but this one stood out. For those who thought likewise there was an extra treat: The organisers at the venue and most like the band themselves as well had made it possible that all ticket holders can enjoy Marble Sounds once more at Muziekgieterij in Maastricht / Netherlands two days later.