Lisa Hannigan released her third album "At Swim" to much critical acclaim a couple of weeks ago. Currently she presents her new and some old songs on tour in Europe after having played in the US. She will also be supporting Agnes Obel on her tour in Europe. Offbeat had the opportunity to talk to Lisa and presents you a fresh Lisa Hannigan Interview November 2016.
Lisa played only a handful of gigs in Germany and so the intimate venue Studio 672 in Cologne was sold out. Heather Woods Broderick was supporting and playing in Lisa's band (and selling merchandise, too, multitasking in its true form but more on that in a separate post).
The audience might not have been so happy about the venue: The small, low stage and a dark long room that stays the same floor level was not really helpful to anyone not standing in the first row to catch a glimpse of what was happening on stage. Actually quite a lot was going on: Lisa, three musicians, plus Heather showcased perfect musical craftsmanship – a quiet set without a glitch and yet in no way distanced or sterile. It probably would be – especially for the quieter songs of the new album – a good gig to watch seated, just to absorb the music and the lyrics a little better without craning your neck to see and trying to avoid fainting in the heat. (Note: Why oh why do photographers who were only allowed to do their thing during two songs have to cling to the front of that very small stage for the whole set blocking the view for everyone else? And this guy who records some concerts shiftily will one day get a kick from me, so there.)
Anyhow, as I was saying, the audience was more than content with the long and varied set anyway (and encores amongst which an a cappella or sean nos rendition of "Anahorish" just like on the album or even better) and especially thrilled that Lisa took to the merchandise table herself afterwards and patiently signed and had pictures taken and had a kind word for everyone.
Lisa also kindly took some time out beforehand to talk to Offbeat Music Blog. Interview excerpts and music will also be due at Kaleidoskop, Mondays, 5-6pm CET on www.byte.fm as well as Offbeat, Thursdays, 8-10pm CET on www.novumfm.de. There you have it!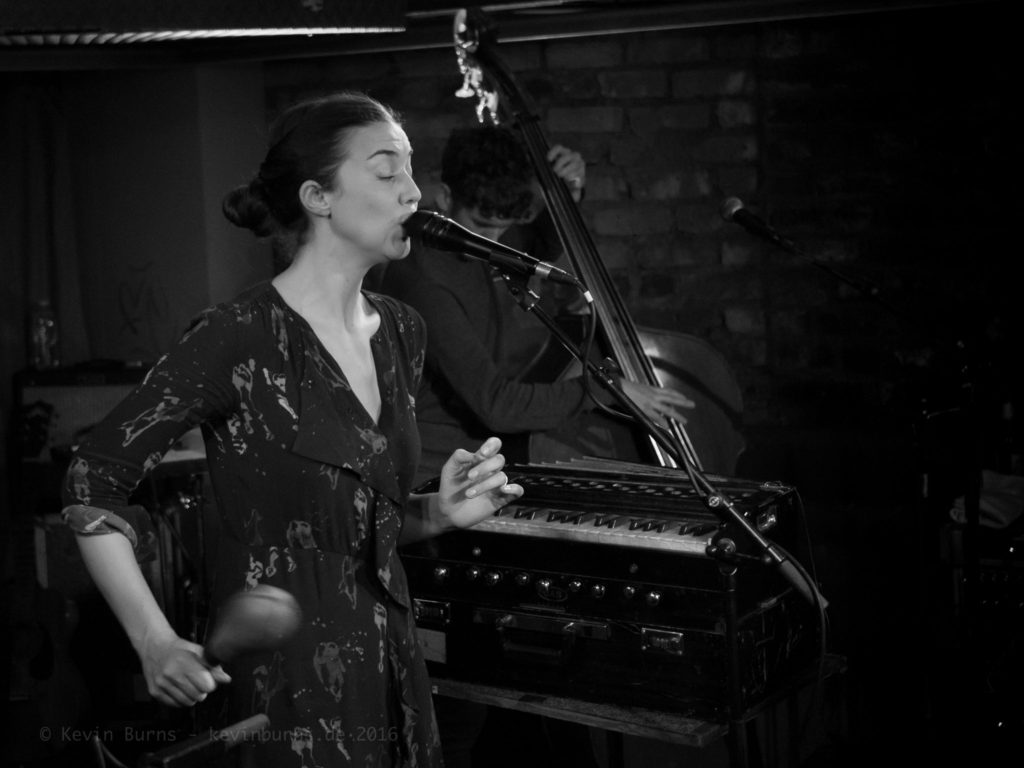 An incredible fresh-faced friendly Lisa awaited us and answered the questions patiently in her (it has to be said) also lovely speaking voice with the sweet lilt. (Actually, the band are trying to teach Heather Woods Broderick some Irish English while on tour and they are having loads of fun).
Thank you very much, Lisa Hannigan and the band and Heather Woods Broderick (blog post to follow) and Una Molloy and everyone at PIAS and the venue!
Offbeat Music Blog: Lisa, touring can make you feel disconnected from home where life goes on without you. How do you feel about it?
Lisa Hannigan: I think the main thing is you feel very tired. That's the main thing when you come off tour. A lot of people have these records about feeling disconnected, away from home. That was certainly what my last record (Passenger) was all about – being on tour a lot and feeling like, you know, what are the things you take with you when you travel. And this record (At Swim) is again about feeling disconnected but it is more about feeling disconnected at home than actually being on tour because I was living all over the place. But that's how a lot of people feel a lot of the time. It's worth writing songs about it, I think.
OMB: Could you take us on a short journey through your musical development and maybe what you had in mind when making your three albums?
LH: I was always singing at home in my house. My parents, my Mum in particular does a lot of singing. It was just always so. I don't remember a time when I wasn't singing. I sort of thought I might be an opera singer when I was a teenager for a brief amount of time. When I realised how quiet I was, I knew that was never going to work. I just had to find my place really. I realised, first of all I needed a microphone (laughs) because no one could hear me. I fell into singing backing vocals and writing my own songs. So it happened very meanderingly. But I always wanted to be a singer.
I don't know whether I have anything in mind particularly when I first start making a record. It is sort of a song by song situation. It's only sometimes the further you get into finishing songs that you realise how they hang together, what sort of theme there is there. On the outset, I think, you are just fumbling around in the dark and hoping to bump into things. I certainly wanted this record to feel different. But I didn't really know what that meant. And it took me a long time to write the songs. I was grateful for any song at all that I liked. But it did start to come together and start to feel  cohesive. But I think, starting out, you just hope to write another song which as a songwriter is always the worry. When you finish a song you think: Will that be my last song? You know, for a not very prolific one like me (laughs).
OMB: Your new album "At Swim" was a great pain to make, wasn't it?
LH: It took me a lot longer than I wanted to. I think, as we were saying earlier about touring: I came back from the "Passenger" tour which was probably about two years, just feeling really really tired – and quite sort of burnt-out and empty. I just thought "Oh, sure, I'll write a song next week." I just found it so hard. I realised I hadn't written a song in a long time and the more I tried, the more difficult it became. It sort of snowballed like that and I got very anxious about not writing songs. I would sit down every day and try and write and didn't quite work. But eventually, once in a blue moon, I would write a song in twenty minutes and I'd have a song that I really liked. I knew I was getting there – just very slowly. Then I got an email out of the blue from Aaron Dessner from The National saying did I want to write together or did I need someone to produce my record. That was amazing. That was really helpful. He would send me these little pieces of music and I would be able to write to that and sing into my phone and send it back to him. It really helped me gain momentum in my own writing as well. We have three songs co-written on the record. But more than anything it helped me gain my confidence back a lot. He is so easy and enthusiastic about everything. He is a really great person to be around and to write with. That helped a huge amount.
OMB: Aaron Dessner also produced in a way to make the album sound much darker than your previous albums or would that have been a natural progression for you anyway?
LH: Yeah! Who knows? I am not sure. The songs themselves are a lot darker because of the theme so that was already there. But he definitely reduced the kind of lyricism of a lot of the arrangements. He took a lot of those melodic instruments and contrapuntal melodies that I would have normally done and made it more textured which I think helped reduce the exuberance somewhat. In a good way! Because that's what the songs required. He did an amazing job producing it, making this interesting world out of the songs.
OBM: A lot of the titles of your new album are very dark but maybe the songs themselves are not so much as the titles mean something different to you?
LH: Some of the songs are definitely quite dark to go with the stark, dark melodies. "Funeral Suit" for a example is not in any way a sad song. It's purely a love song. I always know when people haven't listened to the record when they say (moans): "It's so depressing…" (Laughs loudly). They haven't actually read the words. And "Prayer For The Dying" as well. It's a sad subject but I don't think it's a sad song. It's not meant to be, it's meant to be quite celebratory and a tribute of sorts more than being sort of dour. But the titles are quite dark when you read them in a list (loud laughter).
OBM: You also have a Seamus Heaney poem on the album ("Anahorish")?
LH: Yeah, when I was finding it hard to write…I always read a lot of his poetry because it is so beautiful. And I felt like that would be the best thing if I fill myself with up with lovely words as opposed to my empty head. I saw "Anahorish" and it looks like a song on the page first of all but also the theme of it about memory and home and that central coheir of things, I thought, would fit really well with the rest of the record. I started setting it to music as an exercise in my time when I couldn't write anything to help me write stuff. But I actually I loved it so much that I really wanted to put it on the record. I sent it to his family, asking if it was okay and they very kindly said yes. I love singing it live, too, it is great fun.
OBM: Do you have a trained voice, Lisa?
LH: Well, I did a little bit of classical training when I had my notions of being an opera singer. I did some lessons in school. But that was it. I did that for a couple of years. I learned how to do warm-ups, that sort of thing. But I don't tend to warm up anymore because usually I am singing all day. I don't really need to. If I have been ill or I haven't for some reason been singing, then I warble away and do some scales.
OBM: The singing range is amazing and some people said that you could sing anything, jazz, anything at all.
LH: I love singing all sorts of songs and funnily enough since I started and since I gave up smoking about ten years ago, my range has totally changed. I've gotten lower and higher also. That's been fun. It is playing to me, singing. I like to think of the voice as an instrument. That's more how we approached it on this record actually. There is so much to a voice in communication in terms of texture and timbre and all the rest that is controllable to a certain extent. There is no reason why your voice shouldn't get better as you get older…as long as you are not drinking whiskey and shouting all night which I don't tend to do much anymore. There is no reason why your voice should not add complexity as you get older which I hope will be the case.
OBM: Thank you so much, Lisa Hannigan!