Mixed feelings as I boarded the train to Hamburg to attend - beside a business meeting - this year's Reeperbahnfestival. It had been a long time coming due to the pandemic, the real thing. One virtual festival and one with severe restrictions later, how would it go? Would people enjoy it to the full or would less visitors attend and participate warily? Since it came and went in late September this year (as every year), I spare you the suspension: The Reeperbahnfestival was a success in every way and yet not overcrowded, no stress, no long queues, not too many shared time slots as in the years before.
Getting off the train in Hamburg, I almost immediately turned back. Hamburg railway station is always unbelievably busy but this time my shock was probably down to the fact that I had not set foot in a large city for two years. Many people I spoke to shared the sentiment and yet, all was forgotten during the festivities. Mind you, there was no recklessness but a very convivial, harmonious spirit prevailing. Sheer joy. Well, after all, this is Europe's biggest club festival, so you are spoilt for choice of what and where to see something plus the heart is in it.
One big part of the whole shebang is the conference side where everyone involved in music can meet and greet, listen and learn, discuss, suggest and generally benefit in an enjoyable way. The festival side does also offer film, literature, virtual reality, art besides the music and everything in-between in a multitude of very different locations, cellar bars to churches, dingy clubs to breathtaking venues, it is all there (bar two big venues and with them the really huge acts this year as well as the boat gigs which I had my eye on - maybe I just missed them again). As I keep on saying, a bit of a plan helps but generally you never can see everything so just drift along and be inspired.
The good or the bad news first? Well, it's going to be a bit of a mix.
I only arrived on Friday and thus missed a couple of acts that I not only already knew but loved, in particular the almighty Dana Gavanski who treated everyone to a tremendous performance in St Pauli church on Wednesday. Likewise Naima Bock who unfortunately was unlucky with the stage that rendered her intimate set not fully possible. (Thank you for reporting and sharing, Sandra Zettpunkt!)
Also Destroyer and Charles Watson performed on those days. Next hiccup for me. One of the few overlaps at the festival and I of course am a victim. I would have liked to see the master: Canadian Daniel Lanois with a rare appearance in Europe. But the concert kind of coincided with the gig of Kiwi Jr., also hailing from Canada. Better be there early, they are pretty well-known. In the end, it was not packed in Molotow's backyard and Kiwi Jr. were fiddling with the sound for ages, so we might as well have had a peek at Daniel Lanois but clairvoyants we are not.
Instead we stood in wonder, staring at the act preceding Kiwi Jr.. Andreas Binder alias Salò entered the stage. Entered is not even the right word. He owned that stage, he strode on. I was shocked: What was Uwe, a former village pub owner doing up there? And, yeah, the music would have been just his kind of thing. Think Eighties, think trashy, think electronic, maybe a dash of Human League and DAF and transport this to now and with that a young fellow with questionable taste in outfit (it has to be said) gives us cover versions, tearjerkers, one-liners and funny stories along a backing track. A party piece? Well, a large crowd enjoyed it. And I detected my foot tapping. Afterwards I read an interview with Salò and it turns out the man can write music and perform with a band, his lyrics are funny and sometimes very personal and he does not shy away from opening up. So, rather ironically, this performance, despite looking trashy and funny at first glance was actually more, to use an overused word, "authentic" than many others. I actually would have like to see that set again at another time but the blasted overlap. But it goes to show that the drifting always makes sense in the end and you discover things at the Reeperbahnfestival if you only allow yourself to.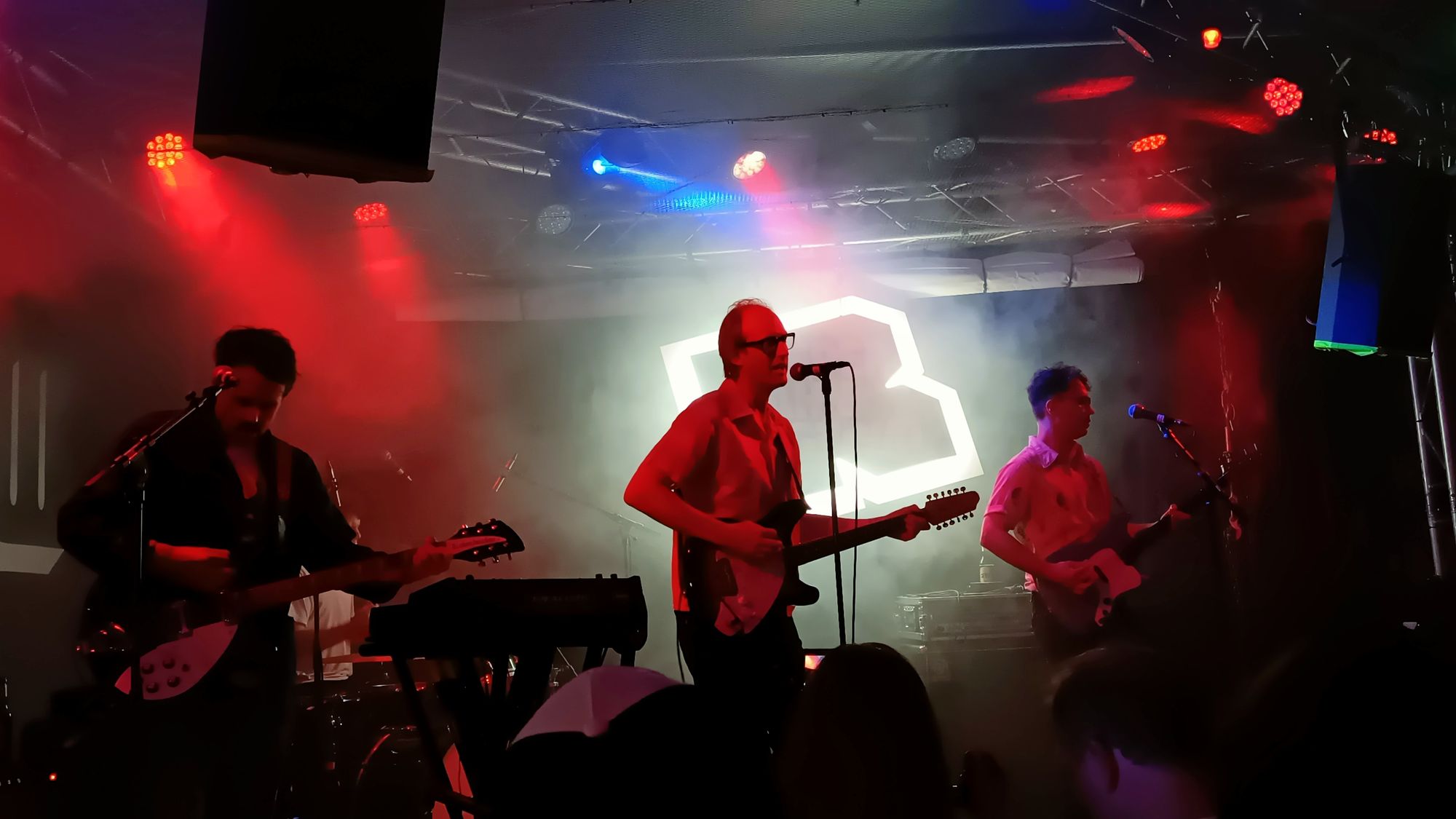 Anyhow, Kiwi Jr. turned up and looked like a college band, sounded like a college band and were absolutely fantastic. Few words, a tight set, very friendly fanclub tenderly moshing it front of the stage and more than a slight resemblance to Nap Eyes (a good thing) and sometimes even The Fall. Generally though the four young, serious and polite members of the band have long since found their own style and it is wonderful. (Almost forgot for a moment that I missed Dana Gavanski, but just for a minute or so.)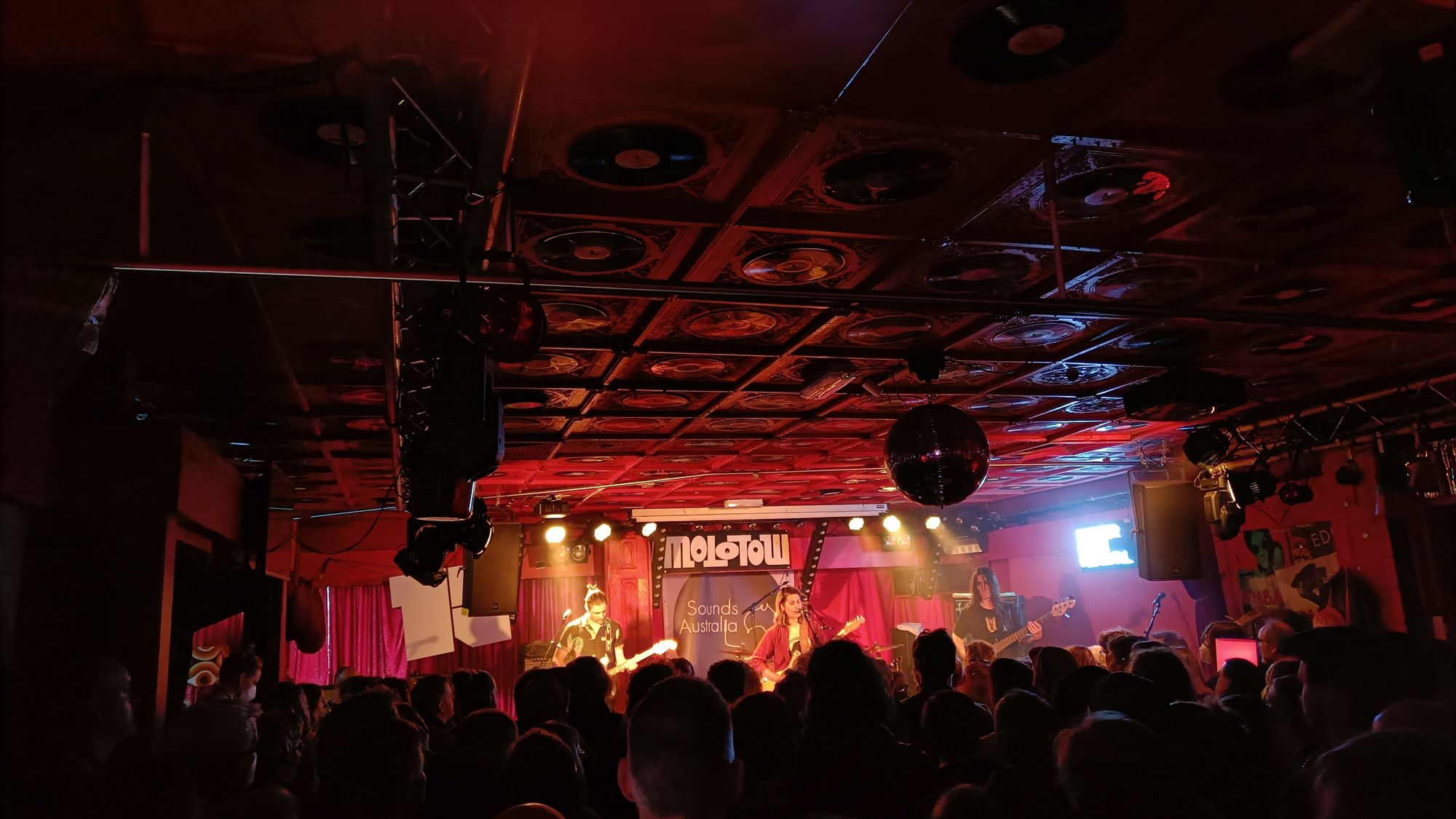 Earlier, Alex Lahey from Australia gave one of her three (I think) performances inside the Molotow. That's me right into a crowded room. Alex and band made you forget about the fears and anxieties soon enough and play a packed set with a bit of banter which is truly promising. Especially the surprise appearance of a saxophone and it expertly being played by Alex Lahey did it for me. Comes highly recommended if though, something is starting to materialise here that Alex with her talent, her hard-earned craft and her down-to-earth behaviour can still easily get away with but the thing is: There are a lot of new artists (well, that is the point) and many of them are not exactly my genres (fair enough, make way for the young ones), but also quite a few of them sound a tad too generic and not very advanced (for heaven's sake, they are still young) but strangely, at the same time, very commercially oriented. Some sets start interestingly enough but then we end with the same old pop formula that does not seem to come from the heart to me but a marketing department. This is only my impression, bitter old person that I am, but it was shared by quite a few people. For instance, Lime Garden (also competing in one of the many awards events at the festival), an all women quartet at one their performances in the Nochtspeicher.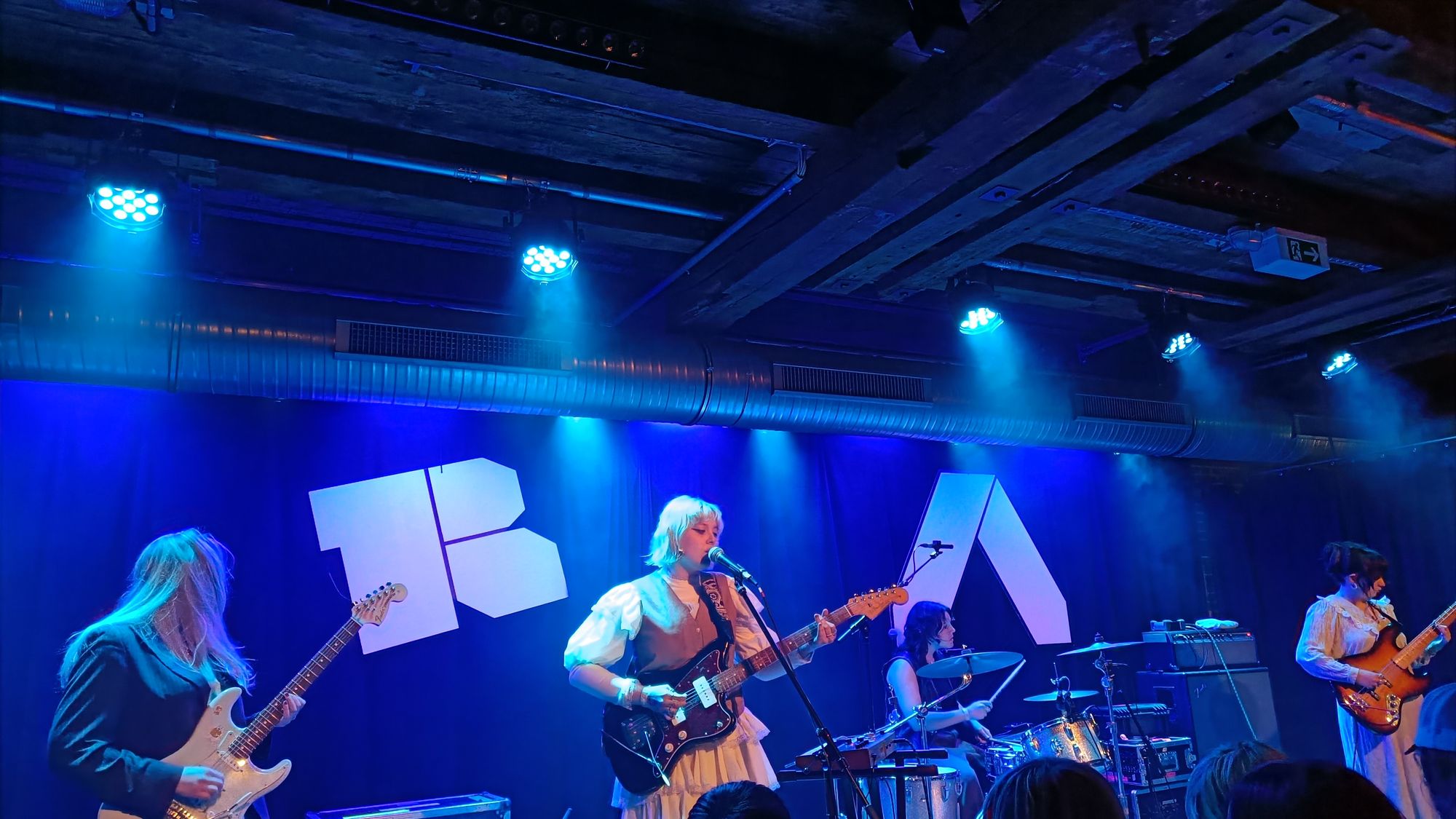 The audience loved it, danced along. To me it seemed, there were good songs, nice humans but no interaction between them, too much show on two of them (the eye-rolling and the hair swooshing - please, don't) and then a drift into a mushy genre mix that was too samey. Too smooth for me but certainly appealed to a lot of the audience.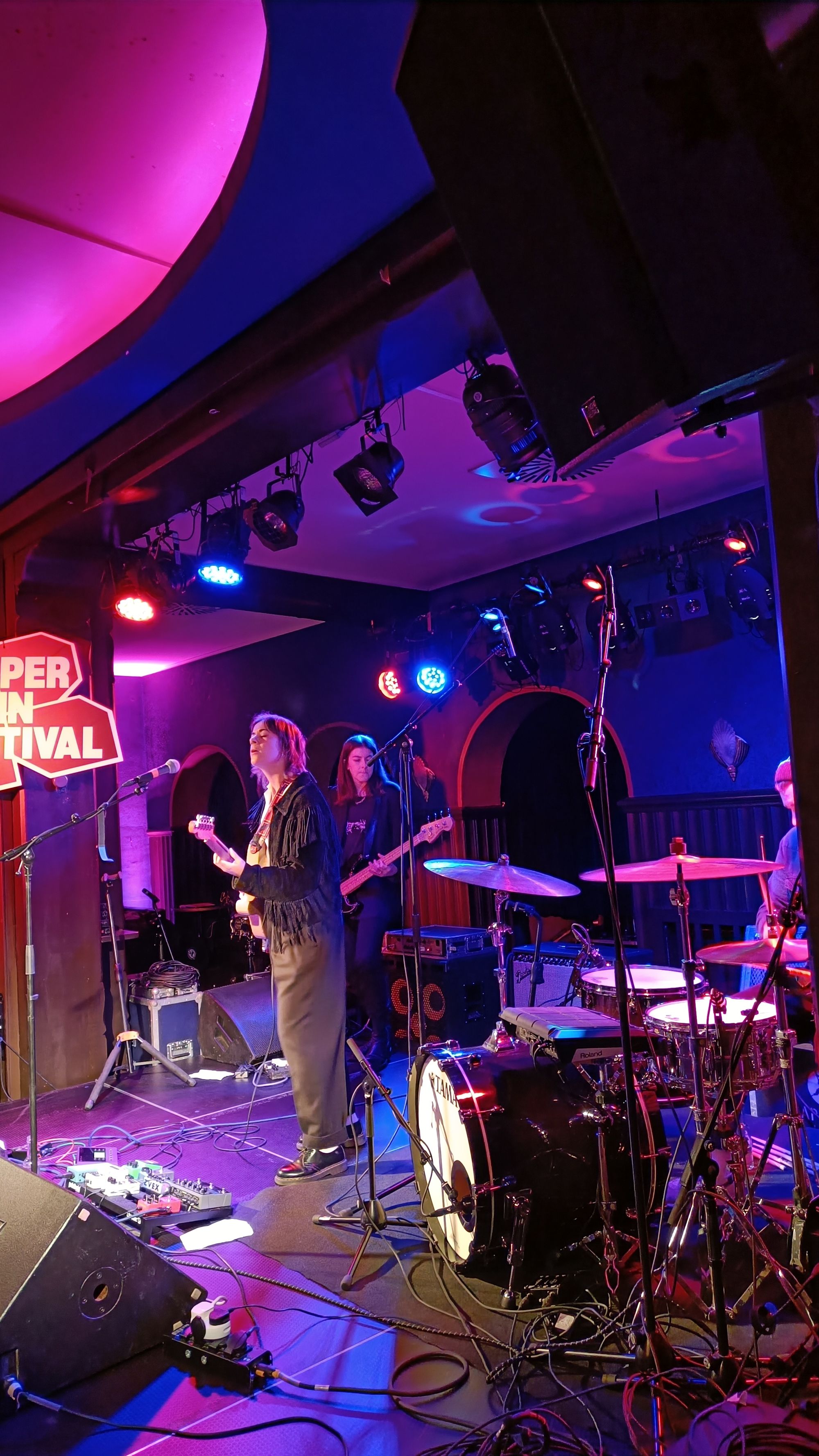 Same goes for Liz Lawrence: Expected much much more from the gig in the very beautiful and intimate club Angie's. Liz Lawrence has the lyrics, she has the musical proficiency, she has the personality and the band and yet, it ended a bit jukebox like. Maybe she likes all kind of styles. Maybe doing all styles sells better. I never know what it is but the suspicion already puts me off. Maybe on another day, in another context?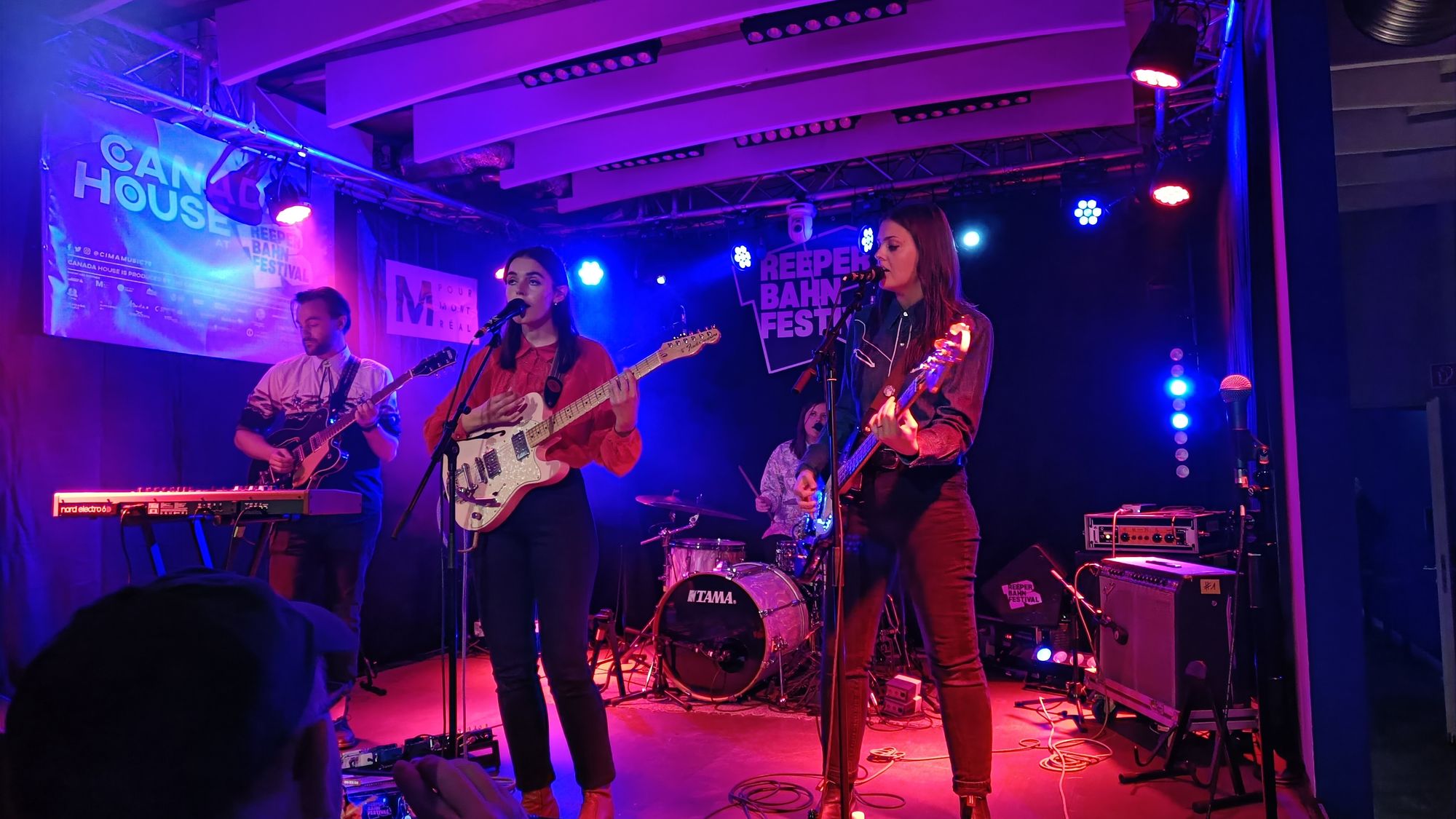 I was really into The Garrys' music, called garage surf doom wop by themselves and that is exactly what the three sisters Erica, Julie and Lenore from Saskatoon, Canada, do. Maybe it was the stage in UWE, a bit too cold and bright and same level as the audience. Maybe it was a profound nervousness amongst the band. Either way, this could have been tremendous if The Garrys had loosened up a bit and the club had been different. The way it was, the effect of their really atmospheric music was wearing off quickly. That nearly broke my heart.
Snatches of music here and there but I was missing the raw stuff, the DIY material and the "I don't give a shit and I am only doing this because I want to do it" attitude. Maybe I was in the wrong places, maybe at the wrong time. I am fully aware that to turn up at the Reeperbahnfestival, especially from a different country, costs a fortune and the most of it must be made, in particular by young artists, but less is often more. We drifted and enjoyed, wish the artists would do more of the same. I heard good things spoken about some new artists, so it is a bit of a draw sometimes and also a highly complex situation.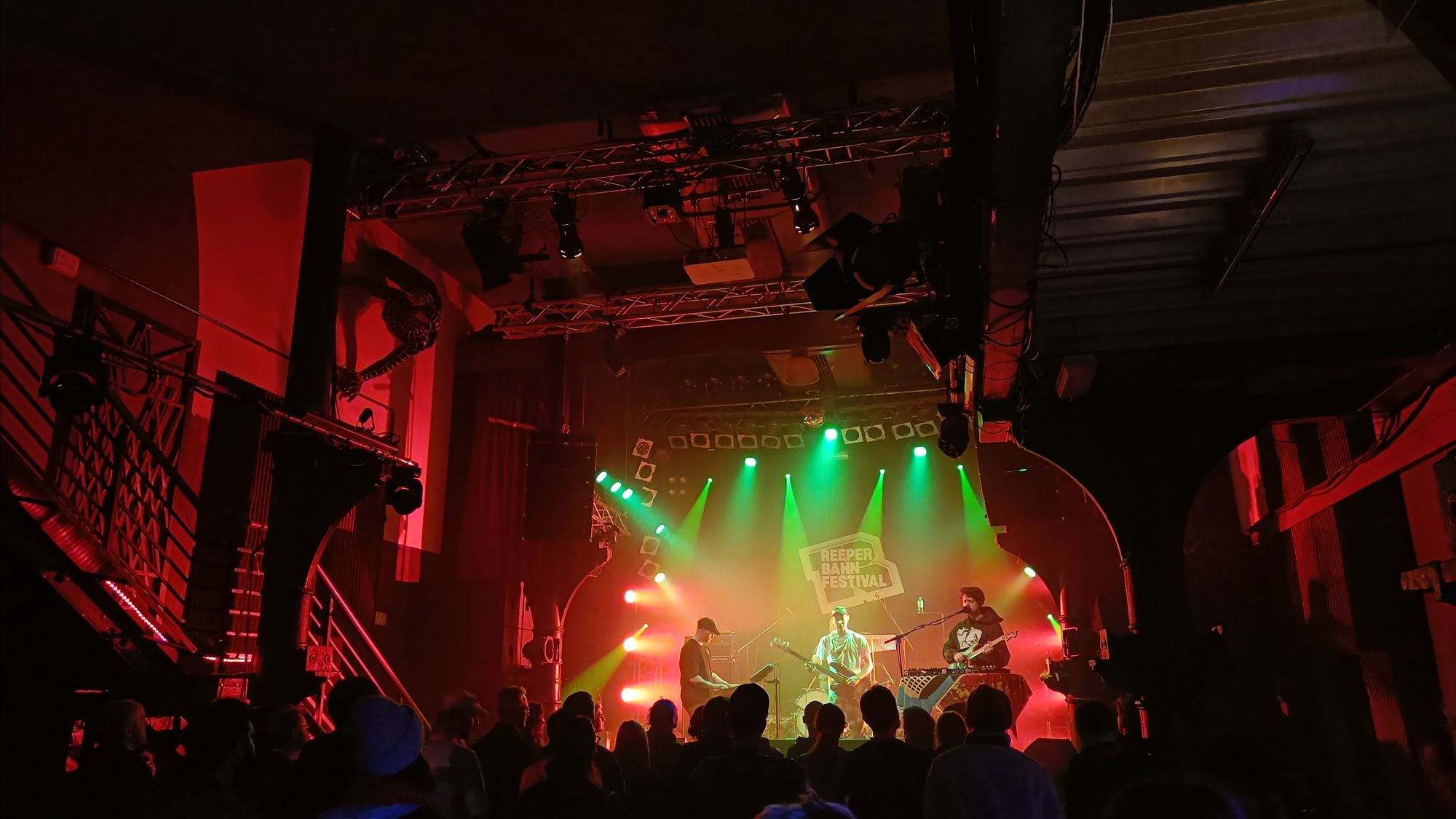 Like for Peter Sagar, former band member with Mac Demarco and now dedicating his time to his own thing: Homeshake. Another beautiful venue is the Knust (with a peaceful location outside to drink something and eat a bite...cannot be overstated. Chips there pricey, too salty, but (and I am an expert) really, really good. May I also mention the wonderful crêpe stand on Spielbudenplatz? A little plaza by the way, that this year was done up particularly cosy and luckily the weather held) and this is where Homeshake were resident on Saturday night. Accomplished musicians, lost in their music and the audience with them. More audience please, chairs maybe? Homeshake would have deserved more attention in my humble opinion for their journey from the simple to the complex, the bedroom pop to jazzy and soulful deviations.
And that's a wrap. Enjoyed the feeling, more than ever, great atmosphere, loved discovering new clubs, new artists, re-seeing other ones and had happy moments like most of the audience did and you can too next year! Forgive my complaining but just personal nitpicking and after all it is Europe's SXSW and as I said, expensive to do for the artists, so there has to be a commercial aspect. But in some cases sadly too much in your face. (Okay, I have not been to a mainstream concert in a very long time, so what do I know).
Big kudos to the organisers who must have had many a sleepless night in view of the ongoing pandemic and the Ukraine war and feared about their bookings, planning and investments day and night. It happened and it went well!