Here's man who thinks that not many people listen to his music. I have heard otherwise and if all the gigs are like the one I attended, it could not be further from the truth. Have a short recap on Wovenhand and the gig and then read a  Wovenhand interview at Reflektor, Liège, 2017. David Eugene Edwards' upbringing was one of extremes: After his freedom and biking loving father died, he spent a lot of time with his grandfather, a Nazarene preacher, and joined him on his travelling. The Nazarene church is a very strict one and David left it later – much to the chagrin of his grandfather. He is still a very religious person – or to put it a better way: He believes in God, in Jesus and the Bible. His faith determines everything he does.
Late as a teenager David Eugene Edwards discovered music by Joy Division, Bauhaus and other dark, heavy music and he could identify with the music, if not the lyrics. But he accepted the honesty of the music.
Having been the lead singer and songwriter for 16 Horsepower (still sorely missed by many fans) until 2001, Denver-born Edwards founded Wovenhand with an often changing set of musicians. Wovenhand had started out roughly in the alternative country, folk and native American music sphere. Live shows and single songs would sometimes be harder, louder and darker. Up to and including Wovenhand's eighth album "Star Treatment", the music has been spiralling to its rockiest yet. This might have disappointed early fans but it both reflects the origin of the musicians he works with now and the way he sees his ideas portrayed best presently.
16 Horse Power already were welcomed into the metal scene and even though fans there might have a totally different stance towards faith, David Eugene Edwards would be impressed by their honesty rather than being fake.
Supposedly, at least at a live concert in Europe, many fans will not even make out the words so much. Again, it has been proven worthwhile not to ignore the lyrics or indeed ignoring the whole band due to the Biblical content of the lyrics but to listen and appreciate that there is a man who has been delivering music of high quality over the years, shows an intense interest in music from all over the world and performing to a very high standard and is himself. No more, no less.
In the sold-out Reflektor Club in Liège, Belgium, the audience was captivated and enthusiastic. Quite a few in the audience were unfamiliar with Wovenhand and seemed to feel rewarded to come in and see them play. David Eugene Edwards brought along Chuck French on guitar and vocals, Neil Keener on bass and Ordy Garrison on drums. Neil Keener and Chuck French form half of the hardcore band Mistaken For Stars.
A set that left you hardly time to breathe. Being pummelled by bass and drums, longing guitars and singing and intense, mostly dark, hypnotising songs, the audience was compelled, wanted more and received.
David Eugene Edwards kindly spared some time before the concert and spoke to Offbeat Music Blog. Thank you very much, also to Lutz at Glitterhouse Records and Lou and Toon from the tour management and the lovely Reflektor team.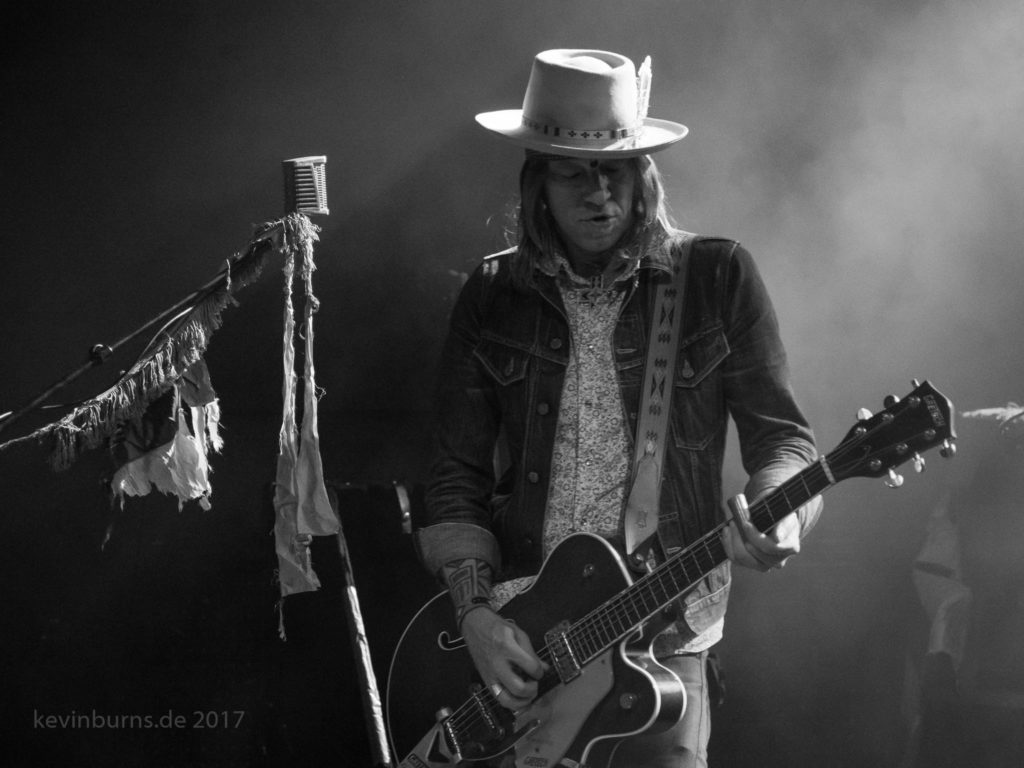 Offbeat Music Blog:
Your latest album "Star Treatment", despite more tender moments, has all the marks of a real rock album. You have been welcomed into the metal scene, a scene, that I used to think of as quite insular. What do you make of that?
Wovenhand – David Eugene Edwards:
That is not something that happened lately. We were popular with 16 Horsepower, mostly in Norway and Sweden with the, I guess, black metal crowd. It followed us all the way through to where we are now. Yeah, we have all kinds of fans in those kinds of music that, for whatever reason, like what we do too.
OMB:
Some media and listeners are not quite able to put you in a box – your variety in music, the – to them – contrast in music and lyrics. How is the reception for you in Europe and in particular Eastern Europe as compared to the States? Do you find people more open?
Wovenhand: There are more open in certain ways, maybe, I dunno. We do better in Europe – it has always been that way. A lot of bands are in the same situation. We do well in parts of America, on the coasts of course, you know, and in Texas we do well. Where we are from, we do well enough. So we have a good crowd everywhere. It is just, we spent a lot more time here. The arts in general are more supported by the government itself and it is easier for people to be part of that. People are happy to work at the club than can't wait to leave as it is in America. But we have great shows in America too.
OMB:
Are you still a part of the Denver music scene?
Wovenhand:
Well…of course, I mean, we have never really been part of any music scene in Denver. We have only just played in Denver. There are all kinds of different scenes in Denver and there always have been but we don't play there very often. We play there once a year.
OMB:
You write the music, you write the lyrics, you perform – and we are getting an honest David Eugene Edwards on record and on stage and not a persona, not a role which ist great. There are people out there who might ignore the Christian part of it or reject the whole package which is a pity because you are not really about organised religion so much, I understand. Do you wish it was different or were you ever tempted to try and change something about yourself or your honesty to maybe compromise?
Wovenhand:
No, of course not. I do that all the time in my mind, compromise, but not in the sense that you say. I dunno what else to do. I just do what I have to do. (Laughs). I don't really have control over it, you know what I mean? It just is what it is. And of course if you are in a band that is associated with you, you are immediately on the B-list, you know what I mean? (Laughs). That's fine with me, that's okay.
OMB:
What we see in the US today and have seen for a while and everywhere else, is the power, the money, the white supremacy, the shallowness and the lies on the one side, often hiding behind or abusing the Christian front. What do you think of that? Did you ever get mistaken for this kind of believer? Did they ever try to employ you?
Wovenhand:
I dunno. This is really difficult. You know, I come from a place where everything was taken from the people who live there. They were destroyed in order to set something up for [new] people that are helping each other out and doing good things. But first you have to get rid of the people who were there. For me it's all bullshit. I just believe what I believe and I don't really think about it so much outside complaining about it (laughs).
OMB:
But you were never approached by anyone with a political agenda?
Wovenhand:
No, we weren't. We have always been too wild for any sort of religious group to be a part of…and too religious for any other group to be a part of.
OMB:
If you go back to your very earliest musical childhood memory, what was that?
Wovenhand:
I guess my mother singing, playing guitar.
OMB:
When did you pick up playing yourself?
Wovenhand:
I played the violin first when I was small, the piano and then the drums for a long time. Then guitar at probably sixteen or so. And then from there everything else.
OMB:
Were you self-taught?
Wovenhand:
Oh yeah. Although I got violin lessons and piano lessons, but I did not last long with lessons, only a few months.
OMB: You had an extraordinary upbringing. Now you are a touring musician. What brings peace and settlement into your life?
Wovenhand:
(Long pause). I dunno. (Another long pause). Just what I know to be true.
OMB:
So, the things you believe in and family. Does that balance the touring life out a bit?
Wovenhand:
No, it's not easy. It's not a normal job.
OMB:
You've got kids, right?
Wovenhand:
I have two.
OMB:
How old are they now?
Wovenhand:
They are older, both of them. My daughter is been on her own for quite a while. My son is still with me. I have him just part time. His mother has him the other half of the time.
OMB:
But is a bit easier now that they have grown older to be on tour?
Wovenhand:
Sort of. It is always hard, even now.
OMB:
There is a beautiful 40-minutes plus documentary on yourself from a while back on your website. Can you still identify with that?
Wovenhand:
That dates probably fifteen years back. But I still stand for the things I said there, of course.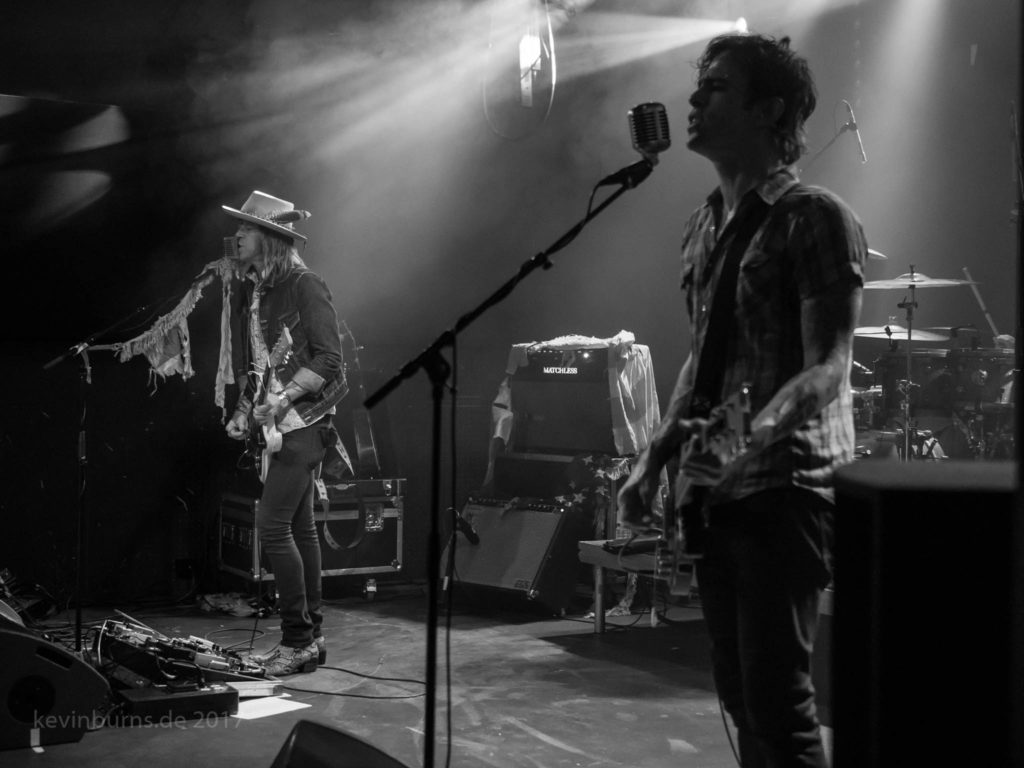 OMB:
You have a love for traditional music from all over the world and also for traditional instruments. Is there anything you would like to explore more or for the first time?
Wovenhand:
Not really, other than just going to places where I haven't been. To listen to the people play, in Persia, Afghanistan or Pakistan or Egypt. To be able to go to these places and play music there. That's what interests me.
OMB:
You are interested in the pure form of the traditional music? Often, especially Indian music, gets used for this wishy washy new age stuff.
Wovenhand:
Yeah, I am not into that, I am interested in what the people play. Well, you know, if people make some money out of that kind of music. If that is what it takes to make some money out of their music, it's okay with me. It gets used for other purposes, it gets appropriated – as does everything (laughs).
OMB:
How do you write your songs? How do you go about it? Music or lyrics first.
Wovenhand:
Music first. I mean, they kind of happen at the same time. But there is more attention to the music, more time spent with the music and then the words just kind of fall on top of the music.
OMB:
Does the band get a particular input?
Wovenhand:
Of course. It varies, it depends on how far along the song is when it is presented. Sometimes it is worked out at the same time, other times it is so far along that is quite obvious what to do.
OMB:
Looking back on a record you made, do you feel, I should have done that differently or do you feel the songs are in constant development anyway and you kind have had to let them go? Which song or songs encapsulates your current state of mind best?
Wovenhand:
Obviously the most current songs. Well, you know, I don't like any of them. To me they are all not what they should be. I am not good enough to do what I want to do.
OMB:
But only you think that or it is your own measurement against your expectations. The listeners would not know.
Wovenhand:
Well, we don't have that many listeners (laughs).
OMB:
Ah, now don't be so modest. I know a few.
Wovenhand:
No, it's true.
OMB;
Are there any older songs where you say: Can't identify with that at all anymore?
Wovenhand:
Oh yeah. Most of the 16 Horsepower stuff. People always want to hear the old songs but that is not very easy for me. I have trouble with just a few years back.
OMB:
But does it happen that maybe sometimes a song does survives because it takes on a different meaning?
Wovenhand:
It can happen, yeah. But there are lot of criteria going in why we play what we play at shows. From instrumentation to tunings, different guitars that are needed because I use so many different tunings. So we do what is most expedient at the moment for the most part.
OMB:
If I may ask you that…can you live from the music and thus concentrate on it full-time?
Wovenhand:
Yeah, I live from the music.
OMB:
Brilliant! And: Well, you kind of answered that earlier probably but are you content with what you achieved musically so far?
Wovenhand:
Yes.
OMB:
Good. What kind of show can we expect tonight?
Wovenhand:
All kinds of contentment! (Laughs). No, it's different every night. It is always a surprise. We have a setlist but again associated with the guitars that I use and the songs going together as a sort of a story as we play.
OMB:
Thank you very much!
Wovenhand:
You're welcome.
Wovenhand interview at Reflektor, Liège, 2017