Some years back I had a short conversation with Adam Granduciel from The War On Drugs, him gushing about discovering The Waterboys and enjoying going through their back catalogue. But, I quipped, I had the fortune to hear The Waterboys' albums as they were published and Mike Scott's musical and life stages seemed to correspond so well to mine that his work had been a constant and supportive companion.
To Wilco however, I came late in my life. There are obviously a number of reasons (and I hope being a totally ignorant person is not one of them): In my youth I was a dedicated anglophile and other than the odd Pixies, Sonic Youth or Buffalo Tom etc. record, my knowledge of US American music was rather meagre. Sure, I had heard some Wilco songs (how many actually astounded me in the concert) but maybe I just had not been ready for Wilco. Now I am. At this stage of my life and maybe also musically (falling for guitars and more traditionally based music). And it is, aside from feeling like a total tool amidst the hardcore Wilco fans, just fine. After all, many people give up on music as they get older and I am grateful that it is quite the opposite for me: That music is still able to excite me.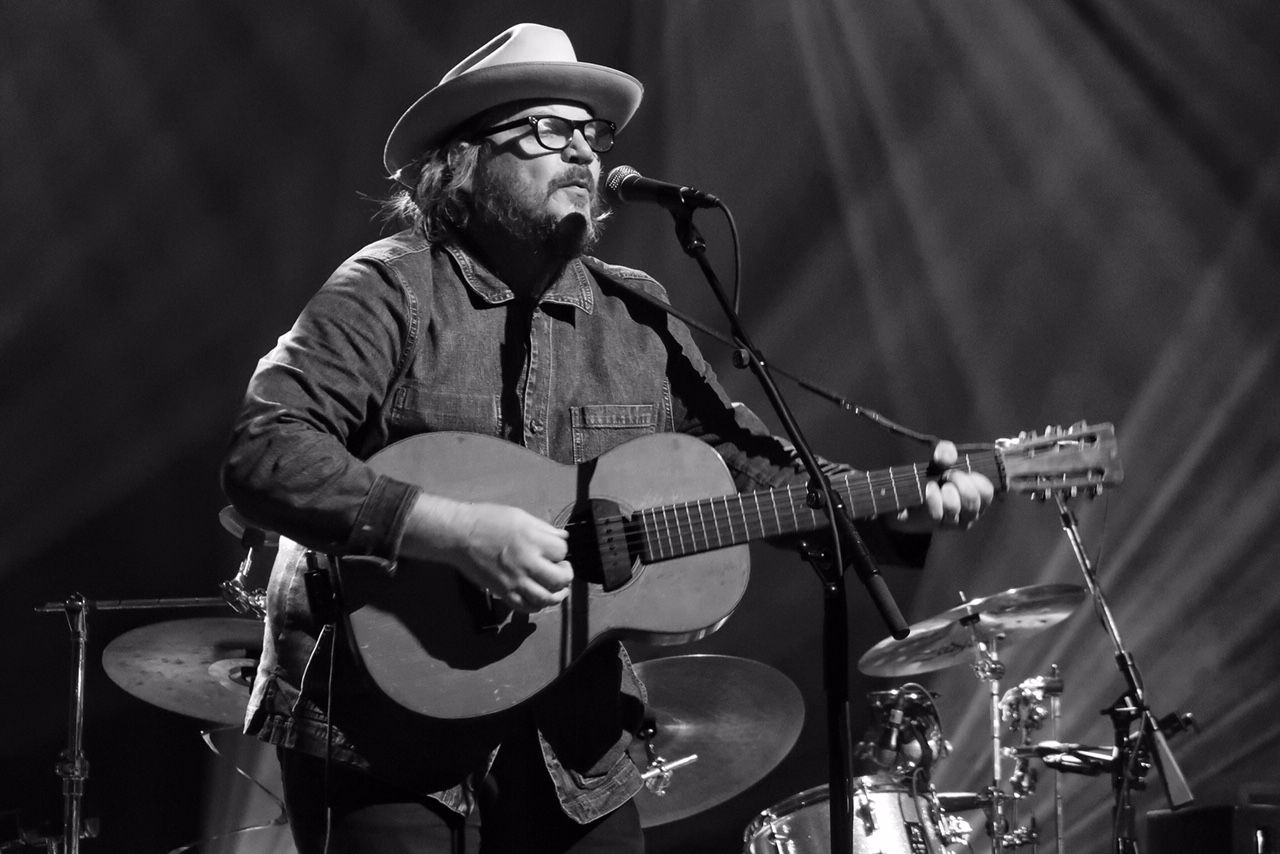 There might have been times in earlier years when I could have done with some Wilco, who knows. At present I am grateful that Wilco's music hits me hard when I am hard hit. Maybe it is for the better because I can now not become of one those spiteful moaners that the new Wilco songs are not up to the older ones...
Starting out with spontaneousley hopping in to see Jeff Tweedy play the acoustic versions of Wilco, Loose Fur and Uncle Tupelo songs of "Together At Last", I was hooked. As I have admitted here before, I cried during the songs and I laughed during the deadpan banter so much, I thought I'd never recover. (The people around me not either, I am afraid). Since then Jeff Tweedy has been omnipresent of course with his (astounding) autobiography "Let's Go (So We Can Get Back) and then his first real solo album "Warm" followed by...hey, hold on, Wilco are coming?
By the time I had tickets, I had already heard one song of their new album "Ode To Joy" and I was having recurring nightmares of trying to go to a Wilco gig and somehow I could not get there. Sheer horror. Of course I was there. Andrew Taylor of the band Dropkick and The Boys Of Perpetual Nervousness as well as solo artist (with a new album coming out!) is a Wilco überfan and he promised me to be in for a massive treat for my first ever Wilco concert.
Was I? I was. I was a nervous heap all day (look, this is not normal, this was my third concert that week only); I cried when Wilco came on stage; I was a general total embarrassment to my family with me.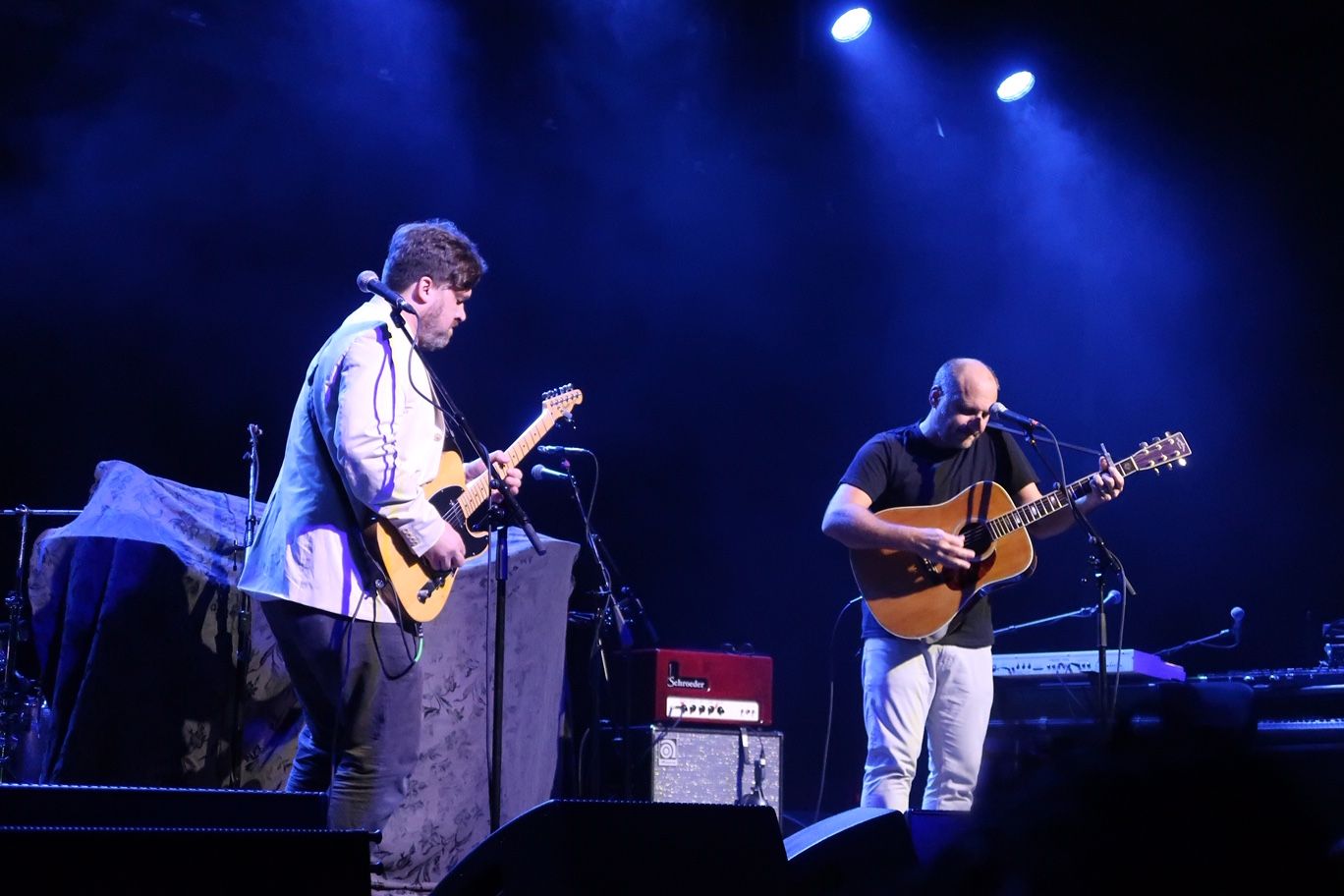 First off in the newish venue of Carlswerk, Cologne (great parking, drink and food prices bit on the steep side and guys, this is not what a three-quarter Belgian calls a portion of chips, right?, very friendly security, good sound), we were treated to Spiral Stairs, Finn Regan (repeatedly announced by the other half of the duo who in turn did not refer to himself too much but seemed familiar...) and Scott Kannberg (yep!), he of founding member of Pavement fame for starters. Accomplished musicians who good-humouredly played some tracks of the Spiral Stairs repertoire which were well-received. What a job, to have to warm up for Wilco, but we are talking Scott Kannberg here, so not a problem at all.
Half an hour wait (yep, standing, unlike in Berlin and Hamburg, the two other German concert locations) and then without further ado, Wilco. Did I mention I cried? More than two hours of songs, virtually non-stop and not a minute of boredom. There was hardly any background visual action, very minimal communication with the audience, no dancers (just imagine :-)) bar Jeff Tweedy kicking his legs for a bit (for real!) or anything that distracts from the music. And yet, time flew by. I knew Wilco would be good live but the concert exceeded my expectations (which I had feared would be too high actually), both in quantity (loads of tracks from the new album and ALL the classics, see setlist below) and quality.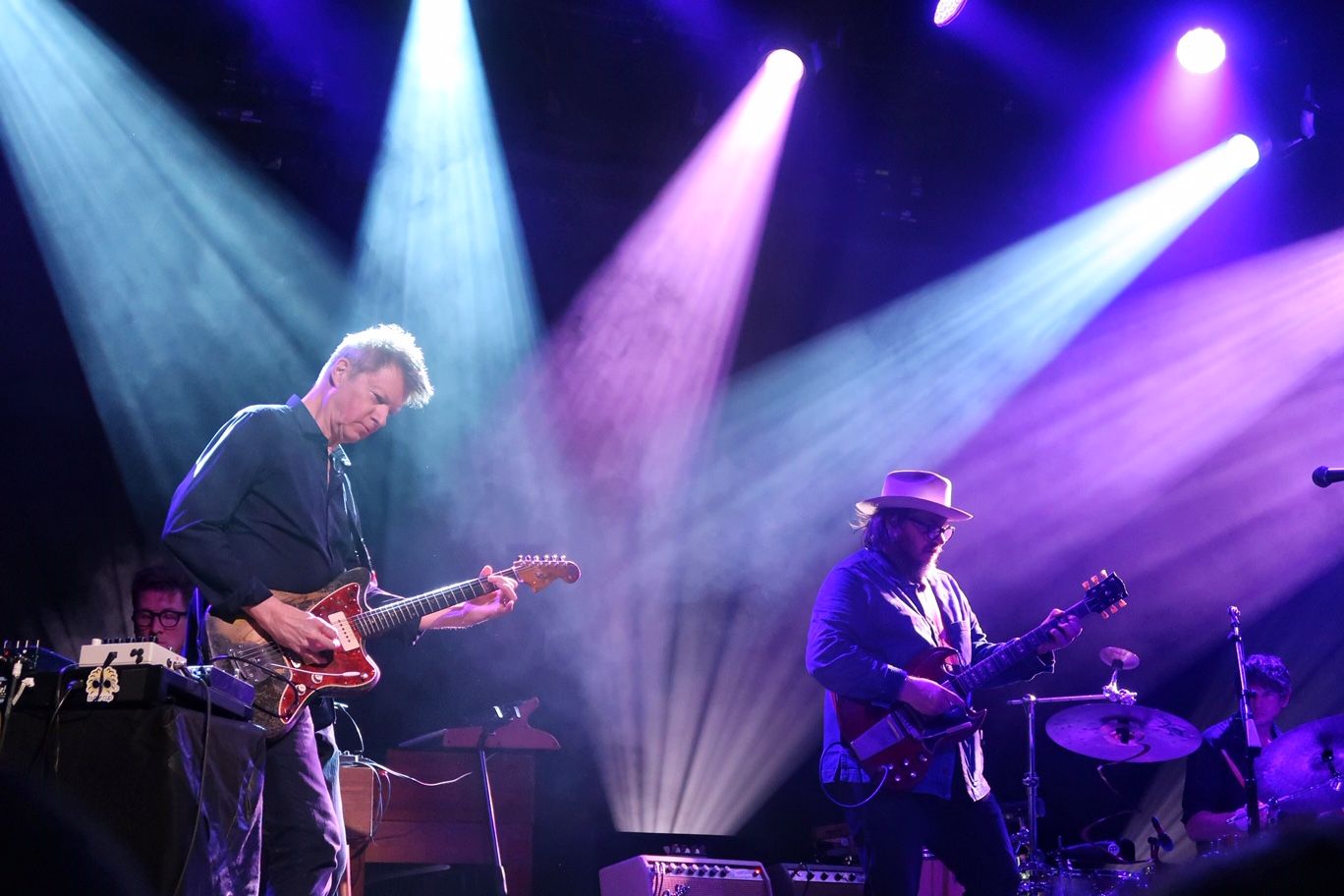 The individual musicians are absolute masters of their craft be it Jeff Tweedy himself as the main composer, blessed with a great voice, Nels Cline with many incredibly complex guitar solos and Glenn Kotche who drummed with a perfection and a verocity that others would not survive for 10 minutes. And of course a bit hidden away Mikael Jorgensen at the keys and multiinstrumentalist Pat Sansone at everything and last but not least the latters partner in The Autumn Defense, John Stirratt at the bass - having the longest partnership with Jeff Tweedy. Together Wilco delivered a picture perfect tight performance but always leaving space for spontaneous alterations. But what I found to be the highlight of the concert, was how the band seemed to enjoy themselves and spreading that joy to the audience. Quite an achievement after 15 years of playing together - some marriages do not make it that long by far.
I just realise how totally smitten I sound or even raving mad. It becomes a music journalist and also a hardcore fan to be a bit aloof and criticise away (which some did after the concert. Look...if the chips had not be so few and far between, I'd have thrown them at you. You know who you are. Also the couple in front of me, desperately holding onto the railing, not budging one inch and did I see them enjoying themselves? Nope, they did not even clap. Very odd). Generally though, the audience was enthralled and Wilco thanked them profusely. Oh yeah, back to my acting like a lunatic: It was simply the best concert I have seen in my life, okay? Thank you Wilco for turning up late in my life (jeez, yeah, your music would have come in handy earlier) but certainly better than never!) Someone said Wilco are the best live band around and I can now fullheartedly agree.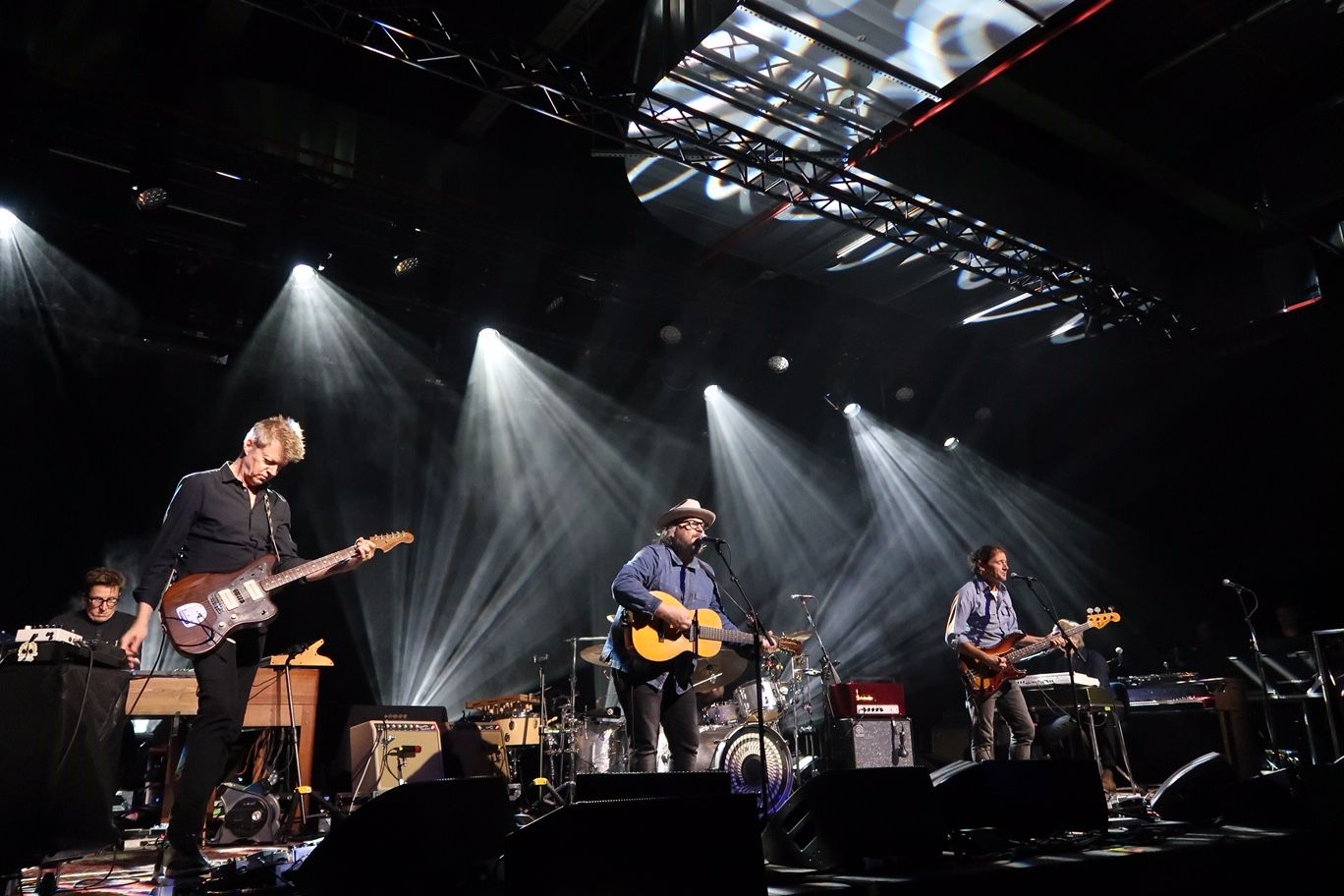 I have finished. Go and see Wilco if you have not. You know you want to and prepared to be moved.
Setlist coming here:
Bright Leaves
Before Us
I am Trying to Break Your Heart
Kamera
If I Ever Was a Child
Handshake Drugs
One and a Half Stars
Hummingbird
At Least That's What You Said
White Wooden Cross
Via Chicago
How to Fight Loneliness
Bull Black Nova
Reservations
Impossible Germany
Love is Everyone (Beware)
Box Full of Letters
Everyone Hides
Jesus, Etc
I'm Always in Love
Random Name Generator
I'm the Man Who Loves You
Hold Me Anyway
California Stars
Red Eyed and Blue
I Got You (At the End of the Century)
Outtasite (outtamind)