And that was that again: Reeperbahn Festival 2019 in Hamburg, Germany, is over and done with and leaves many of us looking back fondly and looking forward excitedly to the next edition. Let me try and render my personal impression of the festivities that were.
When you plan to attend a music festival, what becomes of your meticulously organised attack to take it all in? Exactly, absolutely nothing. Because all of a sudden you remember you will have to travel there, you will have to sleep a little and maybe once in a while have something to eat, never mind the old gig overlaps or long queues happening. Now picture 600 concerts of 400 artists in 90 venues plus film. literature and art, sided by a huge conference event agenda, faced by a person (c'est moi) who is a perfectionist, a music lover, two days late into the show and with a station meeting to attend and you might imagine the slight glimmer of panic in my eyes.
But I was not the only one. The message is clear: You CANNOT do it all. Plan a little and then go with the flow. Everyone has their individual experience of the Reeperbahn festival. Join me for mine if you please.
Hamburg is one of my favourite cities and so say all of us. It is packed, always. This Friday though I am absolutely drowning in people en route to St. Pauli: The climate change protests are on and good on you, kids, each and everyone of you is out there at Jungfernstieg. By the way the recommended starting point according to the announcement on the underground (which is overground), because one stop is not being serviced. Go there by tram (underground, yep) and all is well. It is indeed magnificent to see the protest but a horror to get through. Somehow I make it to the ticket desk in the festival village of Reeperbahn Festival in St. Pauli (which has moved as well, the festival village, not St. Pauli, but only a little bit, more buidling going on).
And then it is onto the Reeperbahn and surrounding streets, neon, noise, red light everything and tourists and stag and hen parties and...50000 visitors to the festival.
But still, venture down a side street and you find quietude. Sit down in the Imperial theatre or in one of the participating churches and you can rest your weary bones and ears and eyes. So, what's the plan? Forget sleep, hoover up some food along the way and just start.
Let me whine a little about what I did not get to experience: Matt Dillon talking about the future of film; a music industry panel discussing the tour agency business as investment (indeed more money is in touring than there is in record sales, but please investors, stay put and I beg you, small agencies, keep pouring the love into the bands as before); art exhibitions; Anja Rützel reading from her screamingly funny book about being a Take That fan; Penguin Cafe in St. Michaelis (I knooow), Molly Sarlé (of Mountain Man, weep), Mattiel and Sasami; a hangover boat trip in the harbour serving Margheritas and Bloody Marys...
But here's to what I did see:
Many old and new friends. Travelling in a group? Yes, you compromise but see so much more new stuff.
Many many miles of pavement and loads of St. Pauli and all the different venues (which means however, you are going to be late for gigs as well or do not make it at all with all the walking).
Good mood mostly all around.
A hotel full of cheerful Aussie musicians and very polite Estonian ones.
And music.
Friday, 20th September 2019:
Each year one country is featured on the Reeperbahn Festival. This year that honour went to Australia. Now, I was indeed missing many of my favourite Australian bands but I do get that the Australian music scene is huge plus it borders bankruptcy to ship a band up from down under. The event that Australia put up was - quite expectedly - light-hearted, exciting, friendly and bursting with music. It turned out to be an Aussie BBQ at the marvellous Molotow Club. Like many others I spent a lot of time at Molotow, slapbang on the Reeperbahn which is just as well because it contains four venues including a great open air yard and it is facing closure. Please join in fighting the closure of Molotow club!
I was particularly looking forward to the performances of The Stroppies and Pierce Brothers and they did not disappoint, whetting appetites for more of their gigs which were available at later stages. The Stroppies and their true indie jangly pop played a tight and joyous set. Pierce Brothers convinced with folky and rocky tunes right out of the heartland (of Australia). An afternoon very well spent and if you were lucky, you got some goodies from the sizzling grill as well.
Sorcha Richardson from Ireland is blessed with a great voice and entertains everyone with a selection of well-made indiepop songs slightly trending to the poppier side with a generous twist of heartbreak in the Festival Village.
Time to go back to the Molotow (they just happen to have a lot on their roster) and better start securing a place for Penelope Isles later and take in North London newcomers Sorry in the meantime who seem a bit nervous but still manage perfectly well to present a string of their soulful rock songs with speckles of Sonic Youthian guitar escapades.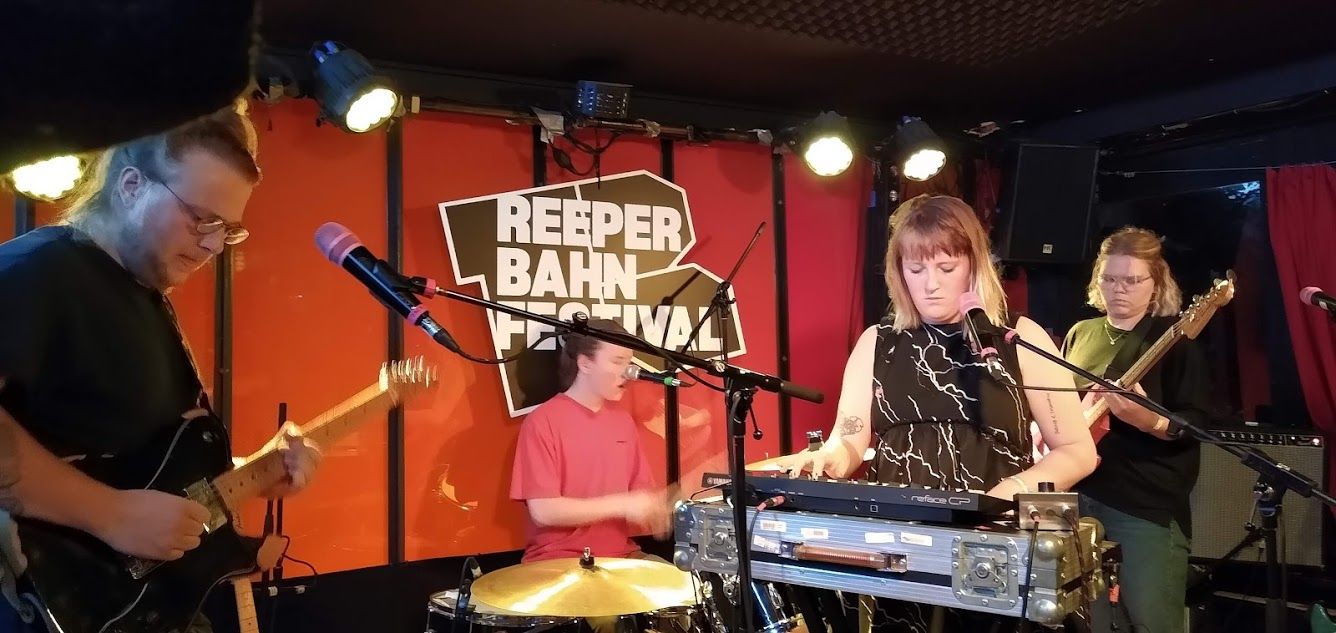 My personal award for best act on the festival goes to Penelope Isles. I had been expecting a lot from the Brighton band who has toured a lot and really worked on their craft and is just after releasing their debut with Bella Union but this? A wild mixture of guitar indie, dreamy songs, synths experiment and an absolute 10 minutes plus killer of a psyche krautrock monster? Never! So recommended! Penelope Isles can rock so hard. An amazingly hypnotic experience.
Little deviation here: One of the main themes of the festival was the equal representation of women in music and the related industries. Now, for me, that is not something extraordinary but might be due to the musical genres I am interested in such as indie rock, indie pop, electronica and folk...plenty of female musicians there and it is not even worth noting really. An unfortunate incident happened at the festival: Warner always presents a fairly major indie act which was supposed to be Foals who unfortunately due to an accident could not make it. They were replaced by a certain Bausa who not even my friend, colleague and general music expert Sandra had heard of. We put it down to genre and generation. Turns out Bausa does German rap, so we guessed right, but what on earth was Bausa doing at this festival with their very keychange goal and his often brutally sexist and homophobic lyrics? The festival management was having none of it, neither did the venue - they had not even been informed of the nature of the Foals replacement. Alone Warner's decision and they are trying to talk their way out of it...Back to Friday: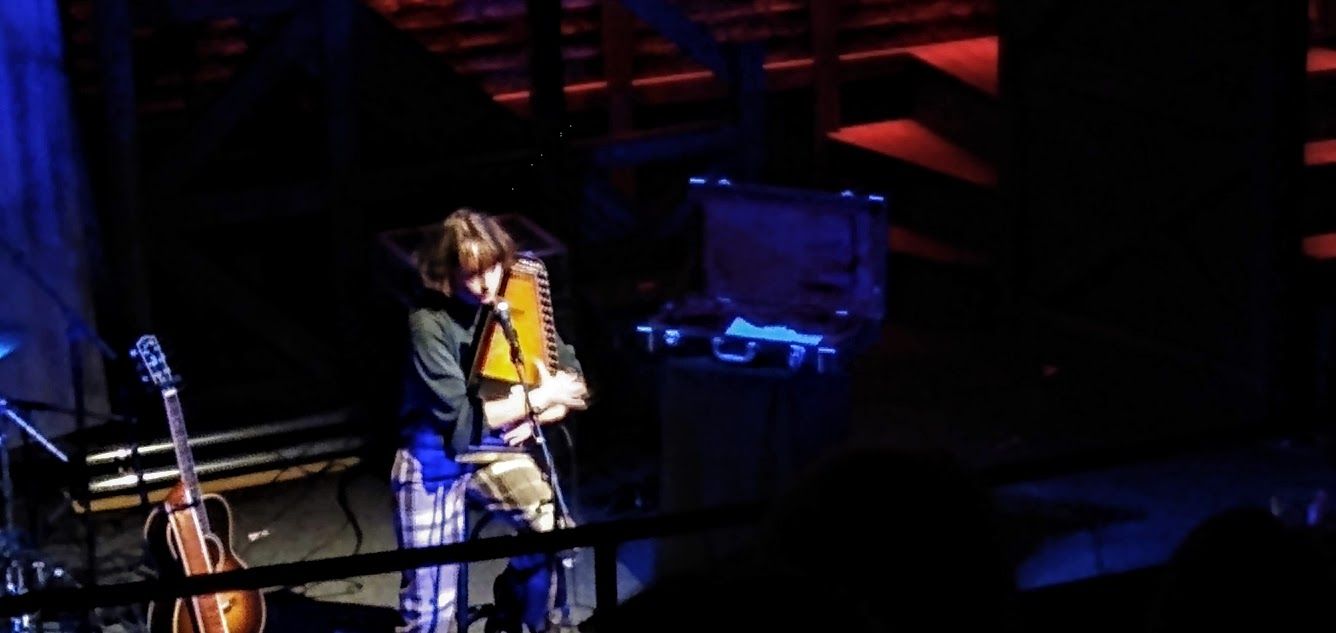 A wonderful end of the evening was had by all, if you found yourself in the lovely Imperial theatre, in a comfy seat and listening to Pomme, a French singer-songwriter and player of acoustic guitar and ude. Not quite so good at French, I could still pick up the atmosphere in Pomme's beautiful and perfectly delivered songs and her conversation with the audience was delightful.
Saturday, 21st September 2019
Would have loved to pick up a bit of Together Pangea but was late. Bear in mind that I was not hungover but simply had a station meeting with my great colleagues which was of course well worth the festival break. Managed to have a short snifter of Japanese House on Spielbudenplatz who I have been observing for a number of years now. That seemed rather enjoyable if only slightly hiding more serious matter behind the music. Then took the opportunity to see Sebadoh for the first time in my life. Solid rock show in Übel & Gefährlich with old and newer songs and masters at work. I could not get into the spirit though, it seemed a bit one-dimensional, in particular the "communication" with the audience but I can also put it down to my tiredness.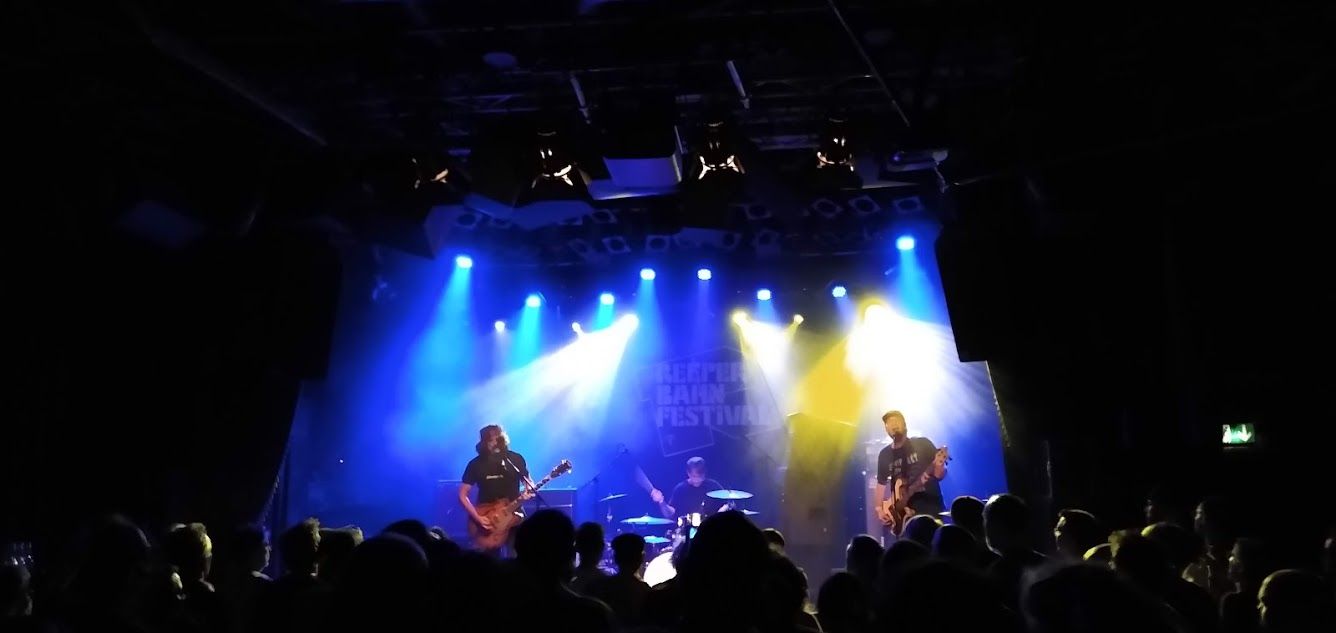 Queuing up for the highly recommended Squid at Nochtspeicher seemed pointless. Giving up, somewhat gruntingly after half an hour, we trotted on. Squid had obviously been recommended to a lot of people, rightly so, but regrettably this led to early closure of the queue.
Suzanne Santo convinced with wistful and classic Americana bordering on country and almost made a perfect ending to the evening if it had not been for the waker-upper of The Subways who delivered what Sebadoh could not to me: A real rock show but more indie, more fun, more quirky. Even some serious stage diving was to be witnessed! Welcome back The Subways!
And hopefully for you "Welcome to Reeperbahn Festival!" next year! It was marvellous, thank you Reeperbahn Festival!